Netanyahu arrives in U.S., signs of easing of tensions over Iran speech
Here's what NCR said about Iran and Netanyahu: Editorial: Stay on diplomatic path with Iran
Synod of Bishops on the family: Local responses to Vatican survey vary depending on who's asking
Montana -- Helena Diocese Seeks Approval of Abuse Victim Compensation Plan
Child protection expert named head of Malta archdiocese
Seattle U teachers, students join National Adjunct Walkout Day
The Pope is engaged in a struggle to bring the Church into the modern age. And American conservatives are fighting him every step of the way.
Rome -- Pope Francis launched a fresh attack on economic injustice on Saturday, condemning the "throwaway culture" of globalization and calling for new ways of thinking about poverty, welfare, employment and society.
New Zealand -- Pope's comment on caesarean sections caught this couple's attention. Auckland couple have nine children and all of them were born by caesarean section.
Cardinal Raymond Burke: "With someone like Pope Benedict XVI, we had a master teacher who was giving us extended catechesis on various subjects. I now say to people that, if they are experiencing some confusion from the method of teaching of Pope Francis, the important thing is to turn to the catechism and to what the Church has always taught, and to teach that, to foster it at the parish level, beginning first with the family."
Running pastor looks to finish what he started Father Jason Tyler took on 2014 Little Rock marathon, eyes 2015
India -- Health camp, awareness held at Holy Family church Brahmavar. Check out these photos to see the turnout for this event. Wow.
Anti-Semitism a big problem at US colleges, report says
7 ways universities can begin to challenge anti-Semitism on campus
Madison, Wis. -- Faced with a surge in seminarians, diocese asks parishioners for $30 million to fund priest training (Link corrected.)
---
Looking for a little inspiration to begin your day? NCR's sister publication, Celebration, gives you two options, both based on the Scripture readings of the day: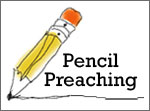 Pencil Preaching is blog in which Celebration editor Pat Marrin combines Scripture and sketching to reflect on the Word.

Daily Bread is a series of short reflections written by four authors who meet regularly to share the readings. Daily Bread is intended to help daily preachers and others who pray from the assigned Scriptures each day to orient themselves to the Living Word addressed to the church in the world. It's a great way to begin the day.
Advertisement