Republican presidential candidates face conundrum: Uproar over Indiana religious freedom law shows shift in gay rights fight
Kareem Abdul-Jabbar: Indiana Is on the Wrong Side of History. "The bill's supporters ... passed RFRA as a cynical political ploy to appease Indiana conservatives. ... The politicians thought it would cost them nothing and gain them voter appreciation. Fortunately, it is costing them much more than they imagined."
Arkansas Legislature Copies Indiana, Passes Controversial Religious Freedom Bill
Wal-mart Asks Arkansas Governor To Veto Religion Freedom Bill
So far the Religious Freedom Restoration Act has never worked as a defense for Christian bakers embroiled in lawsuits over gay weddings, but for a handful of Apache, Muslim and Sikh plaintiffs, it's been a godsend.
Iran in Nuke Talks: Deadline passes but enough progress made to merit extension
South Sudan -- Yei Catholic Bishop forgives arson on Lainya priests' house
One Nation Under God: How Corporate America Invented Christian America -- Author Kevin Kruse discusses his latest book with Terry Gross on NPR's "Fresh Air."
Chile Bishop Controversy Raises Doubts About Pope Francis Church Sex Abuse Reforms
Third Catholic church linked to pedophile priest burns in suspected arson attack
United Kingdom: Bishops, priests, laity can't agree on who to talk about issues in lead up to October synod on family. Bishops point to "proper channels" won't meet with lay group, chastise priests for taking case to media.
ICYMI: Secure and Serene -- Hong Kong billionaire builds Buddhist monastery on mountain top with bulletproof windows. No drop-in guests; no meat, alcohol or incense allowed inside.
---
Looking for a little inspiration to begin your day? NCR's sister publication, Celebration, gives you two options, both based on the Scripture readings of the day: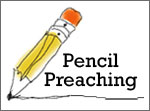 Pencil Preaching is a blog in which Celebration editor Pat Marrin combines Scripture and sketching to reflect on the Word.

Daily Bread is a series of short reflections written by four authors who meet regularly to share the readings. Daily Bread is intended to help daily preachers and others who pray from the assigned Scriptures each day to orient themselves to the Living Word addressed to the church in the world. It's a great way to begin the day.
Advertisement