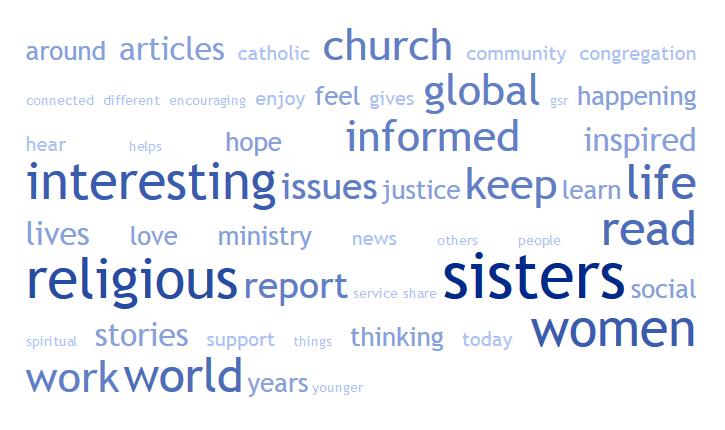 Word cloud showing top reasons our readers told us in our survey why they read Global Sisters Report. (Sara Wiercinski)
Living like prisoners: Migrant women talk about U.S. detention centers
CIA Killing Of Al-Qaeda Hostages Boosts Critics Of Drone Strikes
On 25th anniversary, see the 50 Best Images Taken by Hubble
Canon lawyers: Origins of Bishop Finn's resignation unclear
Old court cases further raise San Francisco parents' dissatisfaction with pastor
Is a pattern emerging: Francis does not go far to find new bishops for Greensburg, Pa., and Victoria, Texas.
Mary Lou Nolan, managing editor of Global Sisters Report, reflects on the anniversary of that project's launch: We are one
Belgium's senior Roman Catholic cleric, Archbishop Andre-Joseph Leonard, has been ordered to pay 10,000 euros ($10,900) in damages for failing to act on allegations of sexual abuse in the 1990s.
Honduran activists hope pope's climate encyclical gives them boost
Lubbock, Texas -- Texas Tech University to get $6.8 million Catholic student center.
Diocese of Rockford Group Travels to Colombia
Bakersfield, Calif. -- City's first new Catholic church in 47 years to open
Chicago -- 'He was a neighbor' — mourners flock to bid goodbye to cardinal
---
Looking for a little inspiration to begin your day? NCR's sister publication, Celebration, gives you two options, both based on the Scripture readings of the day:
Pencil Preaching is blog in which Celebration editor Pat Marrin combines Scripture and sketching to reflect on the Word.
Daily Bread is a series of short reflections written by four authors who meet regularly to share the readings. Daily Bread is intended to help daily preachers and others who pray from the assigned Scriptures each day to orient themselves to the Living Word addressed to the church in the world. It's a great way to begin the day.