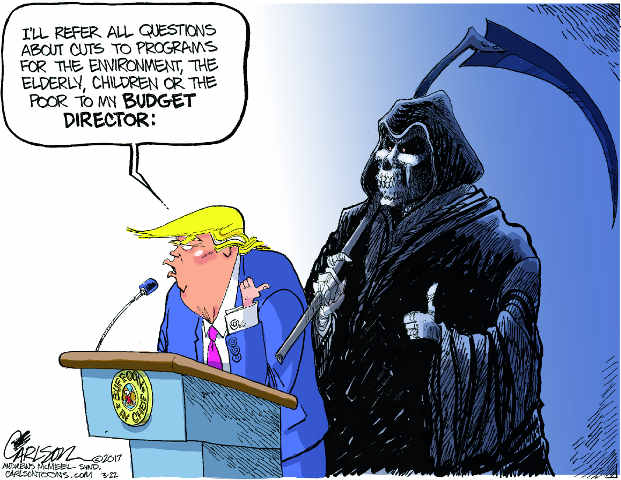 Without the votes they needed, House leaders delayed vote on the American Health Care Act Thursday. They say they're prepared to vote today
The art of the deal? High stakes for Trump on healthcare vote
Fr. Tom Reese: How the Democrats might save Donald Trump from self-destruction
David Brooks writes: The Trump Elite. Like the Old Elite, but Worse!
Centrist Democrats are withholding their support of Supreme Court nominee Neil Gorsuch after Senate Democratic Leader Charles Schumer (D-N.Y.) came out strongly against him.
At 50, 'Populorum Progressio' takes on new life through Pope Francis The document raised the profile of the church's concern for people in the global south at a time when European colonialism was declining.
Commencement addresses and presidential politics. Notre Dame gets V.P. Pence but Farwell's Liberty University gets President Trump
Bishop Tom Gumbleton reminds us God is in our midst and is working through us
Kiad, Chiriquí Province, Panama -- Flooded Ngäbe communities continue to fight dam
Related story: Washington hearing is activists' last hope in battle over Panama dam
Editorial from the student newspaper at The University of Pittsburgh: Top 10: Ways to dismantle the patriarchy
Sister Clare Dunn was the first Catholic nun to be elected to public office in 1975 when she entered the Arizona Legislature as a representative from Tucson. Now she's been inducted into Arizona Women's Hall Of Fame
Q & A with Sr. Vivian Ivantic: Witness to changes in the church in her 83 years as a sister
Hamilton, New Zealand -- A visiting bishop from Australia has encouraged Kiwi priests to be "digital disciples," involved in social media.
Agana, Guam -- The Archdiocese of Agana is now facing 33 clergy sex abuse lawsuits. Lastest filed earlier today.
---
Start your day inspired with daily scripture reflections. Join NCR's sister publication, Celebration, for Daily Bread, a series of short reflections written by four authors who meet regularly to share the readings.
Or reflect on
Pencil Preaching by Pat Marrin. Every morning Pat Marrin breaks open the Word with a pencil sketch and a short meditation.
---