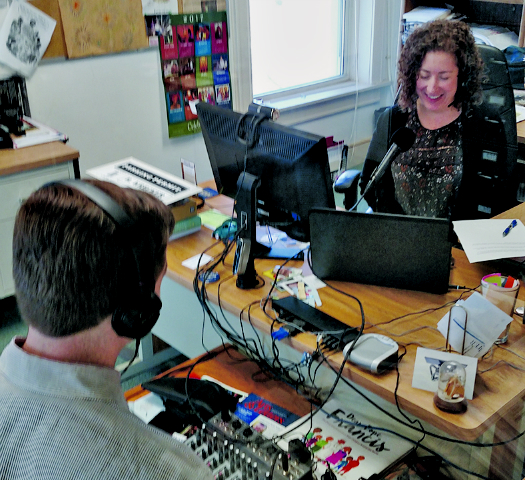 George Goss and Brittany Wilmes record NCR in Conversation. (NCR staff)
"NCR in Conversation" is the name of our new podcast, a weekly visit with NCR reporters and newsmakers about hot topics and news of the week.
Right now, the easiest way to listen in is by going to NCRonline.org/podcast. Select an episode and an audio player will pop up in your browser. All you have to do is click the "play" button to hear that episode. Some people use apps, such as iTunes, Google Play, Stitcher or others, to listen to podcasts on their smartphones or tablets. In coming weeks, you'll be able to find "NCR in Conversation" wherever you listen to podcasts.
The show — a new one is available every Friday — is engineered and produced by George Goss and hosted by NCR's engagement editor, Brittany Wilmes.
"I know already this new series is going to be great," Wilmes said. "Each week, I take listeners into the NCR newsroom to introduce them to our reporters and sometimes their sources so that we can have an in-depth conversation about this week's Catholic news with the insight only NCR can provide."
"There is so much to talk about," Wilmes told me. NCR has a long history and deep experience reporting on news about the church and issues important to church people. The podcasts take advantage of our reporters' experience to add insight into news of the week. The podcasts explore the stories behind the stories.
"I look forward to digging into that [deep experience] in future episodes," Wilmes said.
I think regular readers will enjoy hearing the voices of our reporters and editors. Putting a voice to a name helps personalize the work they do.
Early episodes include perspectives on Pope Francis' 4-year-old pontificate from Joshua McElwee, who follows Francis at the Vatican; staff writer Brian Roewe, our expert on Francis' environmental agenda; and Soli Salgado, who writes for Global Sisters Report and shares an Argentine heritage with Francis.
To give you a bit of insight into how Goss and Wilmes shape the show, I'd point you to their St. Patrick's Day episode. Wilmes spoke with Sarah Mac Donald, who writes for us from Dublin. A show that began discussing St. Patrick's Day observances quickly became a discussion about immigration — something the Irish know a lot about — and how President Donald Trump is viewed overseas. That episode and all past episodes are available at NCRonline.org/podcast.
Goss built the technical infrastructure for the NCR in Conversation, which was a challenge. He started with an old MP3 recorder and a scratchy microphone we had laying around the office. He's made great improvements on that, working miracles on a miniscule budget. "I've learned that it takes a lot of work to get a high-quality audio product," he told me. "But we've got our system down now, and we're almost there."
Goss is more than just a technician. As the podcast's producer, Goss' voice won't likely be heard, but he is the driver behind the show. "I'd like the show to spur the conversation more," he told me. "I'd like [NCR in Conversation] to have a real roundtable discussion. To have our guests and in-house people have — I don't know if 'debate' is the right word — a full-on discourse."
Wilmes says, "As NCR engagement editor, it's my job to know which stories are trending, what readers are talking about, whether that's social justice news or Vatican news. So have a listen." And after you've listened, tell us what you think — send an email to InConversation@ncronline.org.
[Dennis Coday is NCR editor. His email address is dcoday@ncronline.org.]
A version of this story appeared in the April 7-20, 2017 print issue under the headline: NCR in Conversation.