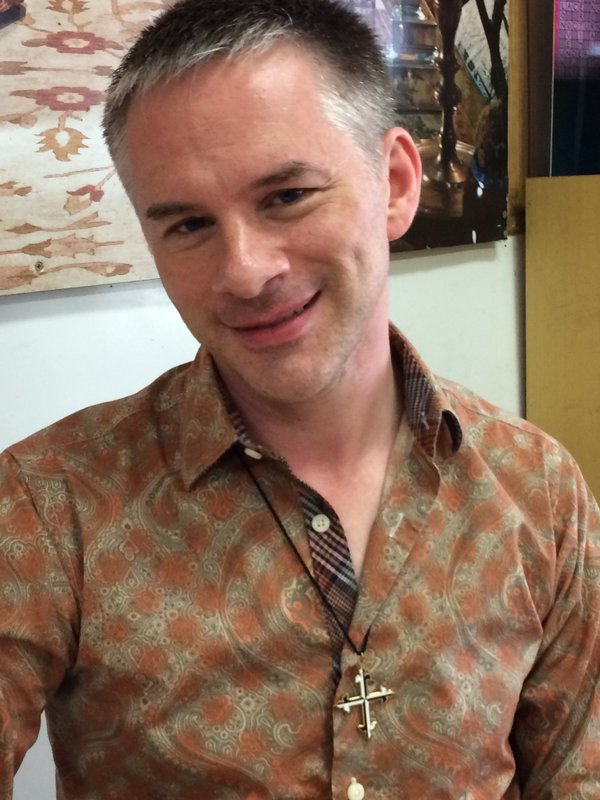 Robert Pickering (NCR photo/Tom Fox)
Robert Pickering, 44, attended Mass at Most Holy Redeemer Church one recent Sunday, among the many out-of-town lesbian or gay Catholics who find their way to MHR when visiting San Francisco.
I caught up with him and asked him to share his faith journey story.
---
Related: Read more about Most Holy Redeemer Church
---
Born in a small town in western Nebraska, his parents split when he was 2-years-old, and he was raised by his paternal grandmother. He attended Catholic schools, growing up in a traditional Catholic home. He had a solid Catholic foundation. "I always had people who believed in me," Pickering told me. "My family showed me God's love."
He recalls having been "a geeky shy kid" growing up, often protected by teachers. That made him feel special.
In junior high he began to feel like there was something about him "like no one else in the entire world." It was then he discerned that he was attracted to boys. It confused him and he often prayed to God to help him understand. "I prayed all the time. I asked God 'why?' And I cried." One day something amazing happened to him, he recalls. "I felt God's hand on my shoulder. From then I felt everything would be OK."
It was at a college in Colorado he had his first sexual experience. That's when he started to read books and learn more about his sexuality. And when he discovered the writings of New Ways Ministry co-founder Sr. Jeannine Gramick. New Ways Ministry is an organization whose aim is to help gay and lesbian Catholic reconcile themselves with their church. He found Gramick's writings very helpful.
"I didn't want to be one of those people who was not following God's plan," he told me. "What I learned is that I couldn't stand in judgment of others. I went to church every Sunday and every holy day. I was seeking God. It was okay if I was making a few mistakes because I was seeking God."
Pickering decided on his 20th birthday to come out to his father who was shaken but told him that he loved his son and nothing would ever change that. He then told his grandmother who also expressed her love, but warned him not share "any of this gay stuff" with others, fearing, she said, they would not understand. Pickering, like so many other gay and lesbian people, have been told they will be accepted – but only if they hide part of their lives to the world.
He went to see a priest who told to keep receiving the sacraments and that he wasn't alone. "The priest told me 'I know what you are going through.' That's all he said. I left there feeling exhilarating."
Pickering, who is now a Dominican lay associate and wears a Dominican cross on a chain around his neck, said he has always managed to find communities and parishes where he could contribute, though it takes effort as most parishes continue to be accepting of gays as long as they do not share their sexual inclinations publicly.
His spiritual search took him a few years ago to St. Dominic Parish in Denver. There he met Dominican priests who invited him to vespers and morning prayers. He eventually expressed interest in joining the Dominicans, but being a priest, he came to decide, was not his vocation. His interest in the Dominicans did not recede, but took a new course. After a six-year process, he professed as a lay Dominican in October 2014.
Life as a gay Catholic has not been easy, though for Pickering it has been easier than for some others. This is because he has found a partner and, looking back, he realizes he has an accepting family and has experienced understanding priests along his journey.
He, like many other gay Catholics, says he is elated with the new openness in the church toward gay Catholics being expressed by Pope Francis. "I think people are seeing in Pope Francis a new sense of welcoming. People are less afraid of welcoming strangers in their pews. I am not just seeing it. I am feeling it and experiencing it."
Recently Pickering said he asked a friend what he thinks of Francis. He asked: "Is he really reaching out to gay people?"
His friend answered, "I don't think so. I think he's reaching out to everybody."
Pickering agrees, saying "Francis is not just offering a protective cloak to gay people; he is offering one to everyone."
He concluded with these words on the church and peoples' attitudes toward it:
Some people have in mind a certain end result in the church. Some want same gender couples married in the church. Some want women on the altar. I don't know when this will be possible. I don't think we can have our eyes only on one result or another.

In this little moment of time I feel so blessed to be part of this church with the gifts God has given me. But I don't want to wait for a pope or a bishop to say something is okay. If we are the Body of Christ we have to start right now. If we cannot at this time have women priests on the altar, we can at least have women speak. If we cannot have same gender couples married, we can at least welcome them in our pews."
[Thomas C. Fox is NCR publisher. His email address is tfox@ncronline.org.]
Editor's note: It is with deep regret that we have decided to end commenting on this series of stories. We gave a fair hearing to those who object or question aspects of this story, but too often, the same few points were being raised multiple times, which is against our user guidelines and was disrespectful to some of the people portrayed in the article. We encourage respectful discussion in our comments threads but reserve the right to close them when discussion is no longer productive, which has happened in this case.