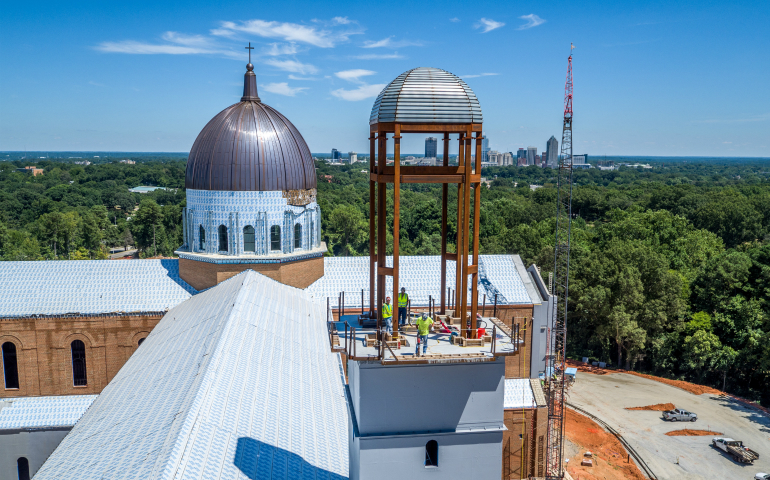 View of Holy Name of Jesus Cathedral in Raleigh, North Carolina, under construction September 2016 (CNS photo/courtesy of Diocese of Raleigh, North Carolina)
Parishioners in Hamilton, Ohio, plead the case of a fellow parishioner threatened with deportation to Mexico. They got the support of the Cincinnati Archdiocese and Gov. John Kasich. Still the result was not a happy one.
Liturgical warrior update: In the Diocese of Madison, Wisconsin, the bishop decrees that the preferred way to receive Communion is on the tongue.
The construction of a new cathedral in Raleigh, North Carolina, is nearing completion and signals the growing numbers of Catholics moving to a state that formerly was a church mission territory.
The church in Nebraska lobbies against the death penalty.
Dioceses in that state as well as neighboring Iowa plot the future of rural parishes.
A parish in Hudson, Wisconsin, is asked to take in Syrian refugees. It then gets complicated.
The Boy Scouts are OK'd for parishes in the Denver Archdiocese, with some caveats.
A local newspaper columnist reflects on the impact of the decline of Catholic life in Connecticut.
Vermont's Catholics are planning a synod this fall. On the agenda: how to reach a new generation of Catholics.
A unique parish is forced to close: a ministry to circus performers prepares to celebrate its final Mass in May as the Ringling Brothers Circus performs its final show at the Nassau Coliseum on Long Island.
The St. Vincent de Paul Society of Alameda County, which incudes Oakland, California, extends its winter shelter program in response to a tragic fire.
[Peter Feuerherd is a correspondent for NCR's Field Hospital series on parish life and is a professor of journalism at St. John's University, New York.]
We can send you an email alert every time The Field Hospital is posted. Go to this page and follow directions: Email alert sign-up.