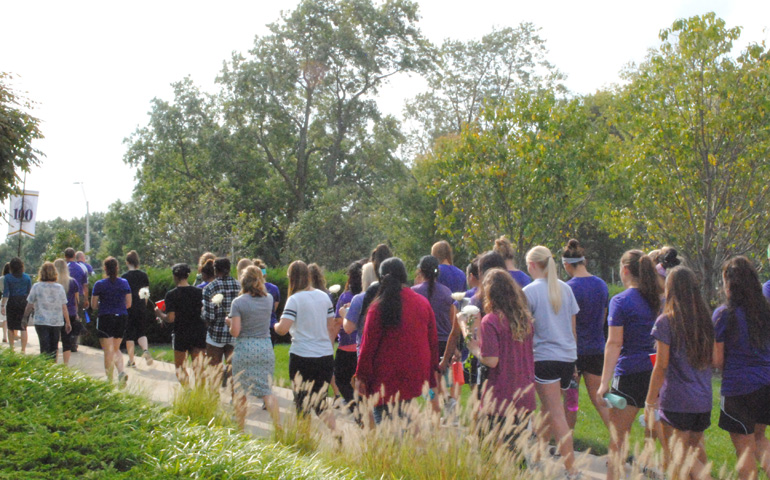 Peace walk participants Sept. 21 on the campus of Avila University in Kansas City, Mo. (NCR/Kristen Whitney Daniels)
Kansas City, Mo. — September 22, 2016
Throughout the world, Sept. 21 is honored as the United Nations' International Day of Peace. At a small private Catholic university in Kansas City, Mo., the day took on additional significance and meaning.
Students, faculty and staff of Avila University joined community members Sept. 21 for a peace walk on the campus, part of the university's annual Peace Week activities. This year, the peace walk was dedicated to victims of violence with ties to the university.
The Avila community remembered Mickell Tolbert and Cheri Bland, locals connected to the university who were victims of gun violence. Tolbert, a third-year student of Avila's nursing program, was found shot to death on Sept. 5. Bland, the sister of a student at Avila, was shot to death Aug. 28.
Also joining the prayer walk was the family of Jessica Runions. Runions, the daughter of one of Avila's nursing faculty, has been missing since Sept. 8.
The event began with remarks from Dave Armstrong, the director of university mission and ministry at Avila. Addressing the crowd of almost 70 people, Armstrong spoke about the personal meaning that the walk had taken on. "Today we walk for peace. Violence has touched us in a personal way," Armstrong said. He prayed for Tolbert and Bland, and for the safe return of Runions.
Armstrong then introduced Jeanne Buchanan who, along with her husband, recently donated $1 million to the university to start the Buchanan Initiative for Peace and Nonviolence at Avila University. Inspired by the Civil Rights movement, Buchanan hoped the institute will "stand up for peace and nonviolence." After her remarks, Buchanan led the group in the Peace Prayer of St. Francis.
The prayer walk took attendees throughout the campus, stopping in front of such places as the "peace pole," a statue of St. Teresa of Avila and the university's chapel. Between the stops, attendees were asked to walk in silence until the final segment where they were encouraged to talk to a person they had never met. As everyone prayed for the last time as a group, Runions' mother was presented with a bouquet of flowers. Attendees were then invited to a Catholic Mass of remembrance for the victims.
[Kristen Whitney Daniels in an NCR Bertelsen editorial intern. Her email address is kdaniels@ncronline.org.]