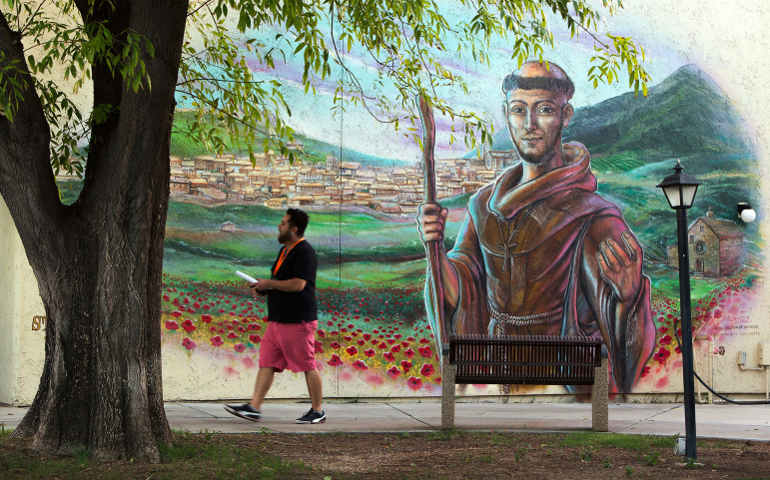 A man walks past a mural of St. Francis of Assisi at the Franciscan Renewal Center in Scottsdale, Ariz. (CNS file photo)
Four years ago, when I was speaking in Italy, I had the great opportunity to go to Assisi and visit the small church that St. Francis built. Below is a prayer I wrote while there which I have slightly revised. On this day when we celebrate the life of St. Francis, and during this election season and time of perpetual war, pervasive racial violence, poverty and environmental devastation, let us us pray for each other, and for our church, that we can be inspired by his faithfulness and witness to the Gospel as we strive to bring about God's reign of love, justice and peace and create the Beloved Community.
Prayer to St. Francis
Dear St. Francis,
As I pray in this small church you and your friends built by hand, stone by stone, help me and all followers of Jesus to build a church today that has as its foundation the Gospel mandate of unconditional love, mercy, compassion, justice, peace and reconciliation.
Recognizing that the reign of God is at hand, help me and all followers of Jesus to build a church that seeks repentance and conversion and is committed to living and proclaiming the reign of God. Through your intercession, help the church to be a true sign of fidelity to the Gospel, renouncing wealth and power, and embracing voluntary poverty and simplicity. Help all followers of Jesus to create a church of true communion, recognizing that each person is a special member of the body of Christ. A church that embraces each person as equal in God's eyes; a church that acknowledges its sin's and seeks forgiveness for any harm done to others; a church that denounces racism, sexism and all forms of discrimination; a church where the dignity of each person is revered and all are welcomed and cherished; a church of servant leaders.
Empower all followers of Jesus to embrace Gospel nonviolence and be a prophetic witness for peace and social justice, without counting the cost. Help us to make the church truly be a peace church, a church that renounces all injustice, violence, killing, weapons and war, and always advocates for the poor and the victims. As you loved peace and creation, help all people to protect and safeguard all life and our sacred earth and environment. Help all people who comprise the church to always stand for love, life and creation.
Amen.
(Written by Art Laffin on December 4, 2012 at Santa Maria degli Angeli, Assisi Italy, where the church St. Francis built is located.)