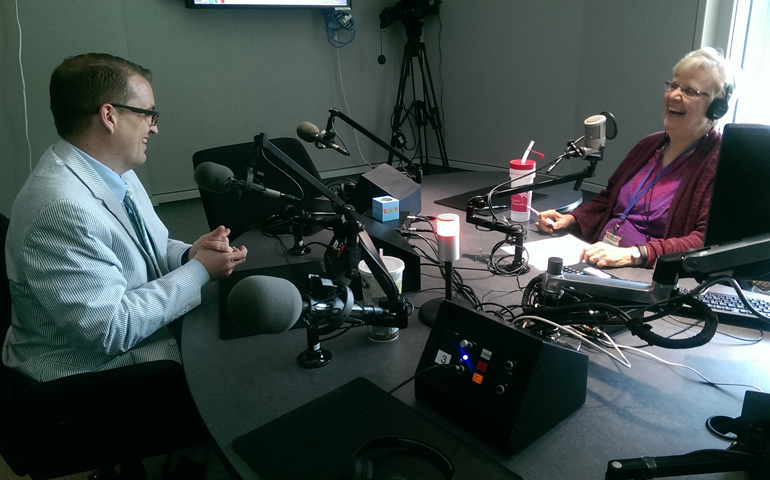 Kevin Eckstrom and Sr. Maureen Fiedler in the "Interfaith Voices" studio
This week on "Interfaith Voices," I had a personal interview with Kevin Eckstrom, who this week is leaving his post as editor-in-chief of Religion News Service. He has taken a position as chief communications officer at the Washington National Cathedral.
I found his personal story quite compelling.
As you probably know, professional journalists covering news are supposed to be publicly neutral about controversies they cover. They can have their own views (and usually do), but they are supposed to suppress their biases in print or on the air and give fair coverage to all sides in a dispute in whatever medium they use to report.
Eckstrom was impeccable about keeping such ethics. But some stories, he noted, posed special challenges. Eckstrom is gay and is married to his husband, Grant. They have two children. I had known about Eckstrom and his marriage for a long time and had always wanted to ask how it affected his reporting on the religion beat, if at all. LGBT issues, as we all know, come up frequently in religious journalism.
Eckstrom said he never "outed" himself professionally when covering a story because some conservatives on LGBT issues might have made an issue of his sexual orientation no matter how he reported a story. But, he said, there were personally awkward moments. Someone might ask him if he was married, and, of course, he said, "Yes." But then they might ask a question about his wife, and he had to answer in a very vague way. He never lied, he said; he just changed the subject.
What was truly difficult, he said, was listening to the religious conservatives who criticized gays and lesbians for being intrinsically disordered, dangerous around children, or for harming society -- all charges he knew were not true. But in spite of it all, he kept his cool and reported the charges in news stories as one side of the ongoing public debate.
But there is one more revealing angle to this story. Eckstrom was brought up an evangelical but converted to Catholicism in 2003. He was impressed with the theology of the Catholic church, developed over centuries. He was a Catholic for most of the time he covered LGBT issues and was, of course, acutely aware of the official hierarchical stance on these questions.
And that's what eventually led him to the Episcopal Church. The Episcopal Church officially welcomes LGBT people alongside everyone else. In fact, Eckstrom was elected senior warden (think: parish council president) of his local church only two years after switching.
Eckstrom still loves and cherishes the Catholic tradition. But this issue drove him to more welcoming pastures. And he's surely not alone. It's time for Pope Francis to look anew at this question. He needs to move beyond "Who am I to judge?" and make a judgment that lesbian, gay, bisexual and transgender people are the equals of us all, blessed in the eyes of God and welcome as equals in the Catholic church.