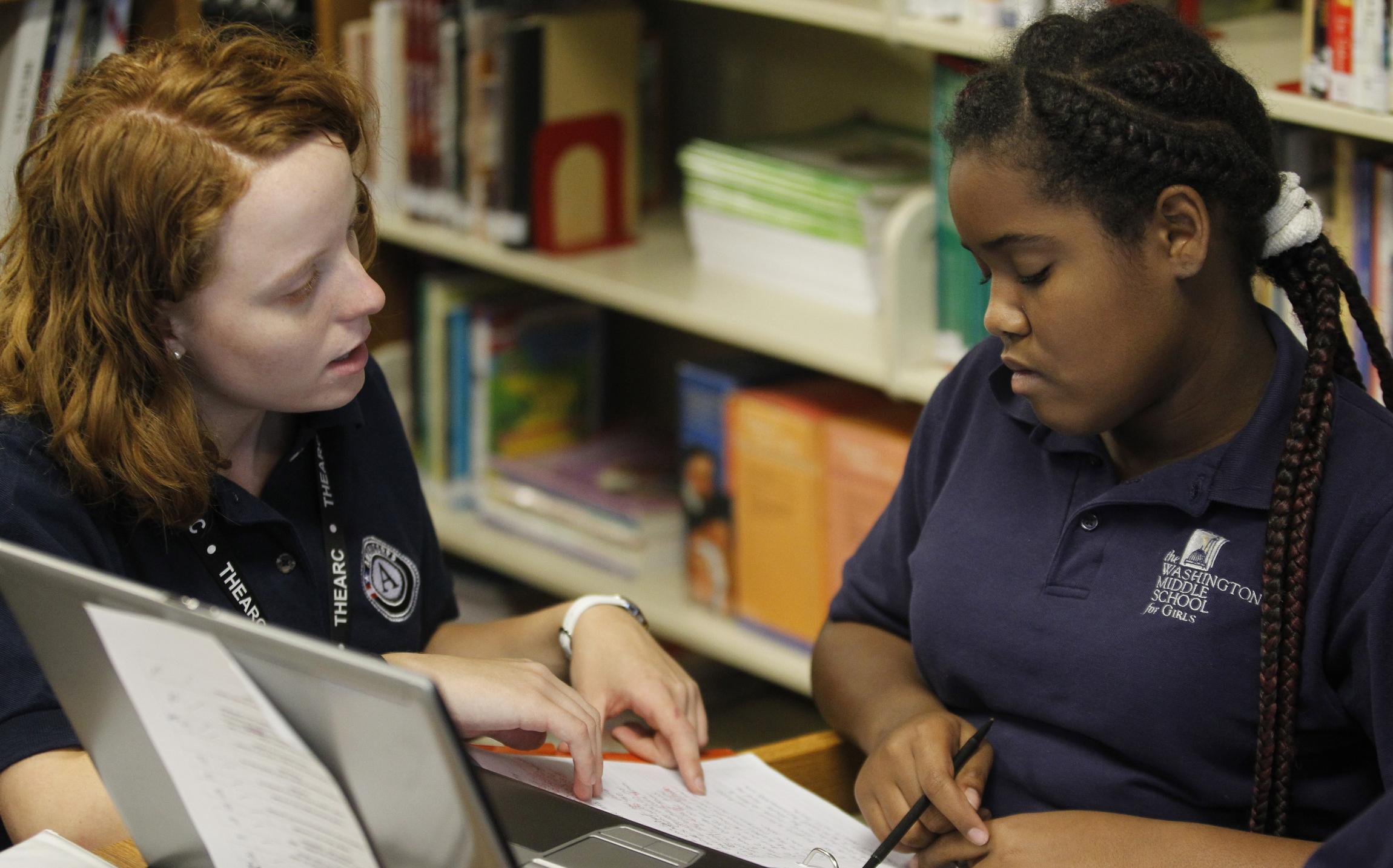 Kaitlin Walker works with student Empress Mondesire at the Washington Middle School for Girls in Washington Sept. 19, 2012, during Walker's first year of service for Notre Dame Mission Volunteers-AmeriCorps. (CNS/Bob Roller)
Who wouldn't be transfixed by the scene? Twenty Catholic nuns, large-minded and members of the Sisters of Notre Dame de Namur, were seated in a circle in a large meeting room in a hotel near Baltimore to share their stories and bolster each other. Most were in their 70s and 80s. The elementary facts of their collective lives could only be imagined: the combined tens of thousands of altruistic days in which they stayed faithful to their commitments in ministries to serve, comfort and love.
Their benevolences ranged from classroom teaching to dozens of spread out ways to ease the lives of the forgotten people.
By chance, I was in another part of the room, lucking out as a spectator of goodness. In late February, the nuns were on hand for a weekend conference of the Notre Dame Mission Volunteers-AmeriCorps Program. Three years after its founding in 1994 by Sr. Katherine Corr in Baltimore, the organization's success led to its funding by AmeriCorps, a national service program managed by the Corporation for National and Community Service.
According to testimony by the corporation's CEO Wendy Spencer on May 24, 2016, before the U.S. House Subcommittee on Higher Education and Workforce Training, "nearly 75,000 AmeriCorps members served [the previous year] 81.9 million hours at more than 21,000 sites." The 495 Notre Dame Mission Volunteers are currently working in 22 cities, from large ones like Los Angeles and Boston to rural outposts in Pine Apple, Alabama, to Apopka, Florida. Most volunteers commit to a year, with a pre-tax stipend of $12,530 which doesn't include housing.
Amid the workshops and lectures, including a stirring one by Social Service Sr. Simone Campbell, author of A Nun on the Bus, something of a pall hung over the conference and the 300 volunteers and staff members on hand. On the same day they arrived, it came out that the budget lords of the Donald Trump administration have a proposed list of domestic programs to be eliminated or slashed. These include AmeriCorps along with the Legal Services Corporation, the National Endowments for the Arts and Humanities, the Corporation for Public Broadcasting and the Export-Import Bank. The administration just released today, March 16, proposed cuts to a slew of social programs, from the U.S. Institute of Peace to the Department of Education. Enfeeble or destroy them and America will be great again.
None of those agencies, least of all AmeriCorps, is lavishly funded. It's a conservative fantasy that a balanced budget will happen if social programs are scotched or done in, twinned with another fantasy that, as Trump pledges, "massive" increases in the military budget are needed. Currently, congressional spending on war making is higher than the next seven countries combined.
As darkness threatens Notre Dame-AmeriCorps, now in its 22nd year, who are those in the ranks? I met several at two of the workshops I led, one in the morning of Feb. 19, the other in the afternoon:
Catherine Morrison from Long Beach, California, and a graduate of the College of the Holy Cross, is now in her third year in AmeriCorps, and teaching at Cornelia Connelly Center, a school for girls from low-income families on Manhattan's Lower East Side.

Isaac Lorton, a University of Notre Dame graduate, is teaching freshman English and college counseling at Cristo Rey High School in Cleveland.

Kira Landauer, who studied anthropology and philosophy at the University of Pittsburgh, is in Rochester, New York, at St. Joseph's Neighborhood Center.

Marie Artap, an English major and a creative writing minor at the University of California, Berkeley, serves at Seattle Education Access. In her words, she "is working with young people in poverty who have been failed by the education system."

Michelle Hunsicker, from the University of Georgia, has a master's in linguistics from the University of Colorado, is at Saving Grace, a Bend, Oregon, nonprofit that reaches out to victims and survivors of sexual assault and human trafficking.

Ana Rocha, a UC Berkeley graduate, is an academic aide at the Moreland Notre Dame elementary school in Watsonville, California, where 200 children are enrolled.

Spencer Larkin, who studied at Oberlin College, is helping out at Mary House in Washington, D.C., where, since 1981, Bill and Sherry Murphy have cared for hundreds of Latin American immigrant families and their children.

Jonathan Sosa, Elizabeth Bolejack, Rebecca Blane, Melanie Clark, Avery Scott, Genevieve Spina, Rebecca Stewart, Nancy Mejia-Arias, Teresa Byon, Meg Clymer, Matt Gleason and Sarah Gibbons are among those at the I Have A Dream Foundation in Boulder, Colorado.
The list could go on — and will go on — when enough members of Congress defy the pending budget attacks. The real carnage.
[Colman McCarthy directs the Center for Teaching Peace in Washington, D.C. His books include Teaching Peace: Students Exchange Letters With Their Teacher.]