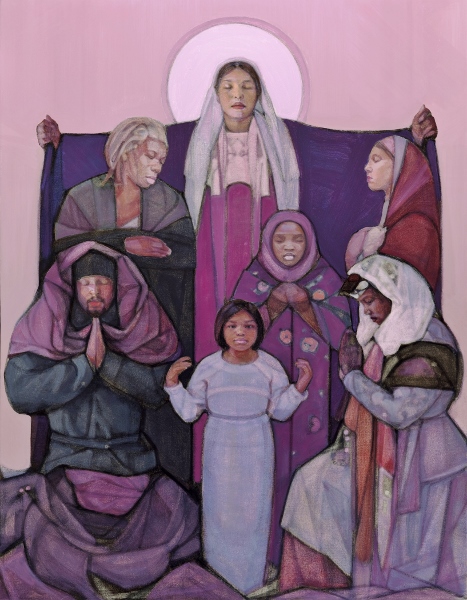 Janet McKenzie, "Mary – Mother of Mercy." (Commissioned by Carlow University, Pittsburgh, Penn, in celebration of the Year of Mercy, 2016. ©2015 janetmckenzie.com)
It is May, and like every good Catholic girl of a certain age, I remember this as the month we celebrate Mary, the mother of Jesus.
A lot of terrific recent scholarship is helping my generation recover from earlier interpretations of Mary as a revered (if impossible to imitate) virgin-mother role model often portrayed as silent, passive, and obedient.
I recently listened to a podcast by Dr. Elizabeth Johnson, a Sister of St. Joseph, who spoke eloquently about "arguably the most celebrated woman in the Christian tradition." Mary is commemorated the world over in famous, paintings, icons, prayers, and sacred music. Countless schools, hospitals, and churches are named for her.
Johnson respects the church's long tradition of venerating Mary and works hard to connect that tradition to today: "What do we say in our time in this multicultural world? In this generation, who is she, and how can we carry forward tradition in a way that is liberating and healing in a world so in need?"
In the church's early centuries, Mary, mother of Emmanuel ("God with us") was quickly honored as the mother of God or Theotokos (God-bearer -- literally, "heavy with God"). At the same time, the church was growing rapidly among a pagan people accustomed to worshipping God in feminine metaphor as well as masculine. It didn't take long for new Christians to apply feminine-divine imagery to Mary -- and the rest is history. "Christians baptized pagan imagery -- it was a good missionary strategy," says Johnson.
But in the end we lost sight of the historical person, Mary of Nazareth, a poor, devout, Jewish woman from the small town of Nazareth in Galilee who suffered under Roman oppression. Her son was first tortured and then executed by a brutal political regime at the behest of the religious leaders who controlled the populace.
Today, Johnson pleads, "We should let God have her own maternal face" and points to the diversity of imagery in the Bible. It is time she says, to "free Mary from the historic burden of carrying the feminine divine, and let her be herself and rejoin us in the communion of saints."
I agree with Johnson, but will confess to a bit of nostalgia for my own youthful impressions of Mary as a powerful carrier of the divine feminine, though I would never have named her as such then.
Back in the day, all good Catholics knew that Mary had at least as much clout with God "the Father" as Jesus did!
My three sisters and I participated in countless classroom and church-based May processions where some lucky girl got to crown Mary with a floral wreath. Her statue beamed gently down upon us from a "May altar," extravagantly bedecked with whatever was blooming in our backyards.
This was one time when girls got to play a leading role in a liturgical celebration. No altar boys allowed!
In high school I joined the Sodality, a special group of (mostly) girls committed to advancing our spiritual lives. All Sodalists were given a special Mary medal and a blue prayer book while promising to complete our list of "daily duties." These included morning and evening prayer, the Rosary (still a favorite but that's another column), weekly confession (OK, we were a bit OCD about it), and in general promising to hang out with good people rather than druggies.
Sodality gave some structure to my otherwise disorganized and inchoate efforts to relate to a God I deeply sought, but through a glass darkly. The daily duties helped me feel I was making progress -- a budding Pelagian progress to be sure, but oh well.
In a time of "all men all the time," our church's 2,000 year devotion to a quasi-divine Mary provided both a powerful antidote to sacralized sexism and a female model of holiness that I, and many girls like me, badly needed.
But it had its down side.
Reflections from theologians like Hans Urs Von Balthasar soon took complementarity theories about gender to a whole new level. Von Balthasar developed a so-called "Marion principle" in which women were called to "holy obedience" in the church, while men operated from the "Petrine principle" and were called to -- you guessed it -- hierarchical rule. Von Balthasar was one of St. John Paul II's favorite theologians.
Which only goes to show that saints aren't perfect.
Male theologizing about Mary created negative reactions among contemporary women who rightly see such theories as obstacles to their own growth and, in Johnson's felicitous words: "a hindrance to the development of critical intellect, capacity for righteous anger, and other characteristics of a mature personality."
Yep, that about sums it up.
Which is why I'm very grateful for Johnson's fidelity to our long tradition of honoring Mary while working to find new biblically based interpretations more suited to contemporary life.
She says we must look anew at the historical Mary of Nazareth as someone "who saw political violence, economic poverty and cultural disenfranchisement -- a nobody on the world stage." It was this "nobody" that God approached to mother the messiah. And her wholehearted response brought forth Jesus, whose liberating faithfulness-unto-death was first shaped by his mother.
In the midst of poverty, faith, and deprivation, Mary's Magnificat (the longest discourse by any woman in the New Testament) echoes her prophetic forebears, Miriam and Hannah, in praising a God who "casts the mighty from their thrones and raises up the lowly." Small wonder that today's marginalized and exploited peoples -- foremost among whom are women -- experience blessing and hope in Mary's hymn.
Rather than simply invoke her as "Queen of Heaven," today's litanies to Mary are as likely to name her as "marginalized woman," "unwed mother," "refugee woman with child," "mother of a political prisoner," "widowed mother," "mother of an executed criminal," "breaker of bondage," and "seeker of sanctuary."
Unjust structures in the church or in society are not corrected without first confronting the religious thinking that blesses exclusion of the marginalized as the design of God. New understandings of Mary can help present day believers take heart in our own struggles to follow the way of Jesus in proclaiming a God who raises up the lowly and in whose image both women and men are made.
In Johnson's words , we now see Mary:
as our 'sister' in faith who reveals to women their own real resources ... [who] as a real woman with much to contend with..gave herself to her life and to her God, in her own time and place and way. ... She is one of the cloud of witnesses (Hebrews 11-12) whose story encourages our own faith. ... (from "The Marian Tradition and the Reality of Women," published Dec. 1, 1985 in Horizons)
Mary of Nazareth, Presente!
[A Sister of St. Joseph, Christine Schenk served urban families for 18 years as a nurse midwife before co-founding FutureChurch, where she served for 23 years. She holds master's degrees in nursing and theology.]
Editor's note: We can send you an email alert every time Christine Schenk's column, Simply Spirit, is posted. Go to this page and follow directions: Email alert sign-up.