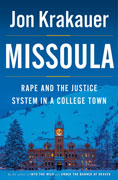 MISSOULA: RAPE AND THE JUSTICE SYSTEM IN A COLLEGE TOWN
By Jon Krakauer
Published by Doubleday, $28.95

Missoula is home to the University of Montana, a highly-regarded state university that boasts an excellent football team. The team brings fame and money to the school that, in turn, brings fame and money to the town of Missoula. You can't have one without the other, and Missoulians know it.

Unfortunately, Missoulians also know that the town has been dubbed the "rape capital of America." Until very recently, few of those alleged rapes were prosecuted correctly, partly because many of the alleged rapists were football players.

The Department of Justice investigated the handling of sexual assault cases in Missoula and found that between January 2008 and May 2012, there were 350 cases of sexual assault reported to the Missoula police. The police and Missoula County attorney's office declined to prosecute most of those cases ---- including the most egregious one of gang rape. They cited a lack of evidence.

Jon Krakauer's compelling new book, Missoula: Rape and the Justice System in a College Town, offers an account of five of the rape cases occurring between 2010 and 2012. Krakauer shows how police tend to disbelieve the victims of rape (as opposed to victims of other violent crimes), especially if the alleged rapist is a star athlete, as was the case in Missoula. Football fans denounced the victims, as well as the reporter who broke the rape story, on Twitter -- calling them sluts and liars.

The five women central to Krakauer's book did report the rape -- some right away, while others, more fearful of repercussions, waited several months. The results followed statistical patterns. Only in one case was the rapist jailed, and that, because of a plea bargain, resulted in little actual jail time. One case resulted in acquittal.

The other cases were not accepted by the prosecutor's office for lack of evidence. Krakauer rebukes Kirsten Pabst, Missoula's chief deputy county attorney at that time. Now Missoula District County Attorney, Pabst tried but failed to delay the publication of Missoula. Krakauer's disdain for Pabst is evident, but it fuels the book rather than detracts from it, especially in sections that could and sometimes do get bogged down with lengthy, detailed court proceedings.

Still, one feels that Krakauer didn't have enough time to polish his story. The book was scheduled for release in the fall of 2015, but Doubleday released the book earlier because of a Rolling Stone article -- later retracted -- about rapes at the University of Virginia.

The writing in Missoula isn't as smooth as in his earlier books. Some sentences need to be reread. Many subjects are covered here, and they don't always mesh with each other -- the alleged rapes, county politics, friction between police and prosecutors, the adversarial method of conducting trials, the university's mishandling of several cases, and efforts by authorities to correct the sexual assault problem.

But these are quibbles in this must-read, at times graphic book that will and should disturb everyone. Rape isn't just a problem for the University of Montana. Rape is considered to be a national plague on college campuses. And considering the present debate about the value of a college degree, parents and students need to know what safeguards are (or are not) in place on campus.

Krakauer did extensive research that included interviews with victims, their acquaintances, friends and families, and even the alleged rapists. He spoke to lawyers, attended court proceedings, read thousands of documents, and listened to police interviews and university disciplinary proceedings.

The statistics he cites are alarming. For example, in December 2014, the Department of Justice reported that an estimated 110,000 American women between the ages of 18 and 24 are raped each year. Many of them are college students.

For every 1,000 women attending a college or a university, there are 35 incidents of rape every academic year. Those most at risk of being raped are college freshmen. There are few, if any, strictures against promiscuous sex except the admonition to wear a condom. Don't mention morality or virginity. The concepts are foreign to many college students.

The college hookup culture, the drunkenness, and the sexual free-for-all that occurs at many colleges only exacerbate the problem -- to say nothing of their effect on students' emotional and spiritual health. Many struggle with depression and guilt. (No wonder suicide is a leading cause of death among college students.) Their schoolwork suffers, too -- as do their parents' wallets. Students are increasingly taking five or six years to graduate.

College students often live in co-ed dorms where their risk for being raped increases. If they drink alcohol or take drugs, their risk increases eightfold. Many students, according to Krakauer, are overly trusting of acquaintances. They believe the myth that rapists are strangers. Many believe that women fight their attackers to their death -- when women often put up with sexual assault because they fear consequences of severe bodily harm.

When women report being raped, they are usually disbelieved, which adds to the trauma. In college students, this trauma is especially severe and resembles post-traumatic stress syndrome.

Defense lawyers use ad hominem attacks to vilify the victim. They say that the woman was drunk and did not clearly state that she did not want to engage in sex, or that she somehow asked for it, or that she didn't feel appreciated because the man did not seem interested in having a relationship. No wonder 80 percent of women who are sexually assaulted do not report the assault.

As a result of the Justice Department probe, the Missoula police now attempt to believe the victim's side of the story rather than discount it. Krakauer recommends that all police departments follow suit.

Krakauer is known for bestsellers like Into the Wild, which is required reading at many colleges. This story of a young man who traveled to Alaska and then vanished piques the interest of students and appeals to their sense of adventure as well as to their idealism.

One wonders how today's college students will react to Krakauer's brutal account of sexual assault and, more importantly, whether it will inspire any change.

[Diane Scharper teaches English at Towson University. She is a frequent contributor to NCR.]

Editor's Note: The U.S. Department of Justice announced July 10 that after two years of oversight, the University of Montana Police Department had met federal requirements to improve its response to reports of sexual assault on campus. The Missoula City Police had met the federal requirements in May, according to the Justice Department, but the County Attorney's Office is still not in compliance.
Advertisement