As Margery Kempe, Henry Benjamin Whipple, and Dietrich Bonhoeffer saw it, silence in the face of evil was just plain wrong. None of them has been declared a saint. But as these three biographies attest, when you're speaking out against the prevailing culture, you shouldn't expect honorifics.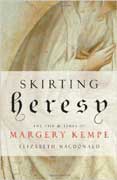 SKIRTING HERESY: THE LIFE AND TIMES OF MARGERY KEMPE
By Elizabeth MacDonald
Published by Franciscan Media, $16.99
Margery Kempe (circa 1373-1438) was willful, inner-directed and self-determined -- many would say to a fault. Some called her a scold and a troublemaker. Some in the Roman Catholic hierarchy called her a heretic -- a Lollard. (The Lollards, who were prevalent during Kempe's era, questioned the doctrine of transubstantiation.) Still others considered Kempe a saint.
Elizabeth MacDonald portrays Kempe as a feminist before her time. Writing in a clear, no-nonsense style, MacDonald, a business reporter, weaves medieval history with material from Kempe's memoir, dictated in approximately 1436. This memoir, The Book of Margery Kempe, is considered the first English autobiography. That it was fashioned by a woman is another first.
Kempe, a Roman Catholic, lived in the town of Bishop's Lynn and led an unexceptional life until she became gravely ill for eight months after the birth of the first of her 14 children. During this time, she experienced, as MacDonald tells it, visions from the divine as well as the demonic, in which she was commanded to forsake her faith and to commit suicide.
Before she was driven to do either, she claimed she heard the voice of Jesus Christ speaking to her. Thus began the mystical phase of Kempe's life that continued until her death. Kempe's mysticism was characterized by frequent visits from and conversations with Jesus, as well as with some of the saints. Kempe also had moments of ecstasy in which she sobbed loudly, while believing herself to be present during the crucifixion.
Kempe lived in an age when religious hypocrisy à la The Canterbury Tales was rampant. Reformers like John Wycliffe questioned the authority of the Roman Catholic church and its teachings regarding indulgences, relics and the Eucharist. They also advocated for an English translation of the Bible.
At this time, women were not allowed to preach the Gospel and couldn't travel without men. Yet Kempe managed to do both. She made several pilgrimages and traveled to the Holy Land. She chastised her neighbors' wrongdoings as well as that of town and church leaders. If she saw fault with the actions of mayors, priests and bishops, she let them know about it. She was never one to keep her thoughts to herself, and as seen in this entertaining biography, that was a good thing.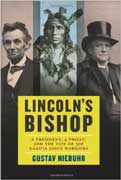 LINCOLN'S BISHOP: A PRESIDENT, A PRIEST, AND THE FATE OF 300 DAKOTA SIOUX WARRIORS
By Gustav Niebuhr
Published by HarperOne, $26.99
During the Dakota War of 1862, Indian tribes killed 800 or more Minnesota settlers, some of them women and children. How could anyone -- let alone the Episcopal bishop of Minnesota -- excuse their actions?
The question informs Lincoln's Bishop, Gustav Niebuhr's revealing biography of Henry Benjamin Whipple (1822-1901). Niebuhr looks at the massacre and what led up to it, as well as several key players, including Whipple and President Abraham Lincoln. Although Niebuhr's writing tends to be circuitous and wordy, it paints a convincing portrait of both a man and an era.
The central action concerns the punishment by hanging of more than 300 Indians who were involved in the war and Whipple's campaign against the mass hanging. When the war, which lasted only a few months, ended, most Americans wanted to punish the Dakotas, even tribal members who had tried to help the white settlers. It was determined that all 300 Indians would be put to death.
As Niebuhr explains it, Whipple didn't excuse the Indian attacks on white settlers of Minnesota so much as he tried to explain the Indians' rationale. Whipple, who sympathized with those who were less fortunate, had been trained to observe the golden rule. According to Niebuhr, he had also been influenced by an elderly neighbor raised by an Indian family.
Whipple had come to know individual Indians as human beings and as part of his Episcopal congregation. He argued that the Indians were not bloody savages. They were angry human beings who realized the extent of the injustices committed against them.
Whipple launched a public relations effort on behalf of the Indians, sending numerous petitions and letters to political leaders, including Lincoln. He published articles in newspapers and traveled around the country preaching about the injustice visited on the Indians.
Whipple's campaign exposed the corruption in the federal government's Office of Indian Affairs. He showed how the Indians had been swindled out of their land and then were not given the annuities they had been promised. Forced into reservations and with a dwindling supply of food, the Indians were desperate. They were hungry and afraid for their well-being.
Whipple had an independent streak and a strong sense of right and wrong. He argued his point convincingly. And despite the country's negative feelings toward the Indians, he convinced Lincoln to spare the lives of 275 Dakota Indians. Later, Whipple's life was threatened by angry whites. Today, Whipple is little known, his actions overshadowed by the Civil War and issues regarding slavery. But at a time when most clerics -- Protestants and Roman Catholics -- avoided taking sides in anything that seemed political, Whipple was one of the few who stood up for his convictions. And, according to Niebuhr, if that's not memorable, it should be.
STRANGE GLORY: A LIFE OF DIETRICH BONHOEFFER
By Charles Marsh
Published by Knopf, $35
A Lutheran pastor, Dietrich Bonhoeffer (1906-45) joined the Nazi resistance and spoke up for the Jews when almost no one else -- including Roman Catholic bishops -- had the courage to do so. Bonhoeffer stood against Nazism and Aryanism while German Protestant churches of the time accepted both as part of their belief system. He also insisted that Christ was the head of Christianity -- not Adolf Hitler, as the Nazis claimed.
Beginning with the halcyon days of Bonhoeffer's youth, Charles Marsh's scrupulously written biography opens with his undergraduate and graduate studies and the influence of his mentors, including Karl Barth and Reinhold Niebuhr. He covers Bonhoeffer's postgraduate studies in the United States, where he was deeply affected by Negro spirituals and the plight of minorities, as well as by his work as seminary professor in underground seminaries. Also included is a controversial section on his possibly romantic relationship with Eberhard Bethge.
The biography concludes with Bonhoeffer's imprisonment and final writings (which Marsh considers his finest), and his ultimate martyrdom that, according to Marsh, wasn't as painless as is often portrayed.
Marsh, a professor of religious studies, strives for the definitive portrait. He quotes liberally from letters, journals, articles, books and other archival material. The result is a serious study that, although slow-moving, sheds new light on some aspects of Bonhoeffer's life, including his execution and the days leading up to it.
The pampered child of wealthy but not especially religious parents, Bonhoeffer was a twin and one of eight children. Despite his parents' lack of interest in things religious, he decided at age 13 to study theology and become a Lutheran minister.
As Bonhoeffer completed his studies, he served as an assistant pastor at a Lutheran church in Barcelona, Spain, where he was tempted to convert to Roman Catholicism, drawn to what he described as "the beauty, exuberance, and grandeur" of the Catholic church. An early proponent of ecumenism, he came to believe that the Christian church "should stand or fall by its response to the Jewish question," no matter the sacrifice it might entail. Bonhoeffer called for a Christianity based not on abstractions and theological treatises but on Christ's message in the Gospels -- especially the Sermon on the Mount, which Bonhoeffer considered the linchpin of Christian living.
Ultimately, Bonhoeffer insisted that the figure of Jesus Christ on the cross was an example for Christians to follow -- not a religious ornament. And because of Christ's example, Christianity should stop offering cheap grace (preaching salvation without the cross). In order to mean anything, he wrote, grace has to be costly.
Did Bonhoeffer expect to pay the ultimate price for his grace? Probably not, according to Marsh. But he did, and Christians are left with his example, a difficult and deeply inspiring act to follow.
[Diane Scharper's most recent book is Reading Lips, and Other Ways to Overcome a Disability. She is a member of the graduate faculty of Towson University.]
Advertisement