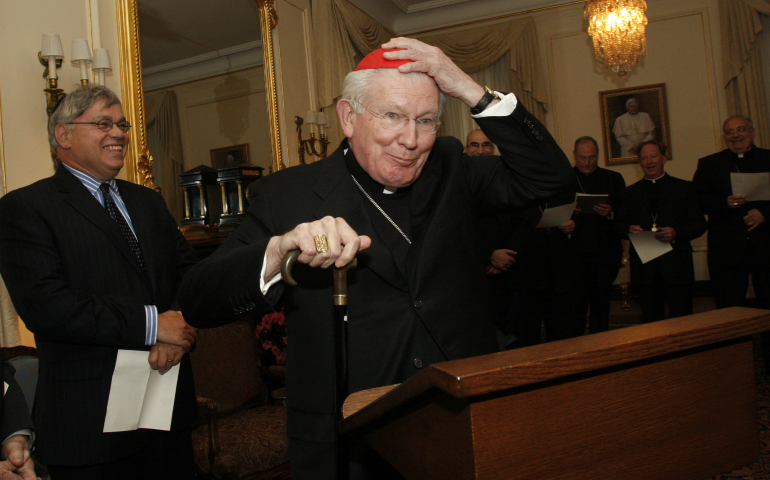 Cardinal William H. Keeler, retired archbishop of Baltimore, places a zucchetto on his head as he prepares to offer the opening prayer during a prayer service for Catholic and Jewish leaders hosted by New York Archbishop Timothy M. Dolan at his residence in New York May 12, 2009. Cardinal Keeler died March 23. He was 86. (CNS photo/Gregory A. Shemitz)
Baltimore — March 23, 2017
Cardinal William Keeler, the retired archbishop of Baltimore who was known for his vital role in ecumenical and interreligious relations, died early March 23 at St. Martin's Home for the Aged in the Baltimore suburb of Catonsville. He was 86.
The Baltimore Archdiocese said funeral arrangements were being finalized.
"One of the great blessings in my life was coming to know Cardinal Keeler," said Baltimore Archbishop William Lori in a statement. "Cardinal Keeler will be greatly missed. I am grateful to the Little Sisters for their devoted care for the cardinal."
Keeler was the bishop of Harrisburg, Pennsylvania, when he was appointed the 14th archbishop of Baltimore in 1989. Pope John Paul II made him a cardinal in 1994. He retired in 2007. As president of the U.S. bishops' conference from 1992-95, he participated in a wide range of national and international issues.
As part of his work with what is now the U.S. Conference of Catholic Bishops, Cardinal Keeler developed a reputation for effectively building interfaith bonds. He is particularly noted for his work in furthering Catholic-Jewish dialogue. He was appointed moderator of Catholic-Jewish Relations for the USCCB.
Keeler's death leaves the College of Cardinals with 223 members, 17 of whom are from the United States. The College of Cardinals has 117 members under the age of 80 and eligible to vote in a conclave.
Lori remarked on "the respect and esteem" in which the late prelate was held by his brother bishops, and praised his leadership in Jewish-Catholic relations and in Orthodox-Catholic relations. Archbishop Lori also said he was known for his "prowess as a church historian" and had a "deep love and respect for the history and heritage of the Archdiocese of Baltimore."
Keeler was an ardent promoter of the Catholic Church's teaching on the sanctity of all human life. He twice served as chairman of the U.S. bishops' Committee for Pro-Life Activities and testified at all levels of government on legislation ranging from abortion to euthanasia to capital punishment.