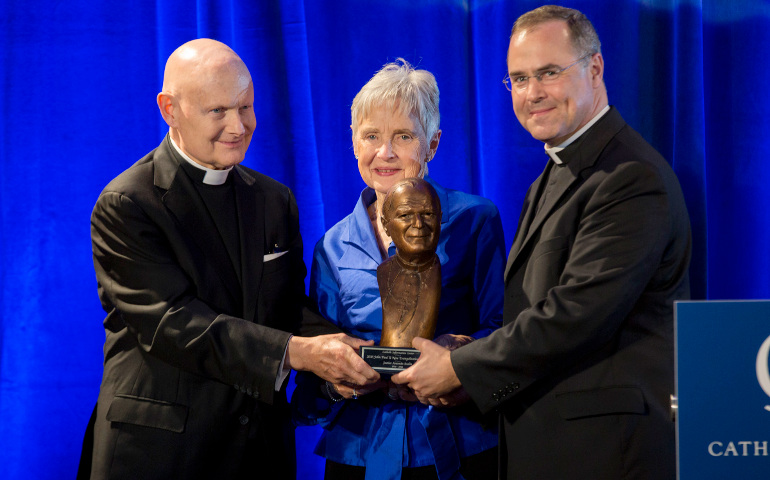 Fr. Arne Panula, an Opus Dei priest who is director of the Catholic Information Center in Washington, presents the center's fifth-annual St. John Paul II Award for the New Evangelization honoring the late U.S. Supreme Court Justice Antonin Scalia. (CNS/Catholic Standard/Jaclyn Lippelmann)
Washington — October 28, 2016
Noted law professor Robert George, while serving as the master of ceremonies for the Catholic Information Center's annual dinner in Washington Oct. 26, said that night, "We honor two great men — Antonin Scalia and St. John Paul II."
The center posthumously honored Scalia with its fifth annual St. John Paul II Award for the New Evangelization. Scalia was an associate justice on the U.S. Supreme Court from 1986 until his death Feb. 13 at age 79.
The award was presented to Maureen Scalia, his widow, and to one of their nine children, Fr. Paul Scalia, a priest of the Arlington, Va., diocese.
"No one in our nation ever had greater fidelity to our Constitution than Antonin Scalia. ... He was never ashamed of the Gospel or to speak publicly of his faith," said George, the McCormick professor of jurisprudence and director of the James Madison program in American ideals and institutions at Princeton University.
Addressing the more than 400 people attending the sold-out dinner, George said the unexpected death of the justice eight months earlier was a tragedy for his family and the nation, but he said that at the award dinner, they would celebrate the life of "a man who set such an example of Catholic fidelity for all of us. ... What a hero he was, not only of the Constitution and our republican (form of) government, but of our Catholic faith as well."
The Catholic Information Center in downtown Washington offers regular lectures by noted speakers, a program for the spiritual development of young professionals, daily Mass and spiritual counseling, and a bookstore.
George praised the center for reaching out with "the love and light of Christ" to people in the nation's capital.
Thomas Yannucci, a partner in the law firm of Kirkland & Ellis LLP and chairman of the center's board, said it reflects the vision of Pope Francis, who said he thinks the Catholic church should be a "field hospital" bringing Christ's healing to people.
"It really is a field hospital. That's what the church needs to do — heal people where they work and live," he said.
In his invocation at the dinner, Washington Cardinal Donald Wuerl praised Scalia's legacy.
"May his courage to share his faith in the public square be a model for us in this age of the new evangelization," the cardinal said.
In a video before the award was presented, Noel Francisco, a partner in the Jones Day law firm, praised Scalia as "the greatest jurist of the 20th century."
The video included a poignant clip of Scalia giving the June 2015 commencement address at his granddaughter Megan's Catholic high school, Stone Ridge School of the Sacred Heart in Bethesda, Md.
"Good intentions are not enough. Being a good person begins with being a wise person. Then when you follow your conscience, you will be headed in the right direction," said Scalia in what is believed to be his last public speech.
The dinner's keynote speaker was Edward Whelan, president of the Ethics and Public Policy Center in Washington. He was as a law clerk to Scalia from 1991-92.
"In 'Christifideles Laici,' John Paul II emphasized the duty of the lay faithful to sanctify the world 'by fulfilling their own particular duties,'" Whelan said, quoting from the pope's 1988 apostolic exhortation. "By faithfully and courageously living out his professional vocation in the secular world, Justice Scalia provided a powerful example for the rest of us."
Whelan noted that "as a jurist, Antonin Scalia was an apostle of textualism. As a man, he was a disciple of the Word. By his example and quiet counsel, he encouraged those of us who knew him to embrace our faith more deeply and to strive to live our own lives of moral courage and integrity."
The keynote speaker said the impact of Scalia's example could be seen by "the lines of thousands of mourners who waited for hours in cold weather to pay their respects as his body lay in repose at the Supreme Court."
Whelan noted the similarities that Scalia had with the justice's favorite saint, Thomas More. Scalia's official Supreme Court portrait showed a painting of the saint on his desk.
"Both had great legal minds that carried them to the heights of governmental power. Both were noted for their wit and their capacity for friendship. Both were embroiled in controversies over the nature of marriage and religious liberty. Both were men of faith and of prayer," he said.
Whelan noted that Scalia admired St. Thomas More for being a "fool for Christ" in the eyes of the world, as that statesman was executed by the order of King Henry VIII after refusing to publicly support the king's divorce and second marriage out of fidelity to the pope and Catholic teaching.
The keynoter said that Scalia's rulings on cases involving issues such as abortion, marriage and religious freedom were guided not by his Catholic faith, but by his adherence to the text of the Constitution, and he noted that the justice once said, "I don't think there's any such thing as a Catholic judge. There are good judges and bad judges."
Whelan also praised Scalia as a family man. "We celebrate Justice Scalia for his 55 years of devoted marriage to his wonderful wife. And we take delight in the visible fruits of that marriage: their nine remarkable children — one priest, four husbands and fathers, four wives and mothers, (and) their 36 grandchildren born so far."
In closing, Whelan encouraged Catholics to emulate Scalia. "May we all be inspired by his example to live Catholic lives of integrity. May we see not with the eyes of men but with the eyes of faith. May we be wise in Christ. And may we, too, have the courage to suffer the contempt of the sophisticated world."