A version of this story appeared in the Jan 29-Feb 11, 2016 print issue under the headline: "Deacon brings God's love to inmates".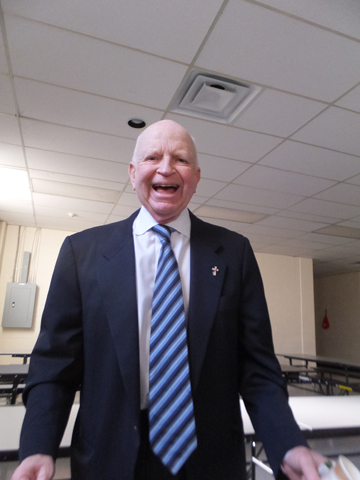 Deacon Dave Loman (Patricia Lefevere)
Tenafly, N.J. — March 18, 2016
Located on the Frontage Road close to Newark Liberty Airport here, many a traveler has experienced the irony of heading out of town, or returning home, while passing a maximum-security fortress with thick walls, tiny windows, razor-wire fencing and multiple guard towers. The men inside, though close to the airport's runway, aren't going anywhere — at least not for a long, long time.
But Deacon Dave Loman, 77, and other deacons are going to Northern State Prison every week, leading prayer services with a handful of the 2,700 incarcerated men, conducting Bible study, and doing individual and group counseling. Loman arrives at the prison at 7:30 a.m. and the men began to arrive around 8 a.m., following the second of seven population counts taken daily.