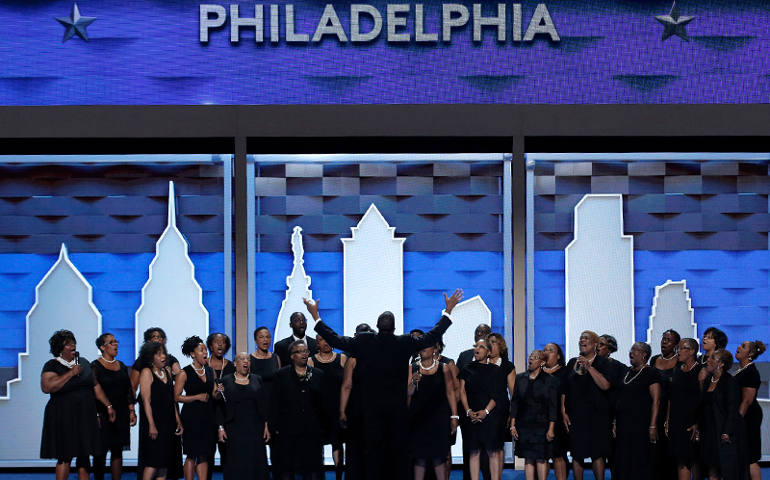 A choir performs before the start of the first day of the Democratic National Convention in Philadelphia on July 25, 2016. (Photo courtesy of REUTERS/Mike Segar)
Philadelphia — July 28, 2016
To judge by public perceptions, and more than a few pundits, the Democratic Party is the default home of secularists and atheists, with practicing believers shunted to a side room only to be trotted out when a political event needs a gloss of godliness.
But walking around the Democratic National Convention taking place here this week and talking to delegates and activists reveals a much different picture, with people of faith -- almost every faith -- eager to testify to their beliefs and how they in fact bolster their political choice for a party some view as inimical to religion.
"I believe Jesus Christ is my Lord and Savior. I grew up in a Pentecostal family -- and I'm a staunch Democrat," said delegate and Bronx Borough president Ruben Diaz, Jr.
"I don't think the other party has a monopoly on faith," insisted Diaz, who said his beliefs dovetail with his stands on economic equality and other issues.
Indeed, both faith and diversity were often on display at the Wells Fargo Center, where the convention was called to order every afternoon -- and closed every evening -- by prayer, and at various events taking place each day around the city.
A case in point: the latest "Nuns on the Bus" tour for social justice ended its three-week, 13-state campaign to combat the nation's divisions by parking outside the arena. In addition, at special sessions devoted to faith outreach Muslims, mainline Protestants and others delivered impassioned sermons about marrying faith to public action.
---
More: Read more about the Nuns on the Bus "Bridge the Divides, Transform Politics" tour at Global Sisters Report
---
"It is easy to say that what happens in culture and society and business or even in our own homes is not the concern of people of faith like you and me," Bishop Vashti McKenzie of the African Methodist Episcopal Church told dozens of delegates and activists in a full-throated exhortation that prompted an "Amen!" chorus.
But beyond "saving souls and helping needy individuals," she insisted, "our faith makes it very clear that our corporate response to the evil in this world is just as important."
At the same time, the religious enthusiasm that animates so many in the party's grassroots hasn't always filtered through to the party elite where concrete policy decisions are made.
Numerous delegates and activists who take their cues from their faith complained that party leaders have effectively dropped faith-based participants from the process of drafting the party platform or helping to shape the campaign message for nominee Hillary Clinton.
Privately, many expressed anger at this development, which they say is a departure from the party's earlier efforts to heed the concerns of religious believers -- concerns they say could attract undecided voters and those disillusioned with what they see as the dark and divisive language from Republican nominee Donald Trump.
---
More: "Democratic platform is progressive wish list" (July 7, 2016)
---
Previous Democratic efforts to attract faith-based voters began in earnest following the failed 2004 campaign of nominee John Kerry, when the so-called "God gap" -- the gulf between churchgoers who vote for the GOP as opposed to the Democrats -- emerged as a glaring problem.
In 2008 and 2012, the Obama campaign was diligent about reaching out to people of faith and including faith-based activists and party regulars in the campaign and, subsequently, in the Obama administration.
Yet those efforts tailed off noticeably this year, which can only fuel the public's growing impression that Democrats are more hostile to faith than the GOP.
A Pew survey from January was the latest marker in that trend: The polling showed that since 2003 the number of Americans who say the Democratic Party is "friendly toward religion" has fallen from 42 percent to 30 percent. Over the same period, the number who say the Democrats are "unfriendly to religion" has doubled, from 12 percent to 24 percent.
By contrast, 42 percent of Americans say Republicans are faith-friendly and just 21 percent say they are unfriendly to faith.
Some delegates here said it's time for the party to do more to change that dynamic. They said they are viewed too often with suspicion by party officials if they speak about faith or if they talk about hot-button moral issues like abortion and religious freedom, or on behalf of faith-based programs or school choice.
"If we really are the inclusive party then we should include everyone," said Paul Vallone, a New York City councilman and practicing Catholic who spoke after a breakfast meeting for the New York state delegation. "Everyone's got to feel that they can bring their faith to this party and not feel ostracized for it. That still hasn't happened. We really need to focus on that."
"The party needs to understand the relevance of God in today's world," agreed New York State Sen. James Sanders, an African-American Protestant who studied for the ministry as a young man.
"The party needs to understand that there are people of faith and we are going to vote based on our faith. Be it the Bible or the Talmud or the Quran or whatever faith brings people here, they should not be chased out of these halls. They should be welcomed, be embraced."
One factor that may contribute to the perception that Democrats are not especially faith-friendly is that the party is, in fact, so religiously diverse.
The new religious voters and activists coming into the Democratic Party have often felt rejected by the language and policies of Republicans, but also by the dominance of white conservative Christians in the GOP.
They are not looking to establish their own dominance in the Democratic Party but instead tend to seek common ground on policies that will protect their rights and the rights of other minorities. It is about promoting diversity rather than championing one group over and against another.
That crossover dynamic was manifested this year, for example, in the strong support that Bernie Sanders, the Vermont senator who was Clinton's rival for the nomination, drew from the Muslim community.
"His values and principles as a Jewish-American really spoke to me as a Muslim-American," said Linda Sarsour, a diehard Sanders delegate who co-founded a Muslim advocacy group, MPower Change.
"He's genuine, he's authentic, and he really connected with our community in a transformative way," Sarsour said. That connection was demonstrated when Muslims in Michigan effectively delivered the key state to Sanders during the primaries, slowing Clinton's growing march to the nomination.
One result of all this diversity is that expressions of faith tend to be cast in generic "Golden Rule" terms to avoid sectarian or offensive language.
While such language can express admirable goals, it's not especially memorable or particularly convincing.
Another challenge for Democratic believers is the cold political reality that there are more religiously unaffiliated voters than ever -- at 21 percent of the electorate, the so-called "nones," now constitute a larger voting bloc than any single religious group. And those voters are increasingly leaning Democratic, which means the party can't afford to ignore or offend them.
Despite these factors, the "God-talk" quotient did seem to grow as the convention went on, thanks to guest speakers not directly associated with the party: women from Mothers of the Movement and leaders of Black Lives Matter whose children have died in confrontations with authorities, were one moving example.
"Give me two moments to tell you how good God is. Give me a moment to say thank you," Geneva Reed-Veal, whose 28-year-old daughter, Sandra Bland, died in jail after being pulled over for a traffic stop in Texas in 2015, said in a heart-wrenching moment Tuesday night. "We are not standing here because He's not good. We are standing here because He's great."
Then on Wednesday night the Rev. Jesse Jackson channeled some of his pulpit past with a faith-inflected call and response address while musical performances and cameo appearances focused on themes of faith, hope and love.
But the God-talk really ramped up when Virginia Rep. Bobby Scott introduced the vice-presidential nominee, Virginia Sen. Tim Kaine, with the injunction from the Book of Micah to "act justly and to love mercy and to walk humbly with your God."
"There are few people," Scott said, "who live up to the creed as fully as Tim Kaine.
Kaine then came out and in a surprisingly effective speech spoke repeatedly about the centrality of his Catholic faith to his life and mission, and about his Jesuit education to be "a man for others" as the "north star for orienting my life."
---
More: "5 faith facts about Dem. VP pick Tim Kaine, a Jesuit-educated Catholic" (July 22, 2016)
---
"Faith, family, and work," he said in the Spanish he learned during a mission year in Honduras, and he repeated the motto in English. "God has created in our country a beautiful and rich tapestry," he said, later citing Jesus' commandment to "love (our) neighbors as ourselves."
Just as important, Kaine said, his running mate Clinton is ready to be president "because of her faith."
It was powerful, persuasive testimony. But many delegates say they want more than just words. "Faith without works is dead," was the New Testament passage some liked to quote, and they will wait to see if the campaign can find a way to include them and their views.
"There are those of us who believe in God and we are in the party. Why don't we all just relax?" said Sanders, the New York state senator. "We're not going away."