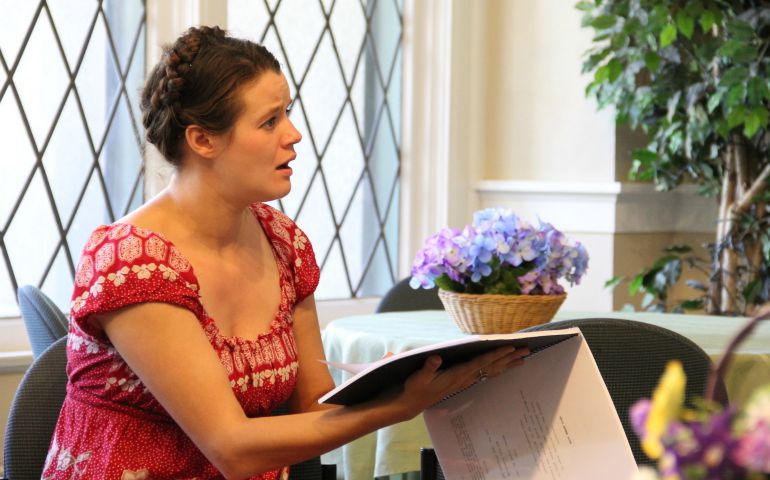 Suzie Deuker rehearses for "This Other Love." (Laura Heise)
Patty McCarty, a former NCR copy editor, will see her two-act play about the life of Dorothy Day staged by a Milwaukee-based theater company this month.
Acacia Theatre Company will present "This Other Love" by Patty McCarty July 14-16 and July 20-23.
The action of the play takes place in August 1927, during a time Day was struggling with her growing spirituality and relationship with her common-law husband, Forster Batterham. The play addresses Day following God's call to work with the poor. Janet Bouman Peterson is the play's production director.
McCarty, who copy edited the pages of National Catholic Reporter from July 20, 1993-Dec. 1, 2008, first met Day at a speaking engagement in Fargo, North Dakota, about 50 miles north of her hometown of Wahpeton in the early 1950s.
"I was very impressed with that lady," McCarty told NCR in an interview last month.
"Dorothy Day was important to me because we were quite poor when I was little, and I grew up hearing from my grandmother that being poor was the worst thing that could happen to you," McCarty said.
"But when I met Dorothy Day and heard her talk about embracing voluntary poverty, well, that was a whole new experience for me, and of course it was important for me to hear that because otherwise I would have thought that being poor was something you should never do. But, of course, Jesus seemed to think that being poor was not bad — 'Blessed are the poor.' "
McCarty would meet Day a second time at another speaking engagement at Marquette University in 1955. McCarty, a journalism student at Marquette, volunteered to interview Day for the school's newspaper.
---
Hear Patty McCarty talk about her work in the latest NCR In Conversation podcast episode.
---
McCarty wrote "This Other Love" as part of a master's thesis project while a theater student at University of Missouri-Kansas City in 1994. She submitted the finished product to Acacia Theatre Company, but it was left forgotten until last year, when someone found it while the theater's offices were moving to a new location.
"I could hardly believe it," McCarty said. "It just kind of got forgotten. ... I didn't expect much. But after 22 years, to get a phone call like that … that'll get your attention."
McCarty said "This Other Love" was the last play she's written. She plans to be in Wisconsin for the play's opening performance.
"I hope that [audiences] feel that they have been touched by Dorothy Day when she was a young lady who wanted to see the voice of the church be very much a part of her child's life," she said.
As a journalist living in Kansas City, Missouri, McCarty co-founded Community Now, a weekly interfaith community newspaper, with her husband in 1968. Its circulation lasted for one year. She has also served as editor of The American Nurse, newspaper of the American Nurses Association. McCarty was a copyeditor for NCR for more than 15 years and also served as NCR's poetry editor.
The play will be presented in the Todd Wehr Auditorium at Concordia University Wisconsin in Mequon, a northern suburb of Milwaukee. All performances are scheduled for 7:30 p.m. except July 16 and July 23 at 3 p.m. and July 22 at 4 p.m. Tickets cost $16 for adults and $13 for seniors, students and full-time clergy. They can be purchased via Acacia Theatre Company's website.
Acacia Theatre Company is a nonprofit, independent and interdenominational Christian theater company that was founded in 1980.
[Shireen Korkzan is an NCR Bertelsen intern. Her email address is skorkzan@ncronline.org.]​