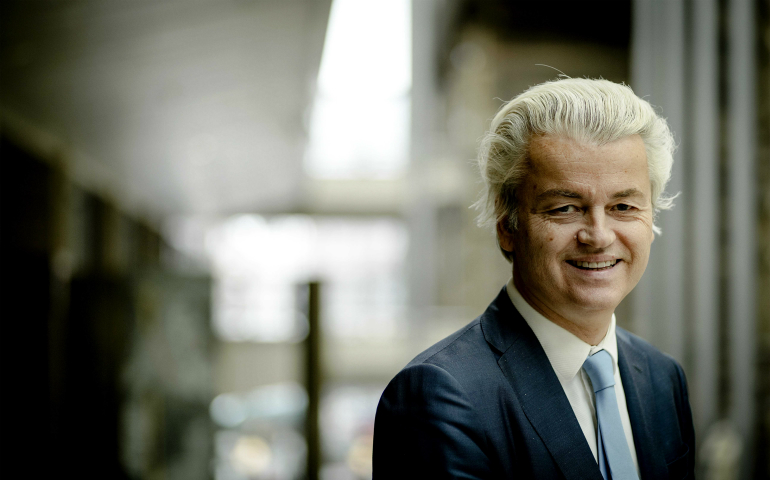 Geert Wilders, a Dutch politician whose Party for Freedom is expected to win the majority of seats in the lower house of Parliament in March 15 elections, is pictured in a March 2 photo. (CNS photo/Obin Van Lonkhuijsen, EPA)
Amsterdam — March 2, 2017
Dutch church leaders have signed a petition against the "exploitation of Christianity" by populist politicians in upcoming parliamentary elections, as the Catholic bishops' conference urged voters to back parties "contributing to the common good."
"Whether votes go to left or right, the church will always steer its own course," said the petition, signed by Bishop Gerard de Korte of Den Bosch, Netherlands, and dozens of Catholic and Protestant theologians and pastors.
"The church isn't a political party, nor is any political party a church. We have a separation between church and state — since if the two sit together on anyone's lap, we get a political and religious dictatorship which serves, not God or the people, but only those in power."
The petition was circulated before March 15 elections for the 150-seat Dutch lower house, in which the nationalist Party for Freedom, headed by Geert Wilders, is forecast to win most votes.
The petition said it aimed to "send a message" to politicians seeking to "exploit Christian culture," which was in reality "too radical for coalition compromises, too embracing for borders and too demanding for policymakers."
It added that those hoping to "turn the sayings of Jesus into a political program" would "quickly go away screaming."
"Christians are not voting cattle — their kingdom isn't of this earth and their king isn't from here," said the petition, also signed by presidents of the Dutch Evangelical and Reformed churches and Archbishop Joris Vercammen of the country's Old Catholic Church.
"You can call this dreamy or dangerous, since Jesus had no message for Caesar. But we will always work for the promised kingdom to be given shape in the country we live in," the petition said.
Dutch Prime Minister Mark Rutte is seeking a third term as head of a government that includes his People's Party for Freedom and Democracy and the Labor Party.
Wilders' Party for Freedom has advocated banning the Quran and closing mosques and Muslim schools, as well as barring immigration from Muslim countries and taking the Netherlands out of the European Union.
Wilders, 53, a nonpracticing Catholic, has vigorously attacked Islam in speeches and urged Dutch Christians to support his program.
The Catholic Church's seven dioceses make up a quarter of the 16.7 million inhabitants of the Netherlands, according to church statistics, although only half a million attend Mass in the country, which was Europe's first to legalize brothels, cannabis, euthanasia and same-sex marriage.
In a pastoral letter published Feb. 28, the bishops' conference urged voters to support parties that "contribute to the common good" by supporting life, families and "the reception of migrants," as well as religious freedom, poverty reduction, and "sustainability and development."
"The spirit of the times seems to have brought a stress on differences and divisions, rather than a search for connectedness and unity — but let us not indulge in anger, intolerance, indifference and polarization," the bishops said.
"When we stand in the voting booth, we must ask how, in the light of the Gospel, we can contribute to a society based on human dignity, solidarity, fundamental rights, social justice, subsidiarity, tolerance and peace between religions and cultures."