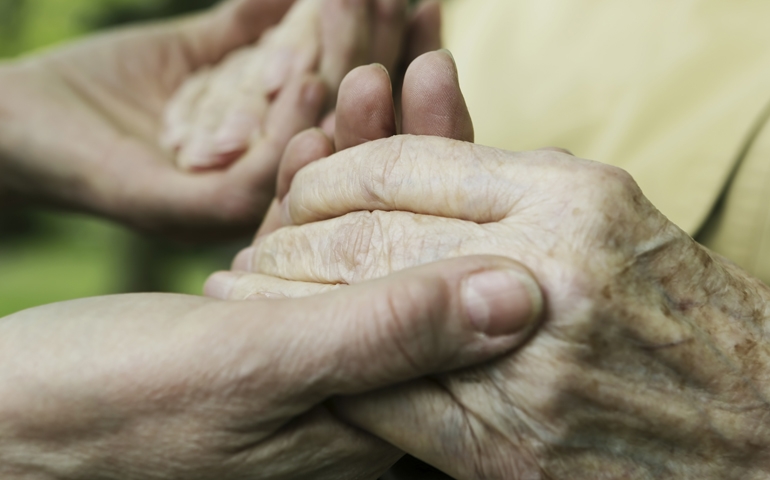 (Newscom/Jan Tepass)
Guilt. Anger. Stress. Depression. These are only a handful of common emotions on a lengthy list that caregivers experience when caring for a loved one who may have a disability or may be elderly and frail.
More than 40 million caregivers provided unpaid care to an adult or child in 2015, according to the National Alliance for Caregiving, a nonprofit organization that works to increase public awareness of family caregiving issues. And that number is expected to rise with the unprecedented aging population, experts said.
But many of the millions of caregivers are unaware that others experience similar emotions.
"When you've taken on caring for someone else, you think you are supposed to be patient, kind, loving and caring at all times, then you feel bad when that's not the case," said Donna Schempp, a social worker and former director of programs and services at Family Caregiver Alliance, a nonprofit organization based in San Francisco. "We need to normalize that you are not the only one."
That's the goal behind workshops and classes Schempp organized in the Bay Area during her 14-year career at Family Caregiver Alliance — to offer caregivers a place to communicate with others in similar circumstances and to aid the caregiver rather than the care recipient.
Support is essential to a caregiver's emotional status, experts say. Classes like Schempp's offer counseling and emotional support, a focus on the caregiver's health, and hands-on instruction on how to care for a loved one. Support is also provided to help caregivers make the decision to move a loved one to an assisted living facility or nursing home, and how to move beyond the associated guilt.
Fulfilling all caregiver duties perfectly — also known as caregiver burden — is impossible, Schempp said, and a key source of stress among caregivers. "No one can do all the things that have to be done to take care of someone else," she said, stressing the need for outside support.
According to the National Alliance for Caregiving, services provided by informal caregivers has increased 25 percent between 2007 and 2013, from $375 billion to $470 billion — a reflection of the aging population.
"Each family seems to deal with aging and care as if they are doing it alone, and yet this is really becoming the norm," said Gail Gibson Hunt, CEO at the National Alliance for Caregiving.
By 2050, the U.S. population of people 65 and older is expected to reach 83.7 million — almost double its estimated 43.1 million in 2012, according to a 2014 U.S. Census Bureau Report.
Life expectancy almost doubled in the 20th century, with approximately 35 million Americans 65 or older, according to the National Institute on Aging, and that number that is expected to double in the next 25 years. According to the site, living to 100 has become "commonplace," and experts say children born today can expect to live to be at least 80.
But the people taking care of the aging population often overlook their own needs, Schempp said. Self-neglect can result in unaddressed health issues and isolation from friends and family. In addition, most caregivers lack the medical background and hands-on knowledge to care for someone else. Lifting someone improperly from a chair or bathtub, for example, can lead to caregiver injuries.
Just ask Gina Ivy.
"Before I even knew what had happened I was down on the ground and my back went into a complete spasm," Ivy said of the fall she took while helping her 87-year-old mother from her wheelchair into an SUV. "I'm her only caretaker, and I'm on the ground."
Ivy, 50, a native Chicagoan who now lives in Oklahoma City with her husband, moved her mother, Patricia Mannarelli, into her house for six months to care for her before moving her in 2015 into an assisted living facility 20 miles away. Ivy, who manages her own jewelry business from home, said learning the ropes and caregiving jargon was challenging.
"It was like having to live on the moon or something," said Ivy of her endless Google searches late into the night. "That learning curve is very steep."
Ivy describes her mother as mentally sharp with bloodwork "that looks like she's in her 50s." But when Mannarelli was put on a drug for fibromyalgia, it interacted with another drug and made her dizzy, causing her to fall and injure her back. From there, Ivy said, her mother's health went into a downward spiral. "She went from being completely independent to almost completely dependent overnight."
Ivy said she discovered terms like activities of daily living — also referred to as ADLs — through her Google searches and her frequent doctor's visits with her mom.
The most difficult ADLs involve personal care activities like helping a loved one to and from the toilet (an activity Ivy helped her mom with), changing diapers, and transferring someone in and out of bed, according to a 2015 National Alliance for Caregiving report.
To help caregivers learn how to manage ADLs, the Foundation for Senior Living — a member agency of Catholic Charities USA in Phoenix — offers caregiver training free of charge, including how to transfer someone properly from a commode to a wheelchair, said marketing director Megan Word.
But how does a caregiver know when it's time to move a loved one out of their home and into an assisted living facility? Schempp said incontinence is at the top of the list, particularly an adult child caring for a parent of the opposite sex. "It might not feel right to you," said Schempp, citing bathroom duties such a wiping and helping someone onto the toilet.
Schempp says she gauges the situation by asking a caregiver, "What is your bottom line. … At what point do you say to yourself, 'I can't do this anymore'?"
Ivy's bottom line was getting injured herself. "In an ideal situation, she would have loved to live here with me," said Ivy with a sigh. "If we could have renovated the house," she continued, "but we weren't prepared for that. Once I hurt my back, that was it."
Other common bottom lines include lack of family support and monetary considerations. Ivy said her family spent $10,000 out of pocket during her mom's six-month stay.
Experts said the choice is never easy, and while the move is usually better for both parties, it comes with a lot of emotional turmoil.
"There is guilt both ways. In a lot of cases, no matter what you do, it's never going to be enough," said Andy Scharlach, professor of aging at the School of Social Welfare at the University of California, Berkeley. "Here is someone you care about that is suffering, and no matter what you do, you can't relieve their suffering."
As Ivy recalled, "To have to say, 'I can't take care of you the way that I would like to,' " was gut-wrenching.
Her Google searches led her to A Place for Mom, an organization that helps caregivers find assisted living facilities based on location, budget, care services and amenities. The service is free of charge to clients.
"Oftentimes people aren't even aware of the senior living industry until they have a need for it," said Sue Johansen, an adviser at A Place for Mom. "It's not like you spend your time on the internet like you would for a vacation or shoes. A family is kind of thrust into the world of senior living because of an incident like a fall or memory issues."
Ivy said the agency saved her life.
Schempp noted that caregiver advocacy and awareness "has gotten much better," since she started in 2000, but experts say the U.S. is still unprepared for the aging population.
"Most of the long-term care provided to older people today comes from unpaid family members and friends," said a National Institute on Aging official in a 2014 press release. "Baby boomers had far fewer children than their parents. Combined with higher divorce rates and disrupted family structures, this will result in fewer family members to provide long-term care in the future. This will become more serious as people live longer with conditions such as cancer, heart disease and Alzheimer's."
According to a Family Caregiver Alliance fact sheet, the typical caregiver is a 49-year-old female, currently caring for a 69-year-old female relative who needs care because of a long-term physical condition.
But the aging population could change that. A recent Family Caregiver Alliance report concluded that four in 10 caregivers have made plans for their own future care.
Ivy hopes to be among that 40 percent. Now that she is aware of available resources, she and her husband, Bob, have begun planning their own long-term care to avoid the problems she experienced, citing her 22-year-old son, Spencer.
"We have begun to talk about what we want it to look like, not what we are trying to avoid," Ivy said. "It could be a great adventure."
[Traci Badalucco is an NCR Bertelsen intern.]