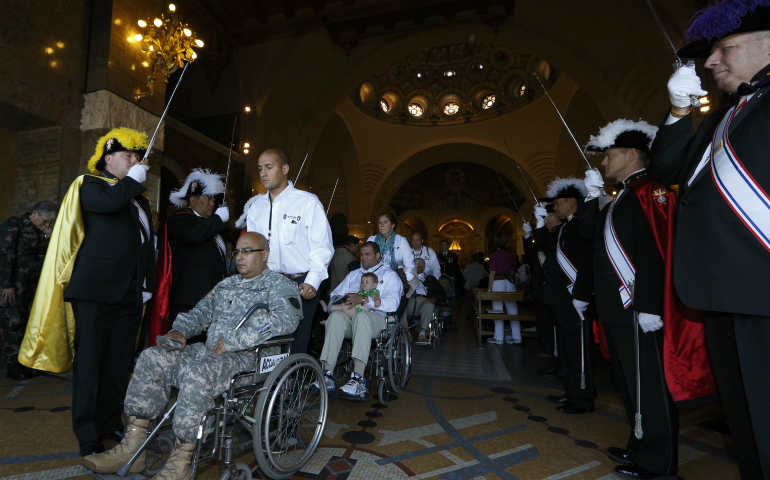 Members of the Knights of Columbus hold swords as U.S. military personnel leave in wheelchairs after a Mass at the Shrine of Our Lady of Lourdes in southwestern France May 16, 2014. About 60 wounded U.S. military personnel, together with family members and caregivers, were a part of the annual International Military Pilgrimage to Lourdes. (CNS photo/Paul Haring)
The Knights of Columbus refused to answer specific questions about data on its Form 990 tax filings and turned down an invitation to have the organization's leader address issues raised by the documents. But a spokesman issued a lengthy, seven-point justification for the organization's activity as well as an assessment of NCR's journalistic intentions and how our reporters might better spend their time.
In preparing the story, NCR submitted to the Knights a list of questions seeking more details about entries lacking description on the Form 990 filings and other details regarding the filings. The Knights of Columbus was also asked to provide some further details about the compensation of Supreme Knight Carl Anderson, as detailed in the main story. Spokesman Joseph Cullen responded with a terse line or two saying the organization followed the law and that it did not discuss tax filings.
The much longer email response came when NCR sought an interview with Anderson through Cullen and sent an email describing the comments about the Knights by Catholic historians Massimo Faggioli of Villanova University and David O'Brien, long-time historian and social analyst, retired from College of the Holy Cross. Because they were not named in the email, Cullen presumed they were anonymously cited.
---
Related: Knights of Columbus' financial forms show wealth, influence (May 15, 2017)
---
It was on the basis of those comments that Cullen presumed "a stunning bias and prejudice against the Knights of Columbus by those you cite — anonymously — who seem to lack a proper understanding of what we do. Unlike some organizations and individuals who regularly dissent — or provide platforms for dissent — from church teaching," Cullen continued, "the Knights of Columbus has always been in union with the church and its magisterium. We do not attempt to act as theological change agents within the church, rather, we see our role as promoting unity with the church and following its teaching.
"We have worked closely with the popes since the Second Vatican Council … and have earned the praise of each of them for our works of charity and our defense of the church — and its principles — at home and abroad."
He said, among the points sent for "consideration," that the Knights "has long led in the empowerment of the laity and in encouraging charitable action on the peripheries of society," work that NCR described at length in the article. "What began as outreach to widows and orphans has grown to also encompass the intellectually disabled, the unborn, the poor, those suffering from natural disasters in Haiti and from persecution in the Middle East, and African AIDS orphans — many of whom are HIV positive."
Far from being at odds with Vatican II, he wrote in an email, "our work as a lay organization in many ways anticipated its call for the active participation of the laity … both in terms of 'service' and in terms of 'ordering [temporal affairs] to the plan of God,' " quoting the council document Lumen Gentium.
He said the Knights continue "to work for religious freedom at home and abroad very seriously, standing against ISIS and with those who faced genocide at its hands, and working to ensure that our First Amendment religious freedom rights were respected at home as well."
He complained that despite the organization's charitable work, "some ideologically inclined reporters direct overwhelming attention to the work we do that has public policy implications, leaving aside the work that cannot be easily painted in a political context. Thus, it seems that almost all the coverage from outlets like yours focuses on about 10 percent of what we do. However, we see all that we do as consistent with our faith and with our first principle of charity, and its call to reach out to those on the margins. In other words, we invite you to take Pope Francis' advice and not to focus only on one or two issues to the exclusion of the rest, but to look at things holistically and in their proper context, which our organization has long striven to do."
He cataloged more of the Knights work, "including protecting the environment … to improving energy efficiency of our offices, to helping bring clean water to poor regions that don't have it." While the overwhelming majority of Pope Francis' encyclical "Laudato Si', on Care for Our Common Home" deals with care of the Earth and the environment, Cullen highlighted a relatively small section that dealt with abortion. "As Pope Francis has pointed out," he said, "there is a consistency to pro-life work and work to better our common home." Much of the Knights' funding goes to pro-life work and to supporting the public battle against abortion rights and toward efforts to overturn the 1973 Supreme Court decision legalizing abortion.
He said that based on the questions in the emails sent to him, "We worry that your story may present a crude caricature without basis in fact. We invite you to consider Pope Francis' words of encouragement to us, and in keeping with his spirit to act with charity, building bridges within the Catholic community rather than walls, and not succumbing to the journalistic temptation to create conflict, which he as so often decried." It may be well to note that NCR, having received this response, repeated the invitation to Anderson to address the issues raised by our initial questions.
"A much better use of your time, in our opinion," Cullen continued, "would be to find common cause with us on key issues such as the global persecution of Christians, the support of AIDS orphans, amputees and farmers in less developed countries, and the intellectually disabled, elderly and unborn at home."
[Tom Roberts is NCR editor-at-large. His email address is troberts@ncronline.org.]