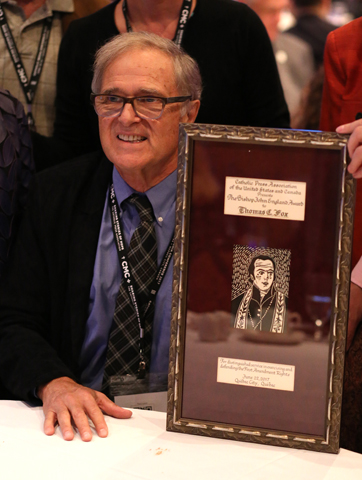 Tom Fox poses after receiving the Bishop John England award June 22 at the Catholic Media Conference in Quebec City. (CNS/Philippe Vaillancourt, Presence)
Quebec City, Canada — June 22, 2017
"Frankly, I've always felt as much a missionary as a journalist," Thomas C. Fox, retired publisher and editor of National Catholic Reporter, told a gathering of Catholic media professionals meeting here.
Fox received the Bishop John England Award on June 22 from the Catholic Press Association of the United States and Canada. The England award is the association's highest honor for publishers.
"Journalism has always been a sacred mission for me," Fox told the gathering. He said that mission began for him in Vietnam, where, after a stint as a humanitarian aid worker, he became a journalist, writing for The New York Times, Time magazine and NCR among other publications. That mission "has continued through my career, most fittingly at NCR for over 35 years," he said.
"I fit with NCR's mission like finger to a typewriter," he continued. "NCR has had a decades' long penchant for telling stories of the marginalized – both outside and inside the church. Editors have come and gone; publishers as well. But NCR's spirit, values and mission – professional, independent Catholic journalism – has remained intact "
Fox noted that his journalism career and NCR were born to spread the "fresh winds" of the Second Vatican Council, especially the council's emphasis on the duties and responsibilities of the laity.
In 1965, when he was a college senior, "the proverbial windows of our church had been blown open by declarations and decrees. ... For the first time we, the laity, were being told we were members of the 'royal priesthood!' Not only that, but we were being called to exercise this priesthood with 'the witness of a holy life, by self-denial and active charity.' "
The "commission" he felt from the council documents led Fox to Vietnam, first to work with the International Voluntary Services serving in camps for Vietnamese displaced by the war and then as a journalist.
"I'd like to think the NCR Catholic lay voice -- one of a good number that proudly emerged in the years after the council -- has remained faithful to its founding mission to this day," Fox said.
"So allow me to dare suggest that were Bishop England here with us today he would understand and support NCR's values and mission. I hope he would be pleased."
---
Full text of the speech: 'I've always felt as much a missionary as a journalist'
---
As NCR editor, I wrote the letter nominating Fox for the award. In it, I said that throughout Fox's 36 years with NCR, "Fox's main objective ... was to ensure that an independent voice would be part of the public conversation surrounding the key issues confronting our church and society."
The letter cited two examples of Fox's leadership.
"Fox foresaw the importance of environmental issues to faithful Catholics as far back as the 1980s when he introduced into NCR's pages the writings of Passionist Fr. Thomas Berry and other eco-theologians that have proven foundational to current environmental thought. Fox made environmental reporting a key component to NCR's news budget ... NCR readers were, therefore, well prepared to receive Laudato Si', Pope Francis encyclical on the environment."
The letter continued to point out that Fox also led NCR's coverage of the clergy sex abuse scandal in the mid-1980s, some 15 years before the topic became widely reported. "Fox was determined to report the story of the abuse of children by clergy, and he saw his first duty to tell the truth of the victims. To do this meant enduring a hostile director of the NCR board, readers who cancelled subscriptions and institutional leaders who ridiculed or dismissed NCR's coverage."
"Fox's stand is a proud moment in freedom of the Catholic press," it said.
Fox joined NCR as editor 1980 and became publisher in 1997, a position he held until in 2004. After a short period in retirement, Fox returned as editor in 2008 and was named publisher again in 2011 after the untimely death of the publisher Joe Feuerherd. He retired in January 2016.
"No one deserves this honor more than Tom Fox," Caitlin Hendel, NCR's current publisher, said. "For decades, Tom worked diligently to provide a voice for the voiceless. He wrote tirelessly of people and issues that were otherwise ignored. He fought steadfastly for truth. I only wish more journalists would view their work as a 'mission.' "
The award is named for the Irish-born bishop of Charleston, South Carolina, who founded a newspaper, The Catholic Miscellany, in 1822. The Miscellany is still in operation. As publisher of the newspaper, Bishop England defended separation of church and state, saying it was good for both entities. He also espoused freedom of religion.
The most recent winners are 2016 Greg Erlandson, formerly of Our Sunday Visitor; 2015 Cardinal Francis George, Archdiocese of Chicago; 2014 Cardinal Donald Wuerl, Archbishop of Washington; 2013 Most Rev. David D. Kagan of Bismarck, North Dakota; 2012 Bishop Matthew H. Clark of Rochester, New York.
Besides Fox, publishers of four diocesan newspapers were nominated for the Bishop England Award. Those were
Archbishop William Lori of Baltimore for "consistently us[ing] his columns in the Catholic Review to speak about the challenges to religious freedom that are experienced both in the United States and around the world";
Bishop Lawrence Persico of Erie, Pennsylvania, and Bishop David Zubik of Pittsburgh, a joint nomination for " steadfastly pursu[ing] the right of church-related organizations to stand on the side of religious liberty in their opposition to the federal government's health care policies. … Both bishops represent the lead case (Zubik v. Burwell) of seven appeals before the U.S. Supreme Court in March 2016 by Catholic and other faith-based entities opposed to the mandate"; and
Bishop Richard Stika of Knoxville, Tennessee, for taking "a lead role in directing news and editorial coverage" of a statewide campaign that resulted in a state constitutional amendment that allows "state legislators to place common-sense restrictions on abortion."
[Dennis Coday is NCR editor. His email is dcoday@ncronline.org]