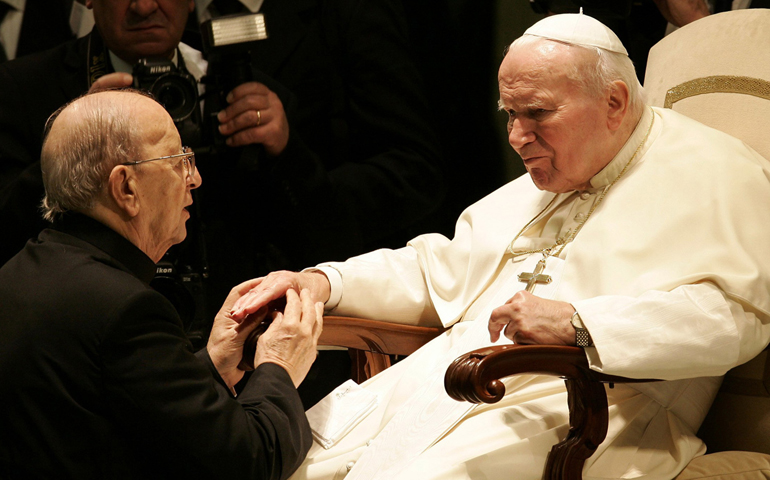 Pope John Paul II blesses Fr. Marcial Maciel Degollado, founder of the Legionaries of Christ, at the Vatican in 2004. (CNS photo/Tony Gentile, Reuters)
On Feb. 12, Pope Francis flies to Mexico, a vast land scarred by barbaric drug cartels and deep poverty that are pushing migrants to America -- all front-burner issues for a papacy advocating mercy and justice.
Amid this, a new book, El Imperio Financiero de los Legionarios de Cristo* was published in November* by Grijalbo in Mexico City. There is no English translation as yet. Written by Raúl Olmos, an investigative journalist in Mexico, the book focuses on the Legionaries of Christ, a religious order founded by the late Fr. Marcial Maciel Degollado, a notorious pedophile dismissed by Pope Benedict XVI in 2006 to "a life of prayer and penitence." The home base of the order is Mexico City, in the country with the world's second-largest Catholic population (after Brazil).*
The investigation into the order began in 2004, ordered by Cardinal Joseph Ratzinger, the future pope, as an ailing Pope John Paul II praised Maciel and gave the Legionaries control of the Notre Dame of Jerusalem Center.*
The Legion operates a network of elite private schools and a major university in Mexico, with another university and house of studies in Rome. Among their many super-wealthy backers in Mexico is Carlos Slim, a telecommunications magnate and one of the world's wealthiest men. He is the largest single investor in The New York Times, with a $100 million stock investment, according to Forbes.
In 2009, a year after Maciel's death, the Legion disclosed that he had a daughter by a woman he never married; he supported both women in Madrid. In 2010, two men and a woman came forth, declaring themselves mother and sons of a second shadow-family in Mexico, which the Legion did not dispute.
The order has fought two grinding lawsuits in Connecticut, the Legion's home base in America, brought by Maciel's sons, alleging incest.
The Legion also spent heavily on two lawsuits in Rhode Island, alleging that its priests had defrauded elderly donors, duping them into thinking Maciel was a figure of virtue. The Legion settled one case for an undisclosed sum, the other was dismissed by the court on a technicality.
The expense of defending those cases and a sharp decline in donations outside of Mexico, spurred a fire sale of Legion real estate in several Northeastern states, with no discernible impact on the order's standing in Rome. The Legion weathered an investigation ordered by Pope Benedict under Cardinal Velasio de Paolis, a Vatican canon lawyer who rewrote the order's constitutions, and dropped the "Private Vows" imposed by Maciel, never to criticize their superiors.
De Paolis approved a handful of settlements in the $20,000 range to victims of Maciel. But as Olmos argues, "de Paolis left virtually intact the business structure that Maciel created. It was a change of image rather than substance. And many of the disciples of Legionaries are now in high positions in the order."
Olmos likens Maciel to a Mafia capo, raising funds from steep school tuition to throw off investments in a constellation of businesses, including companies in the arms industry and distribution of pornography. Last summer, Francis called unbridled capitalism "the dung of the devil." The Legion appears to mock Catholic social teaching with its zealous, some would say shady, financial strategies. Olmos writes:
"Invest without sin" : that is the slogan the Legionaries Christ established at the Fidelis International Institute for business ethics. The institute was created in 2005 by Marcial Maciel in Athenaeum Regina Apostolorum (the Legion university) in Rome, as a strategy to recruit and indoctrinate entrepreneurs and benefactors in the Legionary cause.
"Invest without sin" tracks the Theology of Prosperity that Maciel preached in his many Latin American travels, raising billions from elite Catholics. Olmos reports that he was also spending $20,000 a month in support of his various children and their mothers. The book pinpoints a range of Legion investments in companies involved in the arms race, pornography and high-end real estate.
"They have taken religion as a platform for the wealthy to make more through business," José Barba, a retired college professor in Mexico City who filed the canon law case that ultimately brought Maciel down, told NCR by telephone. "They are selling salvation, telling people to invest in works that are not sinful but will enrich them over the poor."
Even as de Paolis was giving the Legion a new lease on life, scores of priests were leaving the order, incensed by not only the secrets spilling out on Maciel, but also a circling of the wagons at the top, with Maciel supporters taking charge of an organization that was only marginally reformed.
Fr. Pablo Perez, who left in 2012, after 39 years, tells Olmos: "They do not care about education or children -- it's the money. Legionaries do not waste their time with the poor or middle class. They choose their vocations among little white boys. We rent priests for your beautiful and expensive events, weddings, funerals, first communions.
"The son of Carlos Salinas de Gortari" -- the former Mexican president, a figure disgraced by scandal, his brother in prison for corruption -- "got married in April 2013. For his wedding, it was not a bishop or a cardinal, but a Legionary priest."
Francis gave the Legionaries a plenary indulgence recently, a forgiveness of sins, but has maintained an otherwise careful distance from them. In one of his few comments, in an interview last March in Rome with the Mexican network Televisa, he said that on hearing the news about Maciel he was "very sad [and] ... scandalized."
"How could a person reach such a point? Obviously, he was a very sick person, because, in addition to the abuse, I think that there were two or three women in the mix, children. ... And a lot of money. We're getting back to the same theme, about how corruption starts in one's pockets."
He praised John Paul II and Benedict, implying that they were vigilant, but then raised a question: "Was there a cover-up? One can presume that there was, even though in justice one should always assume innocence. But it would be very odd for him not to have some little patron somewhere, half-deceived, half suspecting, who didn't know anything. I haven't investigated this."
John Paul II's* decision in late 2004, five months before his death, to heap praise on Maciel and give the Legion the control of the Pontifical Institute Notre Dame of Jerusalem Center,* was a big boost for the order. As soon as the pope bestowed the gift, Maciel sent three priests, including Fr. Juan María Solana, to oversee the institute, which had been restored to become hotel for pilgrims visiting the Holy Land under Pope Paul VI in the 1970s, and was made a pontifical institute by John Paul II in 1978.*
"The institute is an enormous source of income," writes Olmos, "as it contains a 150 bed hotel -- including 4 suites -- which are almost always full; it has two restaurants, one on the fourth floor with a panoramic view of Jerusalem; a convention center with a 500-seat auditorium, and it has easy access to the principal tourist spots such as the Holy Sepulcher and the Wailing Wall.
"On special promotion prices pilgrims pay 116 euros per night; this amounts -- for room alone -- to more than 9 million euros a year."
Though mired in scandals and litigation over its fundraising in Rhode Island, the Legion leadership found a promised land for investments in the Holy Land. As NCR reported in 2014,* Solana* oversaw a property acquisition at the Sea of Galilee with historic ruins of an ancient synagogue, in an area where Mary Magdalene is believed to have lived. Olmos offers more financial details:
The Legion's businesses have diversified to include the building industry, through ECO Development Group, a company that has been involved in 177 constructions -- particularly schools -- in nineteen countries. Its portfolio contains major investments, such as the Magdala Center (in Galilee) which is being built in Israel on 50,000 square meters and which involves a disbursement of $100 million.

ECO's legal entity is Equipo de Coordinación de Obras, SC, and it is part of Grupo Integer, the holding company that controls the Legion's schools on three continents. [Grupo Integer] was created in 1989 to assist the church in building Catholic schools; it has become a very lucrative business. The construction company has built private works such as Villas Plácido Domingo in Acapulco, Hotel One in Saltillo, Mexico, and Lomas Sporting Club in Huixquilucan, Mexico State. …

New Gate Tours is the name of the Legion's travel agency, another lucrative venture which has left the Legion more than $20 million. Its legal name is Artic SA de CV and it has branches in the USA, Italy and Spain … specializing in Religious Tourism.
The Legionaries arguaFbly stand as the most extreme example in the Catholic church of religion as a form of capitalism. The context is quite nuanced. Many convents and religious houses in Italy, for example, rent out rooms as pensions or small hotels to tourists. The Italian government does not tax them. More broadly, many dioceses and well-established religious orders have professional fundraisers and staff or consultants to manage their real estate and investment portfolios.
Many such Catholic entities accumulate property and wealth, a seasoned Vatican insider told NCR on background.
"Investments are supposed to be non-speculative -- low risk -- and in line with Catholic social teaching. Priests are not supposed to engage in business themselves unless specifically authorized by the Superior. ... I think the problem lies where there is fraud, in presenting who you are and what you are doing to take advantage of the false image, and use the money for other things."
But, this source cautions, the church as a global entity has logical points of intersection with investments and markets. A generation ago, the Vatican had no pension plan for lay employees or Curial priests; it took years of planning to capitalize a retirement fund. Investment in low-income housing, retirement complexes for the elderly and nursing homes fall within the web of church social teaching and major projects in many dioceses.
Using religious charities as a front for big business, "is a problem for the church. Yes, it happens," said the source, who had no direct knowledge of the Legion corporate strategy. "The culture of deference, not questioning superiors, is at the root of this problem."
So, too, is the Vatican's poor history of oversight. Maciel slipped through the cracks for decades, despite accusations to various Vatican authorities, none of whom wanted to act on them. He gave handsome gifts of cash to many. As the Legion's continuing growth suggests, the pope's own agenda can be undercut, perhaps made a mockery, if no one in high authority trains a serious lens on those investments without sin.
*This article has been altered to correct numerous errors.
[Jason Berry wrote about Maciel's financial dealings in Render unto Rome: The Secret Life of Money in the Catholic Church.]