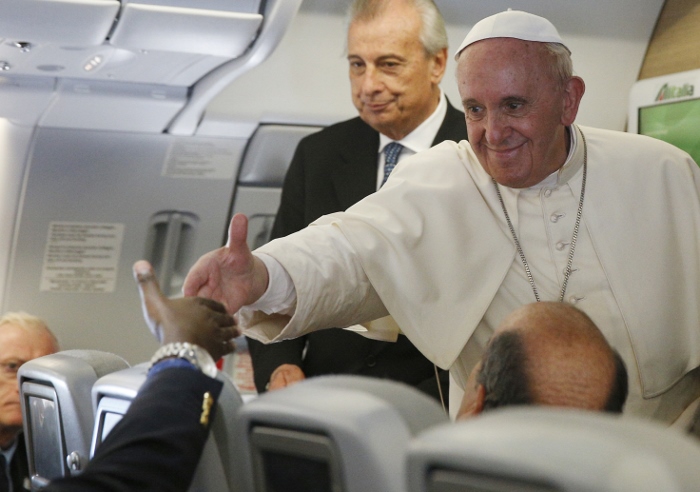 Pope Francis greets a journalist aboard his flight from Bangui, Central African Republic, to Rome Nov. 30. The pope answered questions from journalists for about an hour. (CNS photo/Paul Haring)
ABOARD THE PAPAL PLANE FROM BANGUI — November 30, 2015
While Pope Francis has expressed hope that world leaders meeting in Paris for discussions on confronting climate change will find solutions to the problem, he has also said the inaction on the issue up to now is approaching global suicide.
"Every year, the problems are more grave," the pontiff told the press Monday, adding that politicians have so far "done little" to address the situation.
Recounting a meeting he had participated in that focused on what kind of world we are leaving our children, the pope said someone there had asked: "But are you sure that there will be children of this generation?"
"We are at the limit," said Francis. "We are at the limit of a suicide, to say a strong word."
But he added: "I am sure that almost all who are in Paris … have this awareness and want to do something."
"I have trust; I have trust that these [leaders] will do something," the pope continued. "Because I would say I am sure they have the good will to do it. And I wish that it will be so, and I pray for this."
Francis was speaking Monday in a nearly hour-long press conference aboard the papal plane traveling back to Rome from Africa, where the pope visited Kenya, Uganda, and the Central African Republic from Nov. 25-30.
The pope was answering a question about the ongoing U.N. Climate Conference, which is bringing together hundreds of world leaders in Paris through early December to discuss solutions to climate change.
During the press conference, the pontiff spoke on a wide range of topics -- giving some of his most memorable moments of his Africa tour, speaking about the role of journalism in uncovering corruption, and revealing more details about his expected trip to Mexico in February.
Francis also faced a question about the church's teaching prohibiting use of artificial contraception from a journalist who asked if the church should consider changing its stance on the issue -- particularly on the use of condoms -- given the continuing spread of HIV/AIDS in Africa.
"The question seems too small to me," the pontiff responded. "It seems to me also like a partial question."
"The morality of the church is found on this point, I think, in front of a perplexity," he said. "Fifth or Sixth commandment? Defend life, or that sexual relations be open to life? This is not the problem. The problem is bigger."
"This question makes me think of what they asked Jesus one time: 'Tell me, master, is it licit to heal on the Sabbath?'" Francis continued.
"Malnutrition, exploitation of persons, slave work, lack of drinking water," he said. "These are the problems."
"I do not like to descend into reflections that are so casuistic when people are dying," he continued. "I would say to not think if it is licit or not licit to heal on the Sabbath. I say to humanity: Make justice, and when all are healed, when there is not injustice in this world, we can speak of the Sabbath."
Francis also spoke out strongly again against religious fundamentalism, saying that fundamentalism exists in all religions and should be combatted with efforts at friendship. He said he prefers not to speak of having tolerance for other religious, but "living together, friendship."
"Fundamentalism is a sickness that is in all religions," said the pontiff. "We Catholics have some -- and not some, many -- who believe in the absolute truth and go ahead dirtying the other with calumny, with disinformation, and doing evil."
"They do evil," said the pope. "I say this because it is my church."
"We have to combat it," he said. "Religious fundamentalism is not religious, because it lacks God. It is idolatry, like the idolatry of money."
On a similar line, Francis also defended Islam, saying that Muslims have many constructive values.
"I even have the experience of friendship -- it is a strong word, friendship -- with a Muslim," said the pontiff. "We can speak. His values are mine. He prays. I pray."
"You cannot cancel out a religion because there are some groups, or many groups in a certain point of history, of fundamentalists," said the pope, adding that Christians have to ask forgiveness for the many times wars have been perpetrated in the name of their faith.
"Like everything, there are religious people with values and those without," he said. "But how many wars … have Christians made? The sacking of Rome was not done by Muslims, eh?"
In summarizing the most moving moments of his trip to Africa -- which saw the pontiff visit slums and refugee camps, celebrate several open-air Masses to crowds in the hundreds of thousands, and speak to the U.N. offices in Nairobi -- Francis spoke most about the suffering faced by many on the continent.
But he has also emphasized the kind and joyous welcome he felt in each of the three nations he visited.
"For me, Africa was a surprise," said the pope. "I thought God surprises, but Africa also surprises."
"They have a very great sense of welcoming," he said. "I saw in the three countries that they have this sense of welcoming because they feel happy to be visited."
Speaking of his feelings after visiting Nairobi's Kangemi slum, which has little to no infrastructure and houses about 100,000 people in makeshift shacks on the city's outskirts, Francis said he felt a "great pain" in being there.
He also spoke about visiting a children's hospital in the Central African Republic, where a doctor told him they do not have tools and instruments necessary to care for their patients.
"There are many malnourished children, many," Francis said. "And the doctor said that most of them will die because they have strong malaria and are malnourished."
He then spoke again about his frequent exhortation against the "idolatry of money."
"Idolatry is when a man, a woman loses their identity card of being a child of God and prefers to look for a God of their own measure," said the pontiff. "If humanity doesn't change, miseries, tragedies, wars, the children that die of hunger, of injustice, will continue."
"This is not communism," he said. "This is truth. The truth, it is not easy to see it."
Francis also said that Africa has been abused by many countries of the world.
"Africa is a victim; Africa was always exploited by other powers," said the pope. "There are powers that only search to take the great riches of Africa -- it is perhaps the richest continent -- but do not think of helping the continent grow."
"Africa is a martyr, a martyr of exploitation throughout history," he said.
Asked about the role of journalism in confronting corruption in government, and even at the Vatican, Francis said journalists must be professional and avoid three particular sins.
"It is important they be truly professional, that news does not come to be manipulated," said the pope. "For me it is important because the denouncing of injustice, of corruption is a good work."
The three sins he said journalists should avoid are disinformation, calumny, and defamation.
Regarding his expected trip to Mexico in February, Francis said he plans to visit three or four cities and that the main criteria of the voyage is to visit cities never before visited by popes.
He said he will go to Mexico City to visit the Basilica of Our Lady of Guadalupe; to the southern state of Chiapas on the Guatemalan border; and to Morelia, a city in the center of the country that has experienced much drug violence.
The pope also said he is "quasi-sure" that the last city on the trip will be Ciudad Juarez on the U.S. border.
Asked if he might make another trip to Africa, Francis laughed.
"I don't know," he said. "I am old! The trips are a heavy weight."
[Joshua J. McElwee is NCR Vatican correspondent. His email address is jmcelwee@ncronline.org. Follow him on Twitter: @joshjmac.]