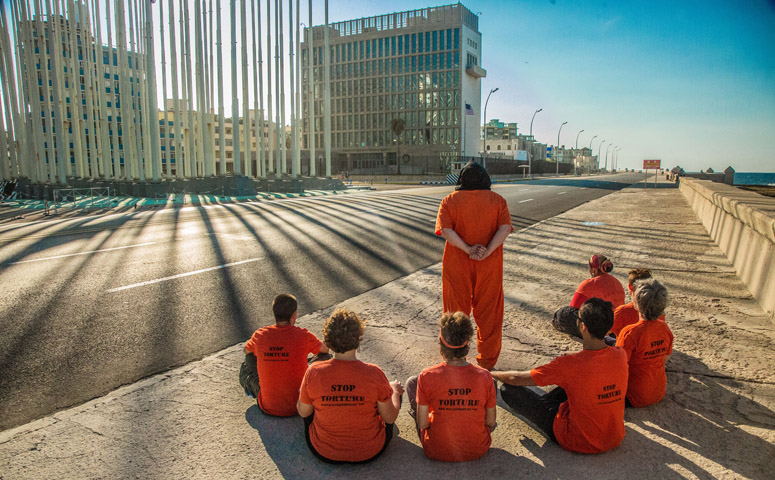 Witness Against Torture members protest against the US detention camp in Guantánamo Bay, Cuba. (Justin Norman)
The days, months and years keep passing, but little changes for the men being indefinitely detained by the United States at Cuba's Guantánamo Bay detention camp. Keeping hope alive for those men is the group, Witness Against Torture. Comprised mostly of Catholics, 14 members of the group spent their Thanksgiving praying and fasting at the gates of Guantánamo, calling on Obama to close the prison, which has become a symbol of how far the U.S. government has strayed from its founding principles since the 2001 terrorist attacks.
There was hope with the 2008 election of Barack Obama -- he had promised to close the prison, but that never happened. So, for the second time in a decade, members of Witness Against Torture have stood vigil at Guantánamo's gates.
Frida Berrigan, a member of the delegation and mother who lives in New London, Conn., spoke to NCR before leaving for Cuba. "I and so many others who care about Guantánamo, and have been working to shut it down for the last 10 years, have felt such radical swings of the pendulum from near elation to near despair. If that is what we feel on the outside, so far away, imagine what those 700-plus men have felt over the last 13 years.
"There was a time when our call of 'Shut Down Guantánamo' was being echoed by editorial pages and pundits around the country and we wondered if our work was done and many moved on to other work for justice. After newly inaugurated President Barack Obama signed an executive order to shutter Guantánamo and end torture, we felt our hopes rise and our ranks shrink," she said.
Although many of the original men held and tortured at Guantánamo have since been released, Berrigan said 47 men who have been approved for release are still being held at Guantánamo, and 60 others continue to be held without due process. Those released prisoners, says Berrigan, "bear the scars of torture, the trauma of indefinite detention and the stigma of having been held at Guantánamo -- even though they were innocent of any crime."
Many of the men still being held at Guantánamo, have been on hunger strike for years. As an act of solidarity with those men, Witness Against Torture spent Thanksgiving sitting at a table of empty plates, with one person -- in an orange jumpsuit and black hood -- shown in photographs with a forced feeding tube trailing from under the hood to a feeding bag on the table.
"They are subjected to force feedings that many experts agree constitutes torture," Berrigan said. "Witness Against Torture continues to press for their release and witness on their behalf. We want them to know that they are not forgotten."
With Obama in his last year as president, and continuing terrorist attacks and endless war, there appears to be little public sympathy for the Guantánamo prisoners.
"The rhetoric has again hardened," Berrigan said. "The terrorist attacks in Paris have produced a racist and xenophobic backlash against immigrants, refugees and people of Arab and Muslim backgrounds. In this harsh moment of bloodshed, fear and hatred, Witness Against Torture returns to Guantánamo -- to once again call for the closure of the prison, for the return of the base to the Cuban people, for justice and reparations for those wrongfully held, and due process for those against whom we have legitimate evidence."
The fast and vigil, which was scheduled to conclude Sunday, was done as "an attempt to draw attention to what they consider to be ongoing human rights abuses at the prison," the group stated in a press release. Their encampment is at El Mirador, an area overlooking the prison from a distance of about a mile.
"We see Guantánamo as a radical assault on the rule of law and the alleged pillars of American democracy, and we call on the U.S. to obey the values it claims to hold dear," Jeremy Varon, an associate professor of history at the New School in New York City, said in a press release.
The Thanksgiving witness falls on the 10th anniversary of a similar protest by a Witness Against Torture action at Guantánamo, when 25 members of the group walked about 70 miles from Santiago de Cuba to the prison.
Because of the loosening of the U.S. travel ban with Cuba, enacted following last July's re-establishment of diplomatic relations between the U.S. and Cuba, the activists were able to enter Cuba with tourist visas issued in Miami. Prior to the fast and vigil, the group attended an international seminar opposing U.S. military bases around the world, including the naval base where the prison is based.
According to the press release, the Thanksgiving delegation "includes Catholics, Protestants, Muslims, Jews, Buddhists, and atheists. Many members are affiliated with the Catholic Worker movement, whose founder Dorothy Day was praised by Pope Francis during his U.S. visit."
"Jesus teaches us that what we do to the least of us, we do to him," Berrigan said. "As Pope Francis' radical call for compassionate action breathes new life into the Catholic church, we are putting that call into practice by reaching out to the men in Guantánamo.
"We are trying to be courageous, creative and compassionate. We are trying to do together what we cannot do alone. We are trying to be human beings heeding the calls of other human beings across the fences, the borders, the walls and the fears."
[Patrick O'Neill is a longtime NCR contributor.]