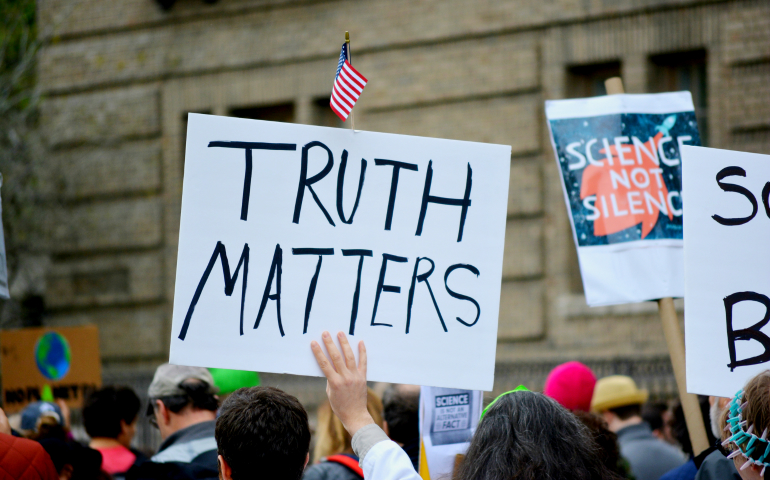 Protesters join the March for Science in Manhattan, New York, April 21. (Dreamstime/Cpenler)
The Passion narrative we heard on Good Friday raised for me a striking connection to the concerns behind the March for Science and the People's Climate March. The conversation between Jesus and Pontius Pilate in that narrative has something important, and perhaps discomfiting, to say about the interactions among faith, science and public policy.
In the Passion according to John, Pilate wants to determine what sort of religious-political intrigue this Jesus is involved in. Does Jesus harbor royal ambitions, as his accusers allege? Jesus' answer about his identity gives us a key to how science, religion and policy should connect. His identity is not grounded in political power, but in truth. And "anyone committed to the truth hears my voice" (John 18:37).
This statement is a good test to apply to both sides of the dialogue between faith and science in public policy. As a believer who holds a doctorate in chemistry and has spent his career in science and energy policy, I have seen the need for that dialogue throughout most of my adult life. Are scientists, committed to discovering the truth about our physical world, willing to hear the voice of Jesus — with its call to consider a broader moral context based on love, mercy and solidarity — particularly as they engage in the formulation of public policy regarding the applications of their work?
And are those in the political realm who claim that they are followers of Jesus, trying to bring a "Christian" point of view to public policy, willing to commit themselves to seeking, recognizing and applying the truth — in the form of the best science — to public policy, even if it means that they must rethink some of their existing political or cultural views?
I have long struggled to know what to say to persons on each side of this divide. Some who have had advanced training in science and technology and are working in research or its applications to public policy seem to have little interest in exploring what a religious perspective can bring to the broader dimensions of their work. To be sure, many scientists are persons of spiritual depth, and many non-scientists are sincere Christians who do not have trouble reconciling their faith with science. But others have had negative experiences of religion that have shaped their thinking about it; still others just seem to find religion irrelevant to their work. I am loathe to argue with them about the beliefs they have chosen to follow or not follow. But how to have a dialogue with them that brings the best of the Christian religious perspective into a discussion of the implications of new scientific discoveries for public policy?
Similarly, I identify with Christians who are trying to live their lives with integrity, in line with their religious beliefs and values. Yet some hold views that, while rooted in their reading of the Bible, are at odds with known facts of geology and biology. How to have a dialogue with them that brings the best of what science has discovered into a discussion of social issues that may touch on their beliefs?
These questions seem increasingly urgent to me. Today, I am especially worried that many who aspire to be followers of Jesus are being captured by a contemporary political mindset that embodies Pilate's retort to Jesus — "Truth! What does that mean?" Pilate's cynicism finds a present-day echo in equally cynical claims of "fake news," the invention of "alternative facts," and a willingness to ignore scientific findings that conflict with preconceived notions or economic interests.
The debate over the proper public policy to address climate change and its causes is an excellent example of this phenomenon.
The scientific truths about climate change are accessible to any interested person. Since 1990, it has been the law that, every four years, the U.S. government must carry out and publish an assessment of what is known about the causes and impacts of climate change. The most recent National Climate Assessment was published in 2014. (Full disclosure: I played a role in preparing the report for publication.) The assessment was the work of a team of more than 300 independent experts, guided by a 60-member Federal Advisory Committee that held public meetings to oversee the report's development. The assessment, in draft form, was made available for extensive review by the public and other experts, including a panel of the National Academy of Sciences. It is an excellent example of a reliable source of information on climate change and the danger climate change poses to us now and into the future. It can be found on its well-designed and interesting website.
The 2014 National Climate Assessment lays out the abundant evidence for climate change, which affects our planet from the top of the atmosphere to the depths of its oceans. That evidence is unambiguous: "The planet is warming, and over the last half century, this warming has been driven primarily by human activity." As the assessment notes:
Human-induced climate change means much more than just hotter weather. Increases in ocean and freshwater temperatures, frost-free days, and heavy downpours have all been documented. Global sea level has risen, and there have been large reductions in snow-cover extent, glaciers, and sea ice. These changes and other climatic changes have affected and will continue to affect human health, water supply, agriculture, transportation, energy, coastal areas, and many other sectors of society, with increasingly adverse impacts on the American economy and quality of life.
These scientific truths call us to act to protect the Earth and the ecosystems that support the life of all its creatures. That call is consistent with, and in fact is amplified by, the perspectives brought by our Christian faith. As Pope Francis observes in his first encyclical, Lumen Fidei ("The Light of Faith"), "Faith ... by revealing the love of God the Creator, enables us to respect nature all the more, and to discern in it a grammar written by the hand of God and a dwelling place entrusted to our protection and care."
The pope has also written eloquently on the need to protect and care for the Earth and to combat climate change in his encyclical "Laudato Si', on Care for Our Common Home."
And yet there are Christians who would dismiss the science, the views of Francis and similar views of other Christian leaders, and even the need for discussion because they have been persuaded that concerns about climate change are just a political ploy to increase government intrusion into everyone's life, or are driven by a pagan worldview that Christians should have no part in.
Climate change is one example of the important, and sometimes difficult, dialogue between faith and science that must occur in this century. We live in a time of unprecedented advances in our scientific understanding of our universe, our planet's interconnected ecosystems, our human bodies and the consciousness of other species. The new truths we are discovering in these areas are opening vistas for applying scientific knowledge that cannot be guided wisely by a simple utilitarianism. Our application of that new knowledge must be inspired by a deeper wisdom and set of values.
Those who make public policy will benefit from listening for the authentic voice of Jesus, which they might discover in dialogue with faith-filled Christians. And those who aspire to follow Jesus, and claim that they listen to his voice, will also have to be committed to following the truth that is unfolding from modern scientific inquiry, which they might discover in dialogue with the scientists at the forefront of that research.
This will especially be the case when new truths emerge from scientific inquiry that challenge age-old cultural thinking (e.g., concerning gender and sexuality) that may have come down to us along with our religious beliefs. That thinking will have to be re-examined in the light of a new understanding of the truth.
There will be plenty here to make both scientists and religious people uncomfortable. No matter. If we are to be persons who truly hear his voice and are committed to the truth, we cannot avoid that dialogue.
[Robert M. Simon served 14 years as majority and minority staff director of the U.S. Senate Committee on Energy and Natural Resources and most recently as principal adviser to the director for energy, resources and transportation in the White House Office of Science and Technology Policy. He is an active member of St. Camillus Parish in Silver Spring, Maryland.]