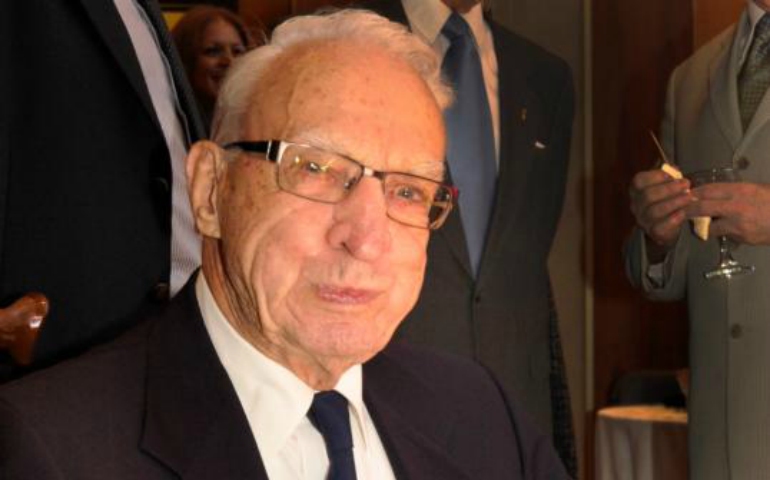 Jesuit Father Irenee Beaubien, a Canadian ecumenist and theologian, died May 15 at age 101. He is pictured in an undated photo. (CNS/courtesy Archdiocese of Montreal)
Jesuit Fr. Irenee Beaubien, 101, who founded what is believed to be the world's first center for ecumenism, is being remembered as a progressive theologian and a pioneer.
He died in Richelieu, Quebec, May 15.
In 1963, Beaubien opened the Canadian Centre for Ecumenism in Montreal, widely regarded as the first of its kind and designed to promote interfaith relations. He is also credited as being a driving force, working with the United and Anglican churches, in expanding the annual Week of Prayer for Christian Unity from being a solely Catholic affair into an international ecumenical event.
"He made a marvelous contribution to extending the boundaries of the church's mission," said Paulist Fr. Thomas Ryan, a former director of the center, now head of the Paulist North American Office for Interfaith Relations in Boston.
Archbishop Anthony Mancini of Halifax-Yarmouth called Beaubien "a pioneer."
"He was in on the ground floor of ecumenism when these conversations were taking place in private, before Vatican II, when it was not the official church line," said Mancini, who worked with Beaubien in the 1970s.
"It was a big deal in those days. He was very affable, very persuasive. In the secular world, he would have been an effective politician. He could put a positive spin on things," the archbishop said.
Beaubien's success was largely rooted in prayer and his abilities as "a good listener, very sociable, and an effective organizer," said Ryan. "I was blessed to have him as my mentor for three years before he handed me the baton of director of the Canadian Centre for Ecumenism."
After devoting 21 years to Christian unity, Beaubien, then 68, founded Sentiers de Foi to reach out to alienated or no-longer-practicing Catholics, Ryan recalled.
Irenee Beaubien was born in Shawinigan, Quebec, Oct. 20, 1916, the third of 11 children in a barber's family. An athletic and physically fit teenager, he dropped out of school to work as a lumberjack to support his family during the Great Depression.
After a spiritual retreat in 1936, he decided to become a Jesuit. During his formation, he was sent to then-St. Boniface College in Manitoba, where he coached the hockey team before being ordained in 1949.
Returning to Montreal, Beaubien was sent by Archbishop Paul-Emile Leger to Milwaukee on a pilot project to explore the idea of opening relations between Catholics and Protestants. At Archbishop Leger's encouragement, Beaubien started the Catholic Inquiry Forum, which brought together Catholic priests and Protestant ministers for informal meetings. Those meetings were the genesis of the Canadian Centre for Ecumenism.
Beaubien was the director of the Christian Pavilion at the Expo 67 fair in Montreal. He was then named by Pope Paul VI as a consultant to the Vatican's Secretariat for Christian Unity. He ran the Canadian Centre for Ecumenism until 1984.
He received the Order of Canada in 2012 and was presented with the Pro Ecclesia et Pontifice Cross, a papal honor bestowed by Pope Benedict XVI, in 2012.