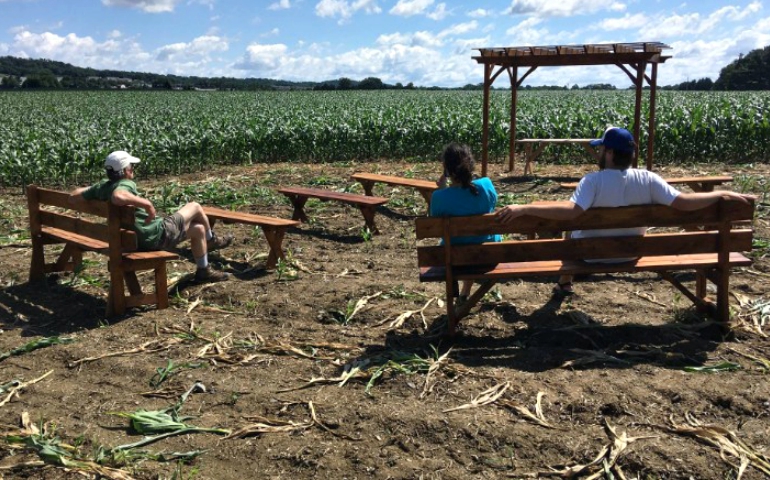 People sit at an outdoor chapel on the property of the Adorers of the Blood of Christ in Columbia, Pennsylvania, in early July. The chapel was built as a symbol to block the Atlantic Sunrise natural gas pipeline. (CNS/Courtesy of Lancaster Against Pipelines/Mark Clatterbuck)
A federal judge ruled Aug. 23 that the Adorers of the Blood of Christ in Lancaster County, Pennsylvania, must give a pipeline company immediate access to their land.
Judge Jeffrey Schmehl's decision comes about a month after Williams, the company building the Atlantic Sunrise pipeline extension, sued the sisters for immediate seizure of their land to prevent the construction of a chapel in the path of the planned pipeline. The company had already been granted a substantive right to possession, but the chapel, which the Adorers built in July, was intended as a protest.
In his ruling, Schmehl dismissed the idea that granting Williams and its parent company, Transco, immediate access to the land violates the sisters' religious freedom.
"Adorers claim that they 'exercise their religious beliefs by, among other things, caring for and protecting the land they own,' and that their efforts to 'preserve the sacredness of God's Earth' are integral to the practice of their faith," he wrote. "However, the Adorers have failed to establish how Transco's possession of the right of way on their land will in any way affect their ability to practice their faith and spread their message. They have not presented one piece of evidence that demonstrates how their religious beliefs will be abridged in any way."