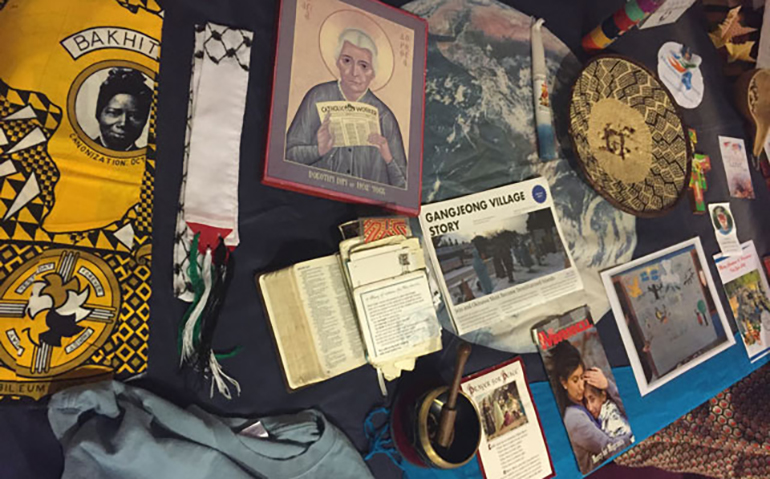 A variety of peace symbols from around the world at the prayer table at the Nonviolence and Just Peace conference, April 2016 (Judy Coode)
In April, I was called to be a participant at a conference in Rome with about 80 other people from around the world, many living in violent conflict zones. The Nonviolence and Just Peace conference met with the goals of deepening Catholic understanding about nonviolence, enhancing our commitment to developing nonviolent practices, and considering shifting to a new moral framework for situations of conflict. (See NCR, April 8-21 and May 6-19.) The Pontifical Council for Justice and Peace and Pax Christi International co-sponsored and participated in the event.
It is important to see that "pacifists" is not an adequate description of those at the conference. There were attendees who valued just war theory, some who saw reason for violent force in policing or peacekeeping, some who were committed to nonviolent resistance to injustice, and some who identified as pacifists. What drew us together was our openness to understanding and commitment to Gospel nonviolence in the Catholic church.
---
Related: Landmark Vatican conference rejects just war theory, asks for encyclical on nonviolence (April 14, 2016)
---
An April 16 op-ed by Robert Christian on the website Crux argued that "following Christ is not the same as being Christ," and thus, even though Jesus was nonviolent, we are not called to "be" this way. It is true that in our unique historical context we may embody this differently, but the Scriptures are clear that we are to love as he has loved us (John 13:34-35) and that we are to put on the mind and heart of Christ (1 Corinthians 2:16; Colossians 3:12-17), which is nonviolent love of friend and enemy alike.
The vision emerging from the conference is a new and bold commitment to Jesus' nonviolence -- its centrality to the heart of the Gospel and its centrality to the life and mission of the church. One thing that flows from this is to let go of using and officially teaching "just war theory" as a Catholic approach, but this is not the primary focus of what we are calling for in our statement.
The focus of our appeal was to "further Catholic understanding and practice of active nonviolence on the road to just peace." We make several points, including calling on Pope Francis to write an encyclical on nonviolence and "no longer use or teach 'just war theory.' "
---
Related: Editorial: Let next synod be about peacemaking (Aug. 23, 2016)
---
We also call for the "Catholic Church to develop and consider shifting to a Just Peace approach based on Gospel nonviolence. A Just Peace approach offers a vision and an ethic to build peace as well as to prevent, defuse, and to heal the damage of violent conflict."
As Christian wrote in his op-ed, some are also concerned that if the Catholic church stops using or officially teaching just war theory, it will "unravel the Catholic commitment to social justice and the common good." States need to use violent force, they say, and there are just causes for such force.
It was notable at the conference that all the speakers from violent conflict zones were mostly from the global South and, as far as I could tell, were supportive of the Catholic church focusing on nonviolent strategies and no longer using the just war theory. One said clearly, "When I transcended the logic of violence, my mind and heart were opened to see what could really be done for peace."
If the Catholic church were to recommit to the centrality of Gospel nonviolence and even develop a just peace approach to conflict, it would enable us to more effectively witness and draw people to Christ, to develop more effective nonviolent practices to transform conflict, and to better draw the broader society, including politicians, toward less violence and more sustainable peace.
We spend so much talent and treasure preparing for what we think might be a "just war" that we have almost no resources available for nonviolent prevention, protection and community-based programs that could help heal the root causes of war. We spend little, if any, time trying to imagine how to humanize or illuminate the dignity of our enemies, which is not only a Gospel mandate but may be an essential step in overcoming even extremist violence.
So much response to the conference has focused on just war and not on how the Catholic church can and should develop more Gospel nonviolence in our education, sacramental life, preaching, seminaries, advocacy, agencies and practices. This response illustrates how maintaining the just war theory in the church too often obstructs our attention, imagination and even will to commit to more nonviolent conflict transformation.
Governments and the U.N. might still resort to violent force, but the appeal at the conference was for the Catholic church to shift to deeper nonviolence and just peace, and away from using just war theory. International law and states will still maintain just war norms for now. However, if the Catholic church were to make this shift, then it will likely liberate us to develop more nonviolent practices in a way that would better limit war (compared to even restrictive just war theory), as well as even help draw society away from war.
As some have brought up, there are atrocity situations such as the Holocaust and today's Islamic State. Don't we need a just war theory for these cases? These norms will remain in international law for now.
However, it's important to note that nonviolent resistance did work against the Nazis in Norway and Denmark, the Rosenstrasse women protest, and with Fr. Maximilian Kolbe in the concentration camp. We also know that the use of violence in World War II included massive killing of civilians by both sides of the conflict, the first atomic bomb, and a nuclear arms race, i.e. the Cold War and many proxy wars.
When we take a deeper and longer view of the overall impact of violence, there is a lot of room for preparing for better, healthier strategies. Research has shown that over the last 100 years or so, nonviolent resistance has been twice as effective as violent resistance and at least 10 times more likely to lead to durable democracies. For example, serious nonviolent options have been underutilized with ISIS.
Thus, when a large-scale lethal threat is near, the church -- as the body of Christ -- should urgently draw on just peace analysis, advocacy, intervention and healing. If governments or the U.N. decide, based on international law, for military action in such genuine atrocity cases, the church's role is not about condemning those persons who took such action.
Instead, the church's role is to clearly name the atrocities and the response of violent action as a tragedy, a failure on the way of just peace, as well as inconsistent with human dignity and a culture of human rights for all. The church's role is to keep a just peace approach center in all such cases and to advocate, even in the midst of violence, for just peace actions that will transform the violence.
The church would not be abandoning the responsibility to protect. It is shifting the focus on how we might protect and how we might transform the conflict.
This shift would build on both the Second Vatican Council and Pope Paul VI when they called the church to say boldly: "It is our clear duty ... to strain every muscle as we work for the time when all war can be completely outlawed."
Paul VI also said, "The church cannot accept violence, especially the force of arms." In turn, a key goal is to outlaw war, not to legitimate or refine the criteria of war.
In 1979, Pope John Paul II said, "Violence is the enemy of justice."
Citing John Paul's 1991 encyclical Centesimus Annus, the Compendium of the Social Doctrine of the Church further de-links the notion of war and justice, calling us "to reject definitively the idea that justice can be sought through recourse to war."
Pope Francis has said there is "no justice in killing," "faith and violence are incompatible" and that we should "reject all violence."
The conference appeal is walking with this trajectory in Catholic social teaching to recommit to the way of Gospel nonviolence and just peace. We look forward to the ongoing dialogue and the creative energy being turned to better imagining and committing to nonviolent practices.
[Eli S. McCarthy is director of justice and peace for the Conference of Major Superiors of Men. He also teaches at Georgetown University in justice and peace studies. McCarthy is the author of Becoming Nonviolent Peacemakers: A Virtue Ethic for Catholic Social Teaching and U.S. Policy.]
A version of this story appeared in the Aug 26-Sept 8, 2016 print issue under the headline: Just peace approach can elicit better strategies than war.