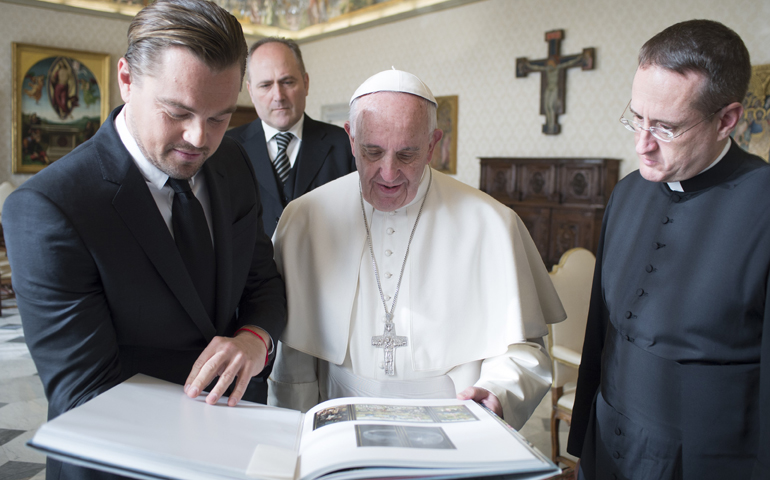 Leonardo DiCaprio and Pope Francis look at a book during their meeting in the Apostolic Palace at the Vatican Jan. 28. (CNS/L'Osservatore Romano, handout)
Possibly hoping for divine intervention ahead of next month's Academy Awards, Hollywood star Leonardo DiCaprio met with fellow environmentalist Pope Francis.
Speaking Italian, DiCaprio kissed the pontiff's hand on Thursday, Jan. 28, and offered a "grazie" (thank you) "for granting me this private audience with you." Then, switching to English, he gave the pontiff a book of paintings by Early Netherlandish painter Hieronymus Bosch, whose works meld fantastic imagery with reality.
DiCaprio said he chose the gift because when he was a baby a Bosch painting hung above his crib. "Through my child's eyes it represented our planet, the utopia we've been given.
"The overpopulation, excess and then the third panel, we see a blackened sky that represents so much to me of what's going on in the environmental movement today," the actor said.
Although DiCaprio is not known to be a practicing Catholic, he shares the pope's views on protecting the environment. Earlier this month he attended the World Economic Forum in Davos, Switzerland, to receive the Crystal Award for his efforts to address environmental challenges.
During his visit to the Vatican, the actor referred to the 15th- and 16th-century works of Bosch as a reflection of Francis' papacy. "It represents to me the promise of the future and enlightenment, and it's representational of your view here as well," he said.
DiCaprio also handed the pope a check that he said was a donation. The undisclosed sum was believed to be a gift for the papal charities, Reuters reported.
The pope gave his guest a copy of the groundbreaking encyclical on the environment, "Laudato Si'," published last year. "Pray for me, don't forget!" Francis said.
DiCaprio is nominated in the best actor category in next month's Academy Awards for his role in "The Revenant." He has so far failed to win an Oscar, despite being nominated five times previously since 1993.