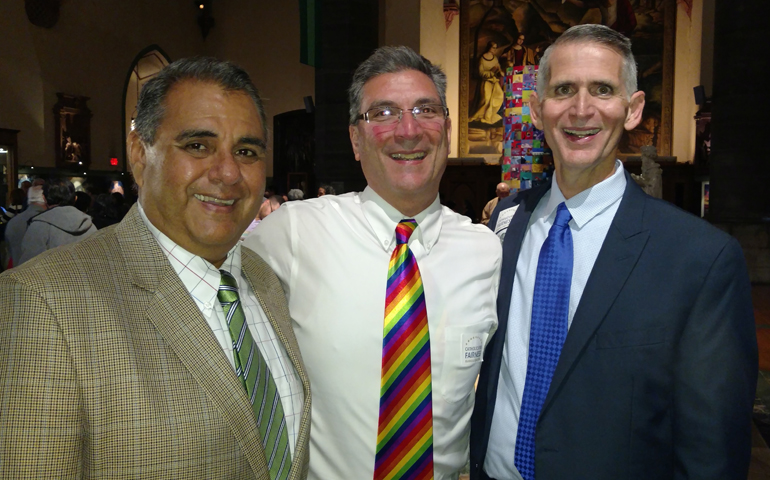 Michael DeLeon, left, Leonard Discenza, and Greg Bourke, Oct. 2 at St. Paul the Apostle Church (Leonard Discenza)
New York — October 6, 2016
About 80 LGBT Catholics and their supporters marched near Central Park and listened to speeches at Columbus Circle advocating greater acceptance in the church Oct. 2. The event concluded with participants attending Mass at St. Paul the Apostle Church, a Paulist parish on Manhattan's West Side.
Speakers included Michael DeLeon and Greg Bourke, a Louisville, Ky., same-sex couple whose marriage equality case was won at the U.S. Supreme Court in 2015.
"God does not care who we love, Jesus simply commanded us to love one another, to love our neighbors. There was no specific instruction about the gender, gender identity, gender expression or the sexual orientation of those we were instructed to love," said Bourke at the rally. The couple were named "Catholics of the Year" by NCR.
---
Related: Editorial: Our persons of the year for 2015 (Dec. 28, 2015)
---
The theme for the walk was Pilgrimage of Mercy, echoing Pope Francis. "We are both seeking mercy from our church, and in return we offer mercy and forgiveness to all those in our Church who have not been so gracious to us in the past," said Bourke.
The couple are members of Our Lady of Lourdes Parish in Louisville.
DeLeon noted that they have stayed in the church despite Catholic teaching opposed to same-sex marriage and other LGBT issues.
"So many people ask why we still are there when there are many accepting and confirming churches in the city. Our church is accepting and confirming and merciful," he said. "There is mercy in the pews but condemnation from the church hierarchy."
After the Mass at St. Paul's -- the regularly-scheduled Spanish Mass for the parish -- march participant Leonard Discenza of Hartford, Conn., said the purpose of the event was to tell "the bishops and the leaders of the Catholic church that we are supportive of the LGBT community being included in the fullest way" in the life of the church. He noted that more than 60 church employees have been dismissed after it was made known they were civilly married to same-sex partners. In some parishes, those who have made a public statement about their homosexuality have been barred from communion.
The event grew out of a similar march held in Louisville and came from a suggestion for a public statement from Phil Donahue, the former television talk show host and benefactor of a scholarship fund for University of Notre Dame LGBT students. The university refuses to recognize the scholarship.
Donahue, a Notre Dame alumnus, hosted a fundraiser for the LGBT scholarship fund in his Manhattan apartment. Donahue spoke at the rally.
Donahue spoke at the Columbus Circle rally. Other rally speakers included Jack Bergen, of the Gay and Lesbian Alumni of Notre Dame and Saint Mary's College; Chris Hartman of Catholics for Fairness; Francis DeBernardo, New Ways Ministry executive director; Fr. Warren Hall, a priest of the Newark archdiocese suspended recently after publicly supporting a gay Catholic school educator who was fired after her same-sex marriage was made public; Dave Swinarski, a St. Paul's parishioner, and Holly Cargill-Cramer and Rosemary Grebin Palms of Fortunate Families, a group for parents of LGBT Catholics.
[Peter Feuerherd is a correspondent for NCR's Field Hospital series on parish life and a professor of journalism at St. John's University, New York.]