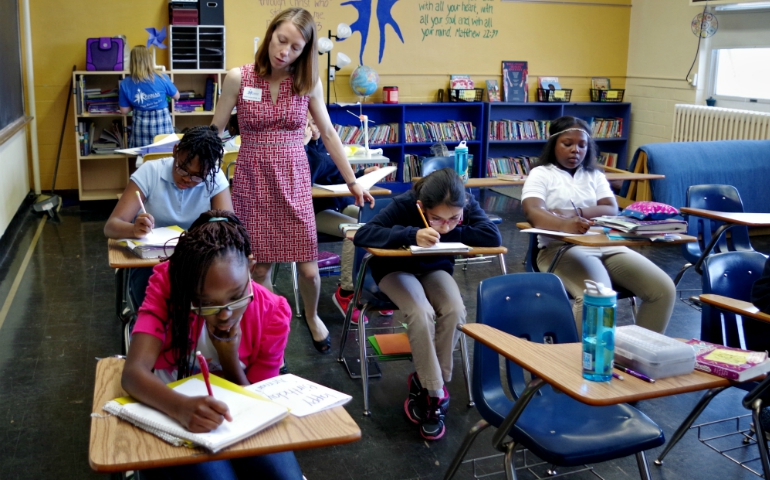 Sr. Sarah Heger, a Sister of St. Joseph of Carondelet, with students at Marian Middle School in St. Louis. "I know, personally, my life, my consciousness will never go back to where it was" before Michael Brown's death in 2014, she said. (Courtesy of the Sisters of St. Joseph of Carondelet / Linda Behrens)
Ferguson, Mo. — August 9, 2018
These days, School Sister of Notre Dame Cathy Doherty devotes most of her energy to promoting interracial friendships between students in the St. Louis-area parochial schools. It's not what she ever imagined she'd be doing, but, as Proverbs says, God's purpose tends to prevail over our best-laid plans.
Nearly every surface of Doherty's office is covered by an image, candle or figurine depicting Our Lady of Guadalupe, the namesake of the parish in Ferguson, Missouri, where she has served as pastoral associate for nearly three decades. Sitting at a conference table — one of the few uncovered spaces in the room — Doherty explains how the events of Aug. 9, 2014, upended everything she thought she understood about what God had called her to.
"My life totally changed when Michael Brown died," she said.
Before "the Ferguson incident," as she calls it, Doherty's whole world had been liturgy: Her master's degree is in liturgy, she had been the chair of the St. Louis liturgical commission and she was in charge of the St. Louis Archdiocese's annual Liturgy Camp for high school students.
But after Darren Wilson, a white police officer, fatally shot Brown, a black 18-year-old, just 3 miles from Our Lady of Guadalupe Parish and then faced no charges for it, Doherty said focusing on ritual at the expense of racial injustice seemed inappropriate.
"How do you live around that eucharistic table with everyone if you don't preach it?"