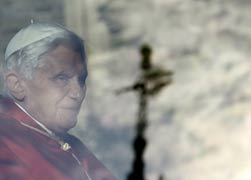 Pope Benedict XVI leaves Lambeth Palace in London Sept. 17. (CNS/Reuters)
Analysis
London -- By now, declarations of papal contrition for the sex abuse crisis, such as that uttered by Benedict XVI this morning in Westminster Cathedral on day three of his Sept. 16-19 trip to the United Kingdom, have become almost routine.
As always, it seems, familiarity breeds contempt. The pope's critics are becoming increasingly acerbic in denouncing these words as hollow, while some of his friends are openly questioning the value of endless apologies.
The dilemma Benedict XVI will have to face is whether to keep talking about the crisis every time he travels, and if he does, how to do it in a way that's constructive.
Read the full analysis: Benedict's in a box in talking about the crisis
Advertisement