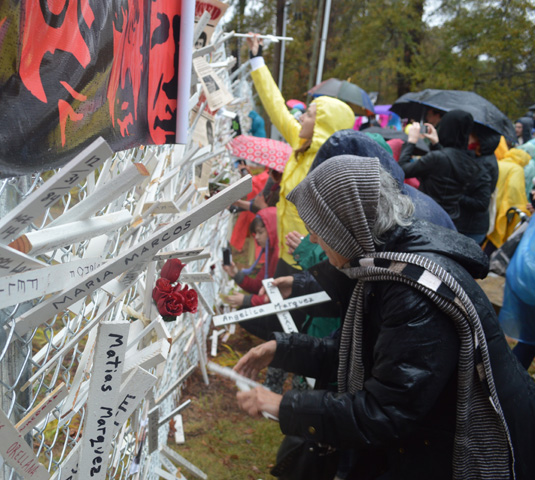 Members of the 25th annual SOA Watch vigil place white crosses bearing names of Latin American martyrs into the fence surrounding the Western Hemisphere Institute for Security Cooperation on Sunday in Columbus, Ga. (Veronica O'Neill)
Columbus, Ga. — November 24, 2014
In 2003, as a Xavier University student, Shannon Hughes made her first 10-hour bus trip to the annual School of the Americas Watch protest outside the gates of Fort Benning. Now 29, Hughes was back at the protest over the weekend to chaperone a group of 10 Xavier undergrads on a similar bus trip from Cincinnati to this heavily militarized south Georgia town, where the U.S. Army trains Latin American soldiers, many of whom have been implicated in human rights abuses in their native countries.
While the crowd that marched in the solemn funeral procession Sunday on Fort Benning Road was far smaller than the one Hughes was part of a decade ago, the spirit remained powerful for the approximately 2,000 people who came to the 25th annual gathering. It is held on the anniversary of the murder in El Salvador of six Jesuit priests, their housekeeper and her daughter. Some of those implicated in the murders were graduates of the School of the Americas, now known as the Western Hemisphere Institute for Security Cooperation.
Hughes, who is assistant director of Xavier's Dorothy Day Center for Faith and Justice, said the SOA Watch gathering still offers her "energy and grace."
"The first time I was here, it felt so heavy and sad," Hughes said. "I didn't know what to expect. I remember the hard, heavy things we were learning."
At the conclusion of the funeral procession, the mood shifts and the weekend ends with a puppet parade and celebratory music, an SOA Watch tradition.
The gathering, which honors the thousands of Latin America martyrs who have died, often at the hands of death squads, also remains a place where the friends and family members of those martyrs come to grieve. The funeral procession, held during a steady downpour and ominous thunderclaps, included a small group of Maryknoll sisters and priests who processed in memory of Maryknoll Srs. Maura Clarke and Ita Ford, lay missioner Jean Donovan, and Ursuline Sr. Dorothy Kazel, who were brutally murdered by SOA graduates in El Salvador on Dec. 2, 1980.
A weeping Adriana Portillo-Bartow, who lost seven family members, including her father and two of her daughters, to the Guatemalan death squads, walked slowly while being embraced by Jennifer Harbury, an American lawyer whose Guatemalan husband, Efraín Bámaca, was also murdered by a death squad. Both women carried white crosses with the names of their loved ones inscribed in black. Those crosses and hundreds more were placed in the Fort Benning fence during the procession.
Two protesters, Nashua Chantal, 62, of Americus, Ga., and Eve Tetaz, 83, of Washington, D.C., were arrested for entering Fort Benning property. The two face likely federal prison sentences of up to six months for trespass.
In a show of solidarity with immigrants, SOA Watch included a morning road trip Saturday to the Stewart Detention Center in Lumpkin, Ga., located about 30 minutes from Columbus. The detention center is a private 1,800-bed facility where undocumented immigrants can be imprisoned for months, sometimes years, while fighting deportation.
A crowd estimated at 1,000 people marched a mile and a half from downtown Lumpkin to the detention center. Five activists were arrested for crossing onto the center's property. The county sheriff charged them with trespassing and released them on $250 bond each.
Emily Guzman, whose husband was previously detained at Stewart, told the crowd that a Nov. 20 immigration reform executive order from President Barack Obama was just a temporary measure and did not include closing the detention center.
"We need permanent change," she said. "Immigrants shouldn't be treated like animals. Shut it down."
On Saturday night, Roy Bourgeois, SOA Watch founder and defrocked Maryknoll priest, joined a group of Maryknoll religious and other friends for a social gathering. Two years ago, Bourgeois was expelled from Maryknoll for his refusal to renounce his support for women's ordination. "I have to deal with a lot of anger, a lot of bitterness and sadness," Bourgeois told the group.
While some of his friends said, "I'm with you, brother," Bourgeois said none of his Maryknoll family spoke out in support of women's ordination when he was ordered to recant. "I will never forget the silence from friends," he said.
Maryknoll Frs. Leo Shea and James Noonan assured Bourgeois they had worked behind the scenes in an attempt to lobby Maryknoll superiors to support Bourgeois.
"There were some of us working very hard to stop" Bourgeois' expulsion, Shea said. "Jim [Noonan] was there. I was there. The friendship will always be there, Roy."
After a hug from Shea and other supportive comments from many in the room, a smiling Bourgeois said, "I must say I'm having a joy attack today."
While most of those gathered for the SOA Watch weekend were middle-aged or older, there were also numerous groups of young people among the crowd.
Hughes, who has made six trips to the SOA Watch gathering, said she stills sees value in bringing college students to Fort Benning's gate.
"I'm glad I'm here, and I'm glad there are students from Xavier here," she said.
[Patrick O'Neill, a freelance writer from Garner, N.C., is a longtime contributor to NCR.]
A version of this story appeared in the Dec 5-18, 2014 print issue under the headline: SOA Watch holds 25th annual protest.