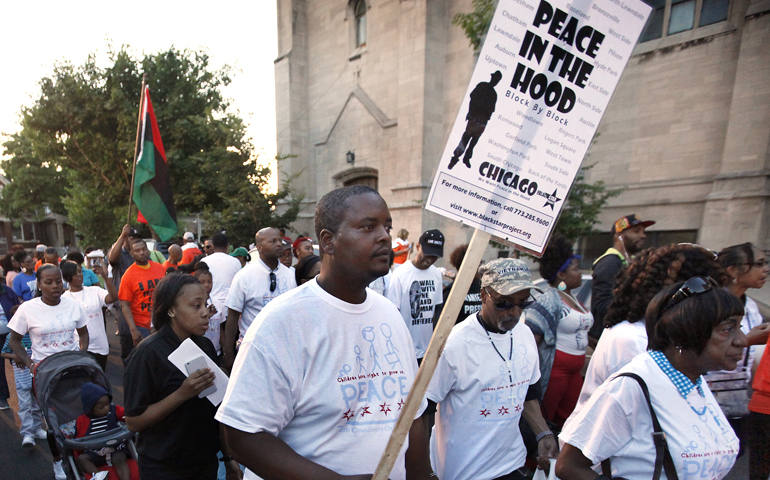 Participants walk during a call for an end to violence in their community June 17 in Chicago. (CNS/Karen Callaway, Catholic New World)
U.S. Catholic bishops are calling on dioceses and community members around the nation to participate in a day of peace and dialogue Friday by offering special Masses and community events, a response that stems from recent racial tensions and gun violence among others.
Louisville, Ky., Archbishop Joseph Kurtz, president of the United States Conference of Catholic Bishops, announced July 21 that the organization would designate Sept. 9, the feast of St. Peter Claver, "a Day of Prayer for Peace in Our Communities" to combat "racially-related" shootings in Baton Rouge, La., Minneapolis and Dallas, according to a press release.
"I have stressed the need to look toward additional ways of nurturing an open, honest and civil dialogue on issues of race relations, restorative justice, mental health, economic opportunity, and addressing the question of pervasive gun violence," Kurtz said in the statement. "By stepping forward to embrace the suffering, through unified, concrete action animated by the love of Christ, we hope to nurture peace and build bridges of communication and mutual aid in our own communities."
In addition to the day of prayer, he appointed a task force to promote peace "during this time of great strain on civil society."
Atlanta Archbishop Wilton Gregory will chair the USCCB Task Force to Promote Peace in Our Communities. Gregory said the task force will look for ways in which the Catholic church can address issues like racial justice by working with local dioceses, community members and laity. The day of peace will aid as a starting point to begin conversation.
"The goal of this day is to help nurture candid dialogue that is civil and honest," Gregory said in memorandum sent to all diocesan pastors and priests. "The immediate focus for September 9 is on coming together in prayer as the foundation for future dialogue and healing within our communities."
Gregory will join the effort by celebrating a special Eucharist at the Cathedral of Christ the King in Atlanta. Local Catholic schoolchildren will also be asked to pause and pray at the same time, he told media in a Sept. 8 teleconference.
When their parents ask what they did at school, "they will be able to say they prayed for peace, which will hopefully generate conversation in those homes," Gregory said.
Bishop Shelton Fabre of Houma-Thibodaux, La., a member of the task force and chairman for the Subcommittee for African-American Affairs, was also present during the teleconference. He called Friday's events a "beginning" to building relationships across racial and cultural lines.
"Tomorrow offers an opportunity for people to get to know people and not only causes. Maybe at that Mass people of different races who have never spoken to another race might speak to one another," Fabre said. "If nothing else it will plant seeds that will grow immediately in great and small ways."
Bishop John Ricard, who retired from the Pensacola-Tallahassee, Fla., archdiocese in 2011, is also among the task force members. In addition, he is a member of the USCCB Subcommittee on African American Affairs as well as a member of the board of the National Black Catholic Congress.
"Many people of good will and not so good will, black and Catholic and white and Catholic began to raise many questions about, 'Where do we go from here and what does all this mean,'" Ricard told Catholic News Service. "The leadership of black Catholics and black Catholics are asking the church to give us some direction and some leadership. Show us that our concerns are your concerns and vice versa. And that you're with us, because we see ourselves under siege."
Dioceses across the country are using the day to raise awareness of the violence they face in their own cities.
Fr. Bradley Zamora, director of liturgy at Holy Name Cathedral in Chicago, said the initiative hits very close to home, citing the gun violence "epidemic" in the city.
"We want everyone to come together around this specific issue, this specific plague in our archdiocese, to show that we are one, and that we care and support our brothers and sisters who deal with violence every day of their life," Zamora told NCR.
According to the Chicago Tribune, 2,949 people have been shot so far this year in Chicago. Homicides reached 500 as of Sept. 8 according to the site, more than Los Angeles and New York combined.
The cathedral will hold a peace vigil Friday in Taize, a musical prayer style, to support families affected by the violence.
The day of dialogue and prayer should encourage people to get involved in their own cities, said Gregory, citing recent demonstrations in Detroit among the Catholic community.
According to Catholic News Service, Taking Back the Night, a prayer group from the Detroit archdiocese's Office of Black Catholic Ministries, took to the streets Aug. 22-26 to combat racial unrest and promote peace in their city.
"I just wanted to join with the group in praying for peace; fighting crime, racism and all its effects," said Genevieve Kocourek, a member of St. Augustine and St. Monica Parish on the east side. "A group prayer is great because it brings people together, not just Catholics, but anyone who can join us in praying in public."
The group prayed for the community while holding signs that read, "Pray for Detroit," according to the site.
Philadelphia Archbishop Charles Chaput invited all 219 parishes and communities to participate in the day of prayer. In an Aug. 29 press release, Chaput encouraged parishioners to pray for racial justice and to observe a "voluntary fast and abstinence for peace."
Fabre said the Subcommittee on African-American Affairs is in the beginning phases of a pastoral letter that would address racism. The letter would also provide action steps in which community members could participate to combat racism and play active roles in their community.
The task force will present its findings as well as recommendations in a report at the November USCCB general assembly.
[Traci Badalucco is an NCR Bertelsen intern. Her email address is tbadalucco@ncronline.org.]