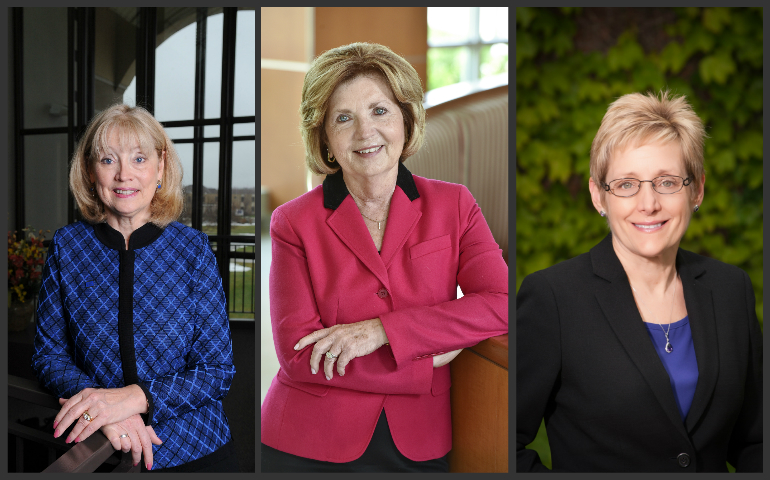 Presidents Cynthia Zane of Hilbert College, Kathleen Owens of Gwynedd Mercy University and Julie Sullivan of University of St. Thomas. (Courtesy of Hilbert College, Gwynedd Mercy University and the University of St. Thomas)
The number of women serving as presidents of U.S. Catholic colleges has skyrocketed in the past 16 years — up 137 percent from 2000 to 2016, according to the Association of Catholic Colleges and Universities.
NCR interviewed five of these presidents and found a common experience among them: They all identified themselves as beneficiaries of good female mentors, a key component in their far-reaching success and climb to the top of the educational sector.
"I had a strong female role model in my own personal life in terms of my own grandmother," said Julie Sullivan, the first female president at the University of St. Thomas in St. Paul, Minn. "She taught me from a very early age that you can be and do anything you want. … You just to have to work hard at it."
Nancy Blattner, president at Caldwell University in New Jersey, said having the opportunity in 2002 to shadow another female president had a profound impact on her career. Until that point, she had only been exposed to male examples.
"I was mentored by men who were good at providing me role models and experience and broadening my horizons," Blattner said. "But I really thought going up through the ranks that women would have a somewhat different leadership style."
Blattner, who was nominated and accepted in 2002 into the American Council on Education Fellows Program in Washington, D.C., said the organization provides a pipeline for women and minorities fulfilling higher education roles. There, she was able to shadow President Patricia Cormier at Longwood University in Virginia for one year — what she calls an invaluable experience to getting a first-hand look at a female president's leadership style.
The unprecedented surge in female lay leadership on Catholic campuses could offer insight into a changing educational landscape — one that is unlikely to falter in coming years, educational experts said.
Of the 220 Catholic colleges and universities in the U.S., 46 had female lay presidents in 2016, up from just 19 in 2000, according to the Association of Catholic Colleges and Universities. Male lay leadership increased 38 percent over the same period, from 65 in 2000 to 89 in 2016.
"The kind of experience, knowledge and expertise that is demanded of a president now is far different than it was years ago," said Kathleen Owens, president at Gwynedd Mercy University in Gwynedd Valley, Pa., citing the increased importance of enrollment numbers as well as a knowledge of fundraising.
In the past, said Owens, religious communities might have chosen the provincial of the order, a position that no longer qualifies a sister for the "complexity of the current 365-day responsibility of president." Searching beyond the religious community broadens the pool, she added.
Helen Streubert, 60, president at the College of Saint Elizabeth in Morris County, N.J., said Catholic institutions are opening up leaderships positions to women for the first time to jobs they weren't exposed to before, a trend she said will continue as less people seek religious life.
"I certainly believe that there are many people who have not had a religious life who are deeply committed to the values of the institutions in which they serve," Streubert said.
According to the Center for Applied Research in the Apostolate at Georgetown University, the number of religious sisters in the U.S. decreased almost 74 percent from 1965 to 2016, from 179,954 to 47,170. The number of priests declined almost 37 percent during the same period, from 58,632 to 37,192. And the number of religious brothers decreased 66 percent during the same period, from 12,271 to 4,119.
On Catholic campuses, female religious presidents decreased 51 percent from 2000 to 2016, according to Association of Catholic Colleges and Universities, while male religious presidents decreased 42 percent during the same period.
The move from religious to lay leadership goes beyond math, said Michael Gallagan-Stierle, the association president. Institutional leaders need specific skills sets, including the ability to fundraise, and an understanding of academics and enrollment numbers.
"Raising money for scholarships is my job practically every day of the week," said Cynthia Zane, president at Hilbert College in Hamburg, N.Y.
College presidents should also have an entrepreneurial angle, a knowledge of networking beyond the diocese, an ability to gauge the job market, and an ability to work with alum to bring in revenue, said Gallagan-Stierle.
"I think that the difference is when you are looking within the sponsored organization, you are limiting yourself to the size that it is," Blattner said. "When you expand the search nationally, instead of 140 to 150 applicants of the sponsored congregation, you are opening it up to bring in hundreds, if not more, applicants for the presidency."
While the trend toward a more diverse educational landscape could prove to be the future, the religious communities paved the way to the evolving times, the women said.
"These women religious were pioneers," Zane said. "They really established a foundation where boards respected their leadership, and they didn't find it such a stretch to continue."
Zane credits her success to her experience working with three women religious mentors throughout her career.
Each year, Owens takes female students to events in the Greater Philadelphia region sponsored by the Forum of Executive Women so they are able to see other women in leadership roles.
"I have the opportunity now that I did not previously," Owens said of her ability to influence women pursuing their educational goals.
The role of president has its complexities in an ever-changing educational sector, but having the opportunity to shape the lives of young people — just as their lives were shaped by mentors — is the greatest reward.
"I just think that the privilege to make a difference in the lives of the young people that come to Hilbert is just an awesome way to serve," Zane said. "When you know that their lives are on a trajectory, I don't know how it gets any better than that."
[Traci Badalucco completed her term as an NCR Bertelsen intern in October.]