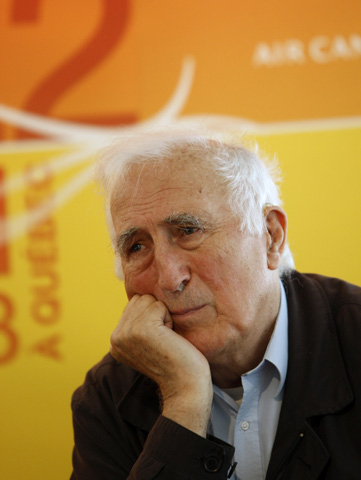 Jean Vanier, founder of the International Federation of L'Arche Communities (CNS/Nancy Phelan Wiechec)
Jean Vanier, an advocate for people with developmental disabilities who helped create an international network of residential communities that champion the rights of their residents, has won the 2015 Templeton Prize.
A Roman Catholic layman and a lifelong student of philosophy and theology, Vanier is best known as the founder of L'Arche, French for the Ark, a global network of communities where those with and without disabilities live side by side as equals.
The network was begun in northern France in 1964 when Vanier invited two intellectually disabled men to live with him as friends. It has evolved into 147 L'Arche communities, in 35 countries. In addition, a support group for families of people with disabilities, known as Faith and Light, has spread to 82 countries.
"One can conceive of L'Arche and Faith and Light as living laboratories where Vanier essentially exposed his ideas to the most challenging test of all -- real people, real problems and real life," said John Swinton, a professor at the University of Aberdeen, Scotland Divinity School, in nominating Vanier for the award.
In a statement at a news conference in London, Vanier, 86, said those with intellectual disabilities offer spiritual lessons and gifts to a world too driven by success and power.
"They are essentially people of the heart," he said. "When they meet others they do not have a hidden agenda for power or for success. Their cry, their fundamental cry, is for a relationship, a meeting heart to heart. It is this meeting that awakens them, opens them up to life, and calls them forth to love in great simplicity, freedom and openness.
"When those ingrained in a culture of winning and of individual success really meet them, and enter into friendship with them, something amazing and wonderful happens. They too are opened up to love and even to God. They are changed at a very deep level. They are transformed and become more fundamentally human."
Such exposure, he added, can make those in mainstream culture embrace their own weaknesses and vulnerability.
Born in Switzerland to a family of diplomats and humanitarians who fled France before the Nazi occupation, Vanier grew up in Canada and joined the British Royal Navy as a teen. He earned a doctorate in 1962 from the Institut Catholique in Paris.
He said his Catholic faith is essential to his work. That now includes being an advocate for interfaith dialogue and improved relations between those whose lives don't often intersect, such as the wealthy and the poor.
Vanier recalled a visit to Santiago, Chile, where a driver pointed out a road separating a poor neighborhood from a wealthy, gated community. "Don't cross the road, because everyone is frightened," he recalled the driver telling him.
Such divisions must end if the human race is to advance, he said.
In this, Vanier called Pope Francis an ally. "I am very touched by him," Vanier said of the pope, speaking in a telephone interview prior to the announcement Wednesday of the Templeton honor. "He has given us a magnificent vision of who Jesus is. And he is not only saying it, he's living it."
During presentations, Vanier sometimes includes the Liturgy of the Washing of the Feet, where the able and disabled wash each other's feet as Jesus washed the feet of his disciples at the Last Supper.
Often called the most prestigious award in the world of religion and spirituality, the Templeton Prize is valued at about $1.7 million and is awarded by the John Templeton Foundation, based in West Conshohocken, Pa. It is one of the largest annual prizes awarded to a single individual. It honors those who have made "exceptional contributions" to affirming the spiritual dimension of life.
Vanier said he will donate the money to his charities so they can expand their work internationally.
Vanier joins a distinguished group of Templeton laureates. They include author Alexander Solzhenitsyn, the Rev. Billy Graham and Mother Teresa, who was the first laureate, in 1973. Among the most recent recipients were two Nobel laureates -- the Dalai Lama, in 2012, and Desmond Tutu, in 2013. Last year's Templeton winner was Tomas Halik, a Czech Roman Catholic priest, philosopher and political activist.
Vanier, who continues to live on the grounds of the original L'Arche community in Trosly-Breuil, north of Paris, will be formally awarded the Templeton Prize at a public ceremony at the church of St. Martin-in-the-Fields in London on May 18.
A version of this story appeared in the March 27-April 9, 2015 print issue under the headline: Jean Vanier, friend of developmentally disabled, wins Templeton Prize.