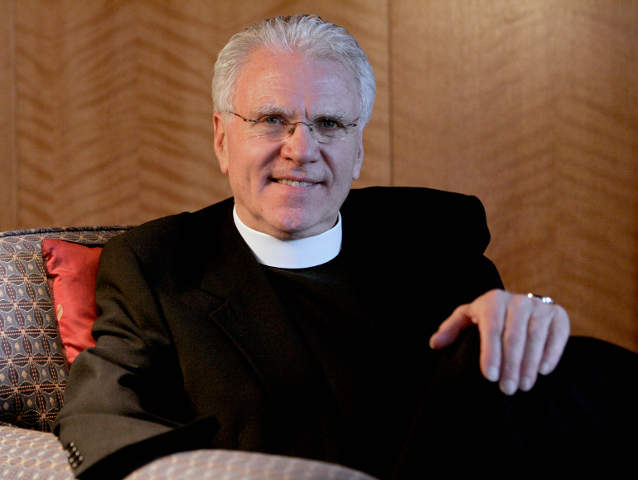 Jesuit Fr. Rick Curry in 2007 photo. (CNS photo/Bob Roller)
Jesuit Fr. Richard Curry, whose various ministries in theater and bakeries embraced people with disabilities and military veterans, died in Philadelphia, Pa., Dec. 19. He was 72.
Curry was best known for founding in New York City in 1977 the National Theatre Workshop of the Handicapped, which allowed young people with disabilities the chance to study music, voice, oral interpretation, movement and dance, writing plays, theater management and technical productions with a staff of professionals.
Though the workshop training focused on self-expression, and Curry said in a 1997 NCR feature on the 20th anniversary of the theater workshop, it helped students achieve a feeling of accomplishment, dignity and fulfillment, he rejected the idea that it was a therapy program.
"The skills one learns in acting are transferable to the marketplace and world of jurisprudence," said Curry, something he learned firsthand. He told NCR in 1997 that his father sent him to acting lessons at age 7 in Philadelphia, in the hope he might become a lawyer.
Curry, who was born without a right forearm, knew intimately the challenges and prejudices of the disabled.
In an interview with the TV news program "60 Minutes," Curry described the inspiration for the theater after an audition he went on didn't get past the laughing receptionist. "Thirty-six hours later I decided to start this theater."
Curry's work took a new turn after 2003 when the National Theater Workshop began a new program called the Wounded Warriors Writers Workshop. In a 2011 profile of Curry in the National Jesuit News, he described that work: "The program taught the dramatic monologue to recently returning disabled veterans from both the Iraq and Afghanistan wars. Working in small groups with talented young writing teachers, these valiant men and women struggled artistically to tell their stories in a format where they could later act them out on stage," Curry said.
"The experience of writing and acting out their story opened the floodgates of emotions and this led many who participated in the writers program to seek further help and counseling."
Curry moved to Georgetown as an adjunct professor of Catholic studies and theater in 2008 where he continued his work with veterans, serving as director of the Academy for Veterans, a program that serves to assist veterans returning home from Iraq and Afghanistan who have been disabled in the line of duty with emotional rehabilitation, employment assistance and other services.
His wake and funeral will be held Jan. 2 at Holy Trinity Catholic Church in Washington, D.C. The wake will start at 9 a.m. and the funeral will begin at 10:30 a.m. at the church.
According to an obituary in the Georogetown student newspaper, The Hoya, Curry was well known at Georgetown for his unique "Theater and the Catholic Imagination" class, which served to teach expression and culminated with a tap-dance performance around campus, including in O'Donovan Hall and the Intercultural Center.
Just a year ago, Curry launched his latest venture, Dog Tag Bakery in Washington, D.C., which employs veterans with disabilities and their spouses providing them training and education. Bakery employees work during the day and take Georgetown courses, focusing on small-business administration and entrepreneurship, at night. The bakery's menu includes breakfast pastries, breads, soups, salads, sandwiches, quiches, desserts, snacks and beverages.
Curry, who entered the Jesuits as a brother in 1962 was trained as a baker and worked in Jesuit community kitchens. He authored two books, The Secrets of Jesuit Breadmaking and The Secrets of Jesuit Soupmaking.
After more than 40 years as a Jesuit brother, Curry felt encouraged to seek priesthood whereby he could work "not only artistically with the wounded warriors but sacramentally as well." Curry's ability to become a priest took special permission from the Vatican because he was born with only one arm, and Canon Law requires two hands to celebrate Mass. It was a challenge, he would later say, that he considered a gift, because it provided an automatic bond with disabled veterans.
With advances in modern medicine, soldiers are returning from war, but many are casualties just the same, whether in body, mind or both, Curry said.
"Imagine a young man whose body has been severed at the waist," Curry said in an interview with the Jesuit National News in 2011. "He's lost so much, but he's alive. Just 19, he needs to rethink what he will do with the rest of his life. We will lose many more men and women than the fatality charts show if we do not step up for them. I urge everyone to use his or her imagination to identify ways he or she can provide support to our veterans with disabilities and/or post-traumatic stress disorder. A lot of people can do much more than they think."
NCR senior analyst Jesuit Fr. Tom Reese met Curry when he lived at the America House in New York. He described Curry as a real entrepreneur and said one floor of the building was cleared out for Curry to start what would become the National Theater Workshop of the Handicapped.
In a New York Times article, Curry is quoted as saying, "At 6," he recalled, "because of my arm, I was told I could not be a soldier. I could not be a priest. I could not be a doctor. Well, I have a doctorate, I'm a priest and I'm working with the military. I think that's proof that it's not smart to circumscribe God."
He received 25 honorary degrees from colleges and universities including Fordham University, Georgetown University and Gonzaga University, and in 1987 received the Distinguished Service Award of the President's Committee on Employment of People with Disabilities.
"Rick Curry was one of the most remarkable Jesuits in the long history of the Society of Jesus," said Jesuit Fr. James Martin. "Some will remember him as a man who inspired others by the way he lived and loved, with his physical disability. Some will remember him as one of the finest speakers they've ever heard. His Jesuit brothers, I think, will remember him as an energetic apostle, a supportive friend, and, frankly, one of the wittiest Jesuits you could possibly imagine."
"For me, I never forgot the stories of how many obstacles he had to overcome in his life, and I've rarely met someone who was so wholeheartedly supportive of my vocation as a Jesuit," added Martin. "I will miss his energy, his jokes and his encouragement. But I also know he's praying for us in heaven now, and if anyone could convince God to do something, it's Rick."
[Elizabeth Elliott is an NCR Bertelsen intern. Her email address is eelliott@ncronline.org.]