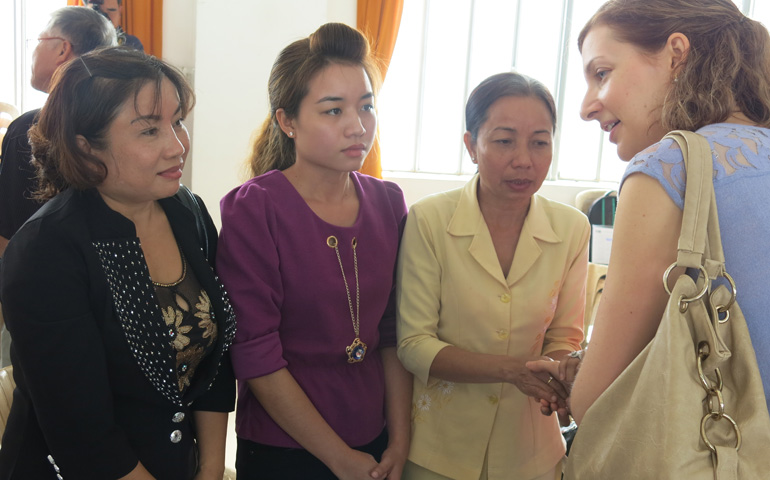 Relatives of death row inmate Ho Duy Hai talk with Felicity Sims from the Australian Consulate. Hai was convicted of the murder of two post office workers in 2008. (Peter Nguyen)
Ho Chi Minh City, Vietnam — February 2, 2015
Religious dignitaries and civil activists in Vietnam as well as the international community have called on the Vietnamese government to abolish the death penalty.
An estimated 40 human rights activists, bloggers, journalists, democracy advocates, relatives of two death row inmates, and dignitaries of Christianity and indigenous sects of Cao Dai and Hoa Hao attended a special seminar, "Abolishing the Death Penalty -- The Progression of Civilization," on Jan. 26 at the Redemptorists' pastoral center in Ho Chi Minh City. The event marked the first time local religions and civil organizations publicly voiced concern about capital punishment.
European Union representatives and consulates of Australia, Germany and the United States attended the event, which was co-organized by the Redemptorists' Justice and Peace Office, Civil Society Forum, and Vietnam's Universal Periodic Review Working Group.
"Human beings are created in the image of God, so human life is the most important. The Fifth Commandment teaches, 'You shall not kill.' That means murder is banned in any circumstances," said Redemptorist Fr. Anthony Le Ngoc Thanh from the Justice and Peace Office.
Thanh said some local bishops and priests individually have called for the elimination of death sentences. "However, the bishops' conference has not yet petitioned the government to abolish the death penalty," he added.
Although Vietnam's constitution states everyone has the right to life and no one shall be illegally deprived of his life, the country still imposes a death sentence for 22 crimes. Courts throughout the country sentence approximately 200 people to death annually. Death sentences are often handed down to those convicted of drug offenses and murder.
Hua Phi, a leader of Cao Dai, a syncretic belief system, blamed the rising crime rate among young people on a sharp decline in moral standards caused by atheist education.
The government should "eliminate the death penalty soon" and adopt a reform of educational system focusing on human values, Phi said.
Nguyen Quang A, a human rights activist, told participants: "The death penalty applied in Vietnam has drawn great attention from the international community." During the Universal Periodic Review Working Group's second cycle in 2014, Vietnam received nearly 30 recommendations related to abolishing the death penalty, he added.
However, A said, the government only accepted a few of the recommendations, such as reducing the number of crimes subjected to persecution and seeking reform toward the eventual abolition of the death penalty.
"We should popularize [for] the people the recommendations the government promised and urge them to monitor how the recommendations are implemented in the country," A said.