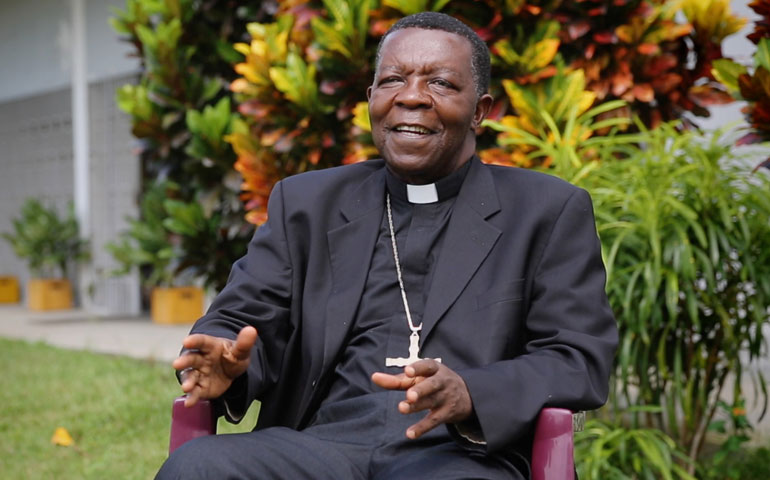 Bishop Nicolas Djomo of Tshumbe, Democratic Republic of the Congo (Photos by Tim Guthrie)
Bishop Nicolas Djomo lives in the small town of Tshumbe in the middle of the Democratic Republic of the Congo. Situated 500 miles from the capital city of Kinshasa and inaccessible by national roads, Tshumbe is remote and virtually unknown to people outside the country. However, despite presiding over a minor see in the Central African bush, Djomo looms large.
In January 2013, at Djomo's invitation, several colleagues from Creighton University in Omaha, Neb., traveled to Tshumbe with backpacks full of video cameras and audio gear. Our purpose was both theological and journalistic. We wanted to see firsthand how the Christian Gospel was helping to heal the wounds inflicted by the unspeakable violence of Congo's long war, and we wanted to document what we found. We promised the bishop that we would help tell Tshumbe's story, which, in many ways, mirrors the painful story of Congo itself.
As an emblem of the seemingly limitless scale of human suffering, Tshumbe could stand for any diocese in the Democratic Republic of the Congo. In the 19th and early 20th centuries, Congo suffered the abuses of perhaps the worst colonial overseer in Africa, Belgium's King Leopold II. After independence in 1960, it suffered under the dictatorship of Joseph Mobutu, a "pro-West" puppet who ran his country into the ground over three decades of misrule. Since 1996, more than 6 million Congolese have died from the effects of a long regional conflict known as "Africa's World War." During the heart of the war, between 1996 and 2003, militias destroyed schools, roads and parishes across the Tshumbe diocese, and thousands fled the region. Even after the war subsided, most people continued to eke out a living through bare-bones subsistence farming.
This is perhaps because travel to Congo requires courage (or perhaps folly) and a good deal of patience. On its website, the U.S. State Department warns would-be travelers to think again. However, if you decide to risk the "armed groups," the "critical crime threat level in Kinshasa," and the active "wild polio virus," the U.S. government urges you to avoid Congolese aviation, which "is not compliant with international standards." Courageous or perhaps foolhardy, we went anyway.
Getting to the bishop's house in Tshumbe took five days, including two days of international air travel and overnights at a Nairobi guest house, a Kinshasa hostel, and a seminary in the town of Lodja. Home to the only airport in the Tshumbe diocese, Lodja receives two flights each week on its dirt runway. This is paltry service for a diocese that covers just over 23 square miles and is home to 683,000 people. Traveling from Lodja to Tshumbe requires the better part of a day and includes a ride in two separate Land Rovers and a river crossing in a dugout canoe that serves as a ferry. Arrangements must be made in advance for the second Rover to meet you at the crossing. If they don't show up or if they break down, you're out of luck. Our diocesan handlers negotiated a deal with the ferry operators, who do not transport many American mzungus (whites) and saw an opportunity for some quick cash. When we asked about the safety of our expensive camera gear, they assured us that the canoes rarely foundered. As the ferry operator pulled our canoe across the river by tugging on a long assemblage of jungle vines that were serving as ropes, we wondered what they meant by "rarely."
Due to the lack of roads and infrastructure, transportation is a huge challenge in Congo. Most people walk or ride old bicycles. In Tshumbe, we saw a couple of cars and a dozen or so motorcycles, most of them owned by the church. Travel between cities in the Democratic Republic of the Congo requires a plane ticket, which is prohibitively expensive for almost everyone (a roundtrip regional flight costs $800). Major overland travel is impossible in a country the size of Western Europe with no functioning road or rail system. If you have a few weeks, river travel between some major cities is possible.
In Djomo's diocese, the two major towns of Tshumbe and Lodja are about 100 miles apart. According to Djomo, the journey used to take 12 hours or more. We made the trip in five, thanks in large part to Djomo and his partners in Catholic Relief Services who have completed the construction of a new dirt road. Teams of underemployed locals did the work by hand. As we drove through the countryside, our driver eagerly pointed out the achievements of the bishop. "He built that bridge over there," he said. "And soon he will build one across the Lokenyi River."
We began to think of Djomo as a modern day pontifex, the Latin word for "bridge builder." Indeed, he reminded us of Pope St. Gregory the Great (died 604). Faced with the collapse of the Roman Empire, Gregory found himself trying to hold up the crumbling civic infrastructure of his ruined society. As in Gregory's Rome, there are no government bridge builders in Tshumbe. So Djomo does what he can, and he builds more than physical bridges. As president of the Congolese Bishops Conference, he lobbies government officials and seeks international aid. Back home in Tshumbe, he reserves every Wednesday for one-on-one meetings with local villagers. People come with their financial needs, legal disputes and spiritual problems. He listens and tries to help. In Djomo's words, "The plight of the people makes us humble." When gubernatorial elections were held recently, locals became incensed that Djomo was not on the ballot, asking election officials, "Where is Djomo?" In the words of one of our guides, "In this region, Djomo is the government, and the people treat him that way."
One of Djomo's proudest initiatives is Tshumbe's new l'Université Notre Dame de Tshumbe (UNITSHU), founded in 2006, the first Catholic university in the region. Led by Franciscan Sr. Rebecca Walo, the first Congolese woman to receive a doctorate in mathematics, the university includes programs in nursing, education, business, agriculture and law. At $250, annual tuition is less than a typical American college student's iPhone. Many locals struggle to pay even these modest fees, however. Djomo is working hard to raise funds for both scholarships and infrastructural improvements. For Djomo, the university is a key part of Congo's overall search for peace and social stability. "If they attend university, they have a chance to find good jobs. They do not need to seek work in Kinshasa or join militias in the east." Militias are often attractive to young men because they offer at least the promise of regular meals and stable income (and political change).
The diocese also runs a medical clinic and a small hospital in Tshumbe and the nearby town of Dikungu. Doctors and nurses are often well-trained, and costs are kept minimal to allow local people to seek treatment. Medical professionals work under horrendous conditions, however. Nighttime surgeries must be done by candlelight or flashlight; technology dates from the 1960s; surgical implements are sterilized over wood fires. As one nurse commented to us, "Everything we do here is a miracle." Near the hospital in Dikungu, where they still treat victims of leprosy, our guide told us about the Tetela word tokimane, which means, "Let us hold each other." It seemed to us that this phrase captured the essence of the medical mission in Tshumbe.
The Tshumbe diocese exudes a compelling spiritual energy. Base Christian communities are the foundation of the church here. Led primarily by laywomen, these "living ecclesial base communities" meet regularly in surrounding villages, discussing Scripture and sharing in fellowship. They keep food stocks in reserve for needy members and visitors, including past war refugees. These small Christian communities also serve as the front lines in communal and social reconciliation and represent local villagers' interests before both church and state authorities. All base community leaders receive a formal training course in Catholic social teaching. In the words of one leader, "our goal is to promote the Catholic faith, human dignity and human rights."
At the Sunday liturgy, we see the public face of the church. At 6:30 a.m., the people gather to celebrate a three-hour Mass using the Zaire rite, one of the great success stories of post-Vatican II liturgical inculturation. Remarkably, the Zaire rite is danced. The altar boys perform a choreographed script led by an accomplished choir and mirrored in an enthusiastic congregation. A troupe of girls wearing traditional garb dance in the space between the altar and the people. Even the clergy is involved in the rhythmic motion of the unfolding liturgy. At the offertory the people bring what they have; one man even carried a goat over his shoulders. A drum beats continually, never letting us forget that we are in Africa and in the presence of God. Whatever their deep challenges, it is impossible to go to Tshumbe and not feel that the people in that place have something we in the developed world have lost.
[James J. Carney is an assistant professor of church history and global Christianity and John J. O'Keefe is a professor and A.F. Jacobson Chair of communications and historical theology at Creighton University.]
A version of this story appeared in the March 28-April 10, 2014 print issue under the headline: A bishop and his people's plight.