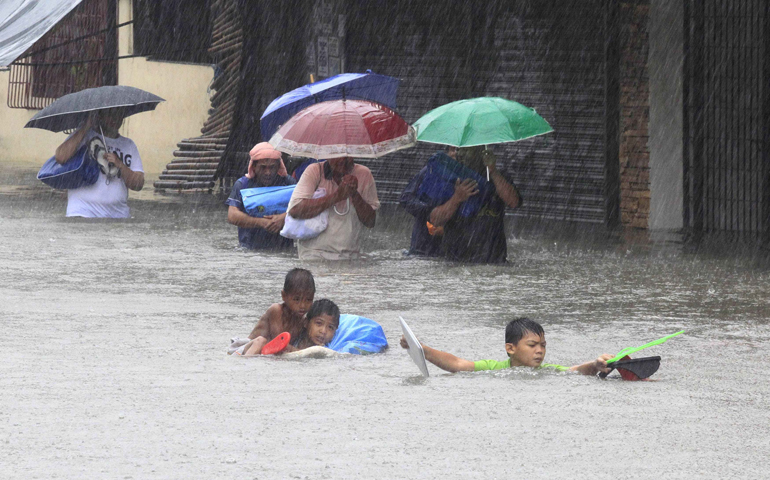 People carry their belongings as they wade through a flooded street Friday after tropical storm Fung-Wong battered metro Manila, Philippines. (CNS/Reuters/Romeo Ranoco)
Manila, Philippines — September 19, 2014
Catholic aid agencies were involved in efforts to help people who were flooded out of their homes by a tropical storm in the northern Philippines.
A downpour inundated Manila and surrounding communities for 24 hours starting Thursday evening. Forecasters expected that the heavy rain would continue through Saturday.
Emergency response officials said 25 percent of the capital region was under water and nearly 500,000 people were affected by the twin impact of Tropical Storm Fung-Wong and late-summer monsoons.
Fr. Anton Pacual, executive director of Caritas Manila, said the agency was focused on distributing relief goods in low-lying communities.
"There are still areas that are flooded," he told Catholic News Service on Friday. "Only the trucks can pass in these areas. The six-wheelers can handle it."
In some parts of the region, cars were submerged and people waded through chest-deep waters, while others clambered onto rooftops. Roads turned into rivers with stranded pedestrians waiting on the sidelines. In one municipality, government rescue workers fought rushing silt-filled currents to get people to evacuation centers.
Pacual said the agency ordered churches in the Manila archdiocese to open their doors to evacuees.
He said officials were particularly concerned about the municipality of Marikina, where the government ordered a mandatory evacuation. The city suffered severe flooding five years ago after Tropical Storm Ketsana dumped more than one month of rain in less than a day.
"The very thing that we want to impart to the public is that they don't have to wait to be flooded out," said Philippine Red Cross Chairman Richard Gordon. "They can leave. The time that we spend on rescuing them and the danger that we have to undergo is not necessary if they leave their homes early."
Classes were suspended and so was work at non-emergency government agencies. The stock market was closed and dozens of international and domestic flights were canceled.
Joe Curry, country director for Catholic Relief Services, told CNS that assessment teams were heading to Marikina and other affected areas Saturday.
He said they would likely prepare water sanitation kits for stranded residents.
"If the rains keep coming, the dams are full. So if the dams keep releasing water, the rivers could stay high," Curry said. "And if the rivers stay high, then people will stay in evacuation centers for longer. If they stay longer, typically it could be anywhere from a couple of weeks up to maybe a month or so."