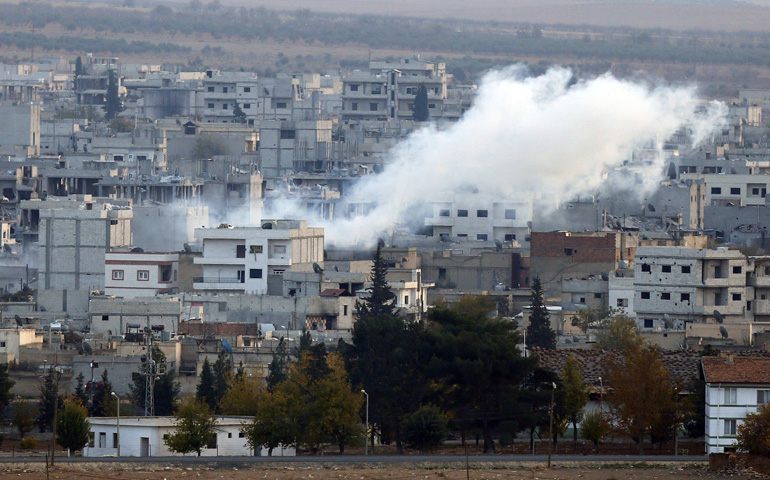 A view shows smoke rising Thursday from a Kobani, Syria, neighborhood damaged by fighting between Islamic State militants and Kurdish forces. (CNS/Reuters/Osman Orsal)
Vienna — November 21, 2014
Chaldean Catholic Patriarch Louis Sako of Baghdad implored moderate Muslims to reject "terrorism in the name of religion" and step up to challenge the actions of Islamic State militants against minority communities in Iraq.
During an international conference of Muslim and Christian leaders, Sako called the situation in Iraq an "unprecedented historic crisis" and called on Muslims in attendance to exercise their responsibility to protect Christian, Yezidi and other minority communities.
Aid to the Church in Need distributed the letter Sako read to the conference.
"With this letter," the patriarch told participants Tuesday, "I would like to express my pain and the pain of your Christian brothers and sisters in the face of our calamity, appealing to your conscience and goodwill to do something for the liberation of their towns, recovery of their property and restitution of their rights.
"Accordingly, I request a drastic change, because it is your responsibility to find an answer, which has to come from you and not from an outside force," he said during a two-day conference organized by the KAICIID Dialogue Center, also known as the King Abdullah Bin Abdulaziz International Center for Interreligious and Intercultural Dialogue.
A joint statement from the participants, "United Against Violence in the Name of Religion," was released Wednesday, a day after the conference ended. The statement also called on the international community to protect the religious and cultural diversity in Iraq and Syria.
Participants also rejected claims of legitimacy by the Islamic State and other militant organizations and condemned the serious human rights violations in Iraq and Syria, particularly against Christian, Yezidi and other religious and ethnic groups.
Sako described some of the actions of the militants, who destroyed church buildings, burned old manuscripts and sold women as slaves in places such as Mosul and the historic Ninevah Plain.
"It is quite shameful to see the captivity of women become a legal legislation, as they are sold in the slave markets at a 'bargain price' as if they were 'junk.' That is evil in the worst respect. This reminds me of the monster which was mentioned in the Book of Revelation," the patriarch said.
The Chaldean leader compared the militants' actions to those of Nazi forces during World War II and other totalitarian regimes in history.
"I feel more shocked because of those who disbelieved and belittled the serious danger that (Islamic State) represents, especially when our helpless people, Christians, Yezidis and other minorities, were targeted in the name of the Islamic religion," he said.
"It is quite shocking to see the insufficiency of the official Islamic community that only denounced these acts by shy and helpless statements, showing the absence of a real role in raising the awareness of the public about the impending danger of ISIS in the name of religion," Sako added, using an acronym that refers to the Islamic State group.
"How can one stand inactive in the face of these countless crimes, repression and displacement of innocent people that are considered legal and legitimate by ISIS and hard-liners? Isn't this a humiliation for all mankind in general and women in particular? Have we started to live in an era of turning our backs on values? There is no apparent respect for human beings, nor does it appear that is life worth anything," he told the conference.
Sako reminded participants of what he called a "superior law," Shariah, of love and mercy.
"This superior law demands compassion and charity for every helpless father with a hungry infant in his arms and mercy for every human fellow in pain," Sako told the assembly. "Therefore, the crimes committed by ISIS against such helpless civilians demonstrate the absurd theory or law that is by no means based on any human law except on a barbaric one."
The patriarch said Arabs must present a unified position against extremism and that a united Arab coalition must work toward a peaceful solution in Iraq.
"Extremism is everywhere, and what is required is the adoption of moderation and a thinking process excommunicating obscurantism, in addition to the rejection of terrorism in the name of religion and resisting it in all its forms," he said.