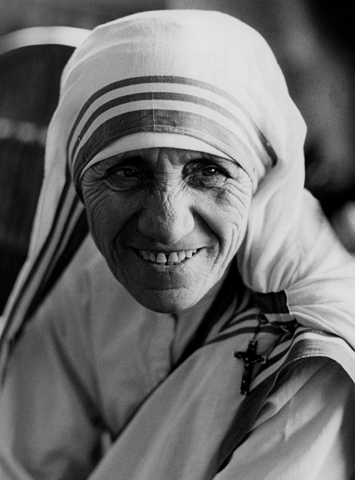 Blessed Teresa of Calcutta in 1979 (CNS/KNA)
Vatican City — May 19, 2015
Despite reports in the Italian press that Blessed Teresa of Kolkata's canonization has been set for Sept. 4, 2016, a Vatican spokesman says the date is only hypothetical and cannot be confirmed.
Jesuit Fr. Federico Lombardi issued a statement Tuesday in response to media reports that the founder of the Missionaries of Charity, who worked among the poorest of the poor, would be canonized before the end of the upcoming Holy Year of Mercy.
"It is a working hypothesis, therefore there is no official confirmation to be given," Lombardi said. "The cause for Mother Teresa is still underway and it is therefore premature to speak of an already established date for the canonization."
But Italian media have reported that Archbishop Rino Fisichella, president of the Pontifical Council for the New Evangelization, told Rome's municipal officials Monday that Mother Teresa's canonization has been set for Sept. 4, 2016. Fisichella's office is organizing the Holy Year of Mercy, which will begin Dec. 8.
According to the Italian newspaper Corriere della Sera, the archbishop also told city officials that the relics of St. Padre Pio, a Capuchin priest who bore the stigmata of Jesus, will be brought to Rome from southern Italy for veneration by the faithful. The date for the translation of the relics has not yet been set.
With large crowds expected for both events and throughout the Holy Year, Fisichella reportedly asked on behalf of the Vatican that city officials guarantee all pilgrims health care during the Holy Year. The Italian newspaper also reported that the archbishop asked the municipality to clear out the street vendors around St. Peter's Square, who tend to gouge pilgrims with overpriced goods.
Less than two weeks earlier, at May 5 news conference at the Vatican, Fisichella did not confirm a canonization date for Mother Teresa, saying only that the canonization was hoped for.
Officially, a second miracle still must be approved to open the way for Mother Teresa's canonization. However, Pope Francis has previously waived steps required for sainthood for other holy men and women.
Canonizations that are approved without meeting all of the requirements set by church norms are called equivalent or equipollent canonizations. Pope Francis has approved at least seven equivalent canonizations during his two-year pontificate: Angela Foligno, Peter Faber, Jose de Anchieta, Marie of the Incarnation, Francois de Laval, Joseph Vaz and Junipero Serra.
Pope John Paul II had already made an exception to the rules in Mother Teresa's case by allowing her cause for beatification to be opened without waiting the usual five years after a candidate's death.