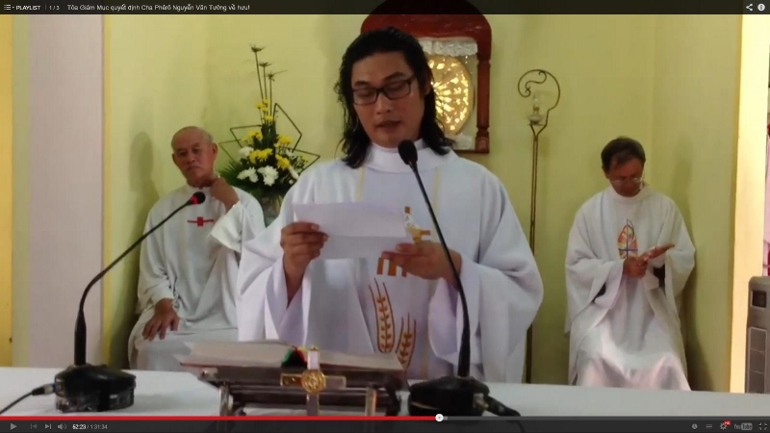 Fr. Peter Nguyen Van Tuong reads Fr. Thanh's letter to parishioners. (Still from a video posted on Tuong's website)
Ho Chi Minh City, Vietnam — June 13, 2014
A diocese in southern Vietnam has excommunicated a young priest who was accused of teaching false beliefs against the Catholic faith.
"Fr. Peter Nguyen Van Tuong is excommunicated latae sententiae, or sentence already issued," Fr. Peter Duong Van Thanh, apostolic administrator of Vinh Long Diocese, announced.
Thanh accused Tuong of "preaching false beliefs against the Catholic church doctrine" and "being too stubborn to change his incorrect stance."
Tuong, pastor of Thanh Thoi Parish in Ben Tre Province, was also asked to move to a house for local retired priests in neighboring Vinh Long City. Local Catholics are also banned from attending liturgical services conducted by him.
Thanh also said the diocese rejects any statements made by the excommunicated priest in the media. The announcement dated on May 23 was posted on the diocese website.
However, on May 18, six other local priests had visited parishioners and read a letter signed by Thanh. The letter said Thanh decided to make Tuong temporarily stop his ministries and move to the house for retired priests for his "health problems" as soon as the end of May.
The excommunicated Tuong told his parish congregation: "I am not sick. Why am I asked to retire? I have not done anything wrong."
His supporters angrily opposed the letter and accused the visiting priests of "slandering Fr. Tuong since he is in good health." They also asked the priests to sit down and listen to their opinions, but the priests left without doing so.
"Why dare you not listen to us?" the parishioners asked. "Why do you not reshuffle those priests who have relationships with women or use money donated by the people to give to their women?" a woman parishioner shouted.
Tuong has a strong devotion to and ministry of Divine Mercy, which is based on the writings of Polish St. Faustina Kowalska, who received revelations about God's mercy. St. Pope John Paul II established Divine Mercy Sunday as the Second Sunday of the Easter season.
The excommunicated priest used to celebrate Divine Mercy ceremonies on Saturdays that drew thousands of people, including followers of other faiths. He has posted videos of all his homilies and ceremonies on his website.
During a Mass on May 24, Tuong told parishioners, "This is the last Mass I celebrate in my priestly life. Tomorrow I will move to my own house to rest and to care for my old mother."
The priest also urged them to "love one another, to become servants of one another as Jesus taught." He also invited them to visit him at his home in June.
Tuong, in his late 30s, also stated that he had been banned from celebrating liturgy for two months while he served as an assistant pastor. His ordination to priesthood was postponed for two years after he finished his major seminary studies. He was ordained in 2007.
A local sister of the Congregation of the Lovers of the Holy Cross, who asked not to be named, told NCR that Tuong explained the Bible incorrectly. She reported that he said God taught people to fast and eat only vegetables; that no one on earth can forgive another person's sins; and that human beings could not rise after death.
She feels strongly that Tuong's case demonstrates "a moral crisis among local clergy. The diocese badly needs a new bishop to resolve all these problems." The Vinh Long Diocese has been vacant since Bishop Thomas Nguyen Van Tan died last August.
A priest from another diocese, who also asked to remain unidentified, said that the issues are broader than the appointment of a new bishop. Some of those issues are the poor quality of seminary education, the general lack of value for dialogue among the clergy, and the unhealthy separation between the clergy and parishioners.
He said, "I am embarrassed by the bad publicity Fr. Tuong's case has gotten, not only for what he is reported to have said, but also for the way in which his case was handled. Are there no less drastic solutions than excommunication, which itself opens more problems than it solves especially for the laity and now Catholics? The communist party enjoys seeing the church acting so foolishly. Must we continue to live in the 19th century?"
[Joachim Pham is an NCR correspondent based in Vietnam.]