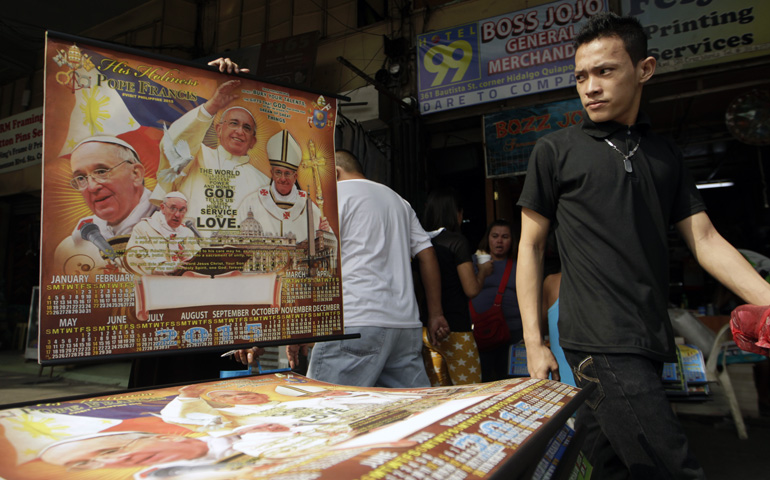 A man in Manila, Philippines, Dec. 19, walks past a 2015 calendar with Pope Francis pictures as part of the preparations for the pope's visit in January. (CNS/Ritchie B. Tongo)
Manila, Philippines — January 7, 2015
During his mid-January visit to the Philippines, Pope Francis will ride through waves of cheering people stretching out to touch him or his popemobile in the streets of Manila and Leyte province.
In this former Spanish colony, drums will beat, many in the crowd will clap along, and when the orchestra plays, people will sing and sway. Some will have a rosary or religious image in hand, and mothers and fathers will be carrying their toddlers. By mid-December, people were lining up to buy shirts printed with the face of Francis for papal visit events.
Francis is scheduled to arrive in Villamor Air Base, Pasay City, on the afternoon of Jan. 15 from his visit to Sri Lanka, and will depart for Rome the morning of Jan. 19.
Joy and excitement are palpable for someone coming to the Philippines to bring mercy and compassion to suffering survivors of "super typhoon" Yolanda and other recent calamities. Assigned the international name Haiyan, the typhoon left at least 6,000 people dead, many in Tacloban, in Leyte province, when it swept through central Philippines in November 2013. More than a thousand people remain missing and many others were made orphans, widows, homeless, jobless.
Haiyan "tested my faith," typhoon survivor Macy Grafil told reporters at a December press conference in Manila.
But this is the Philippines, where "the Christian story and Christian symbols have played a very important role in everyday life," said Jesuit Fr. Jose Mario Francisco, who teaches contextual theology at Loyola School of Theology in Quezon City.
"Even when the percentage of people who have regular contact with the church through Mass and activities may be much smaller than the 80 percent who are Catholic or the 90 percent who are Christian," Francisco said, "the influence of Christianity in the Philippines remains very strong through devotions, worship, music and other symbols."
He cited Haiyan survivors who were photographed fleeing ravaged areas carrying their statues of Mary, Jesus and other saints.
"Everyone was saying [the disaster] will undermine the faith of the people," Francisco said, "but on the contrary, they ask, 'Oh, God, why is this happening?' -- and the suffering strengthens their resolve."
Francisco wants to show this theme in the Tagalog language verses he is writing for the multilingual entrance song to be sung at Francis' public Mass in Manila on Sunday afternoon Jan. 18.
The lyrics will express sentiments shared in stories of people who, Francisco said, "surrender to God, but then cooperate with his grace." This theme is echoed in stories of survivors of the typhoon as well as of the earthquake that preceded it.
However, Cardinal Luis Antonio Tagle of Manila stressed that Francis offers his message of mercy and compassion to all Filipinos. In various talks the past three months, Tagle has explained that the papal visit theme is a call for exercise of personal and societal responsibility.
Mercy is giving without thinking what one will get in return, and compassion entails accompanying another person in one's suffering, Tagle said.
"Reach out also with love to the neglected and abandoned," Tagle said in November, as Francis will demonstrate by visiting Tacloban. "Help heal the wounds inflicted on children, women and families; respect neighbors who differ from us; and form the youth in responsible freedom."
Philippine laity have been giving more for Haiyan relief than they had for previous typhoons and calamities, reported Fr. Anton Pascual, executive director of Caritas Manila. After Haiyan, the archdiocese's lead agency for social service and development received 267 million pesos (US$6 million) in cash and in kind, 90 percent of which came from Philippines donors.
Pascual told NCR, "Filipinos are very strong to donate in cash or in kind whenever calamity strikes," but "when there is no calamity, their compassion wanes. We [will] see that we are effectively practicing mercy and compassion when our poverty level drops to a single digit."
In the first quarter of 2013, nearly one-fourth of the more than 92 million Filipinos were living in poverty, government records show.
After a presidential reception in Malacanang Palace Jan. 16, the pope will go by motorcade to the Manila Cathedral in the city's 16th-century walled district for a Mass with bishops, priests, and women and men religious. Some 2,000 clergy and religious will attend.
The whole Mass will focus on the papal visit theme, Tagle said. "We will be reminded ... that one of the most important tasks or ministry of the ordained and also of the witness of the religious is for us to be agents of mercy and compassion."
Tagle estimates there are at least 7,000 priests ministering around the country. Many others serve in missions abroad in various continents.
Archbishop Socrates Villegas of Lingayen-Dagupan, president of the bishops' conference, told NCR: "I don't see any problem with bishops' reception of the message of Pope Francis." The challenge to bishops, he said, is "to consistently live the message of Pope Francis after having received it -- the challenge of personal conversion."
Participants at recent forums on the state of the church in the Philippines have questioned a perceived absence of priests in poor communities and at rallies of poorer sectors of society.
Francisco believes that demands in more than 3,000 parishes could be limiting the time and energy of priests to attend to their Masses and sacramental duties. "There are parishes here in metro Manila where you have something like 15-20 Masses every Sunday," Francisco said.
However, Francisco added, absence in protests and rallies does not mean priests do not practice mercy and compassion in other ways. Priests have fought for land ownership for farmers and other causes by dialoguing with legislators and corporate executives on behalf of workers, fisher folk and other sectors, Francisco said.
In another event, Francis will also meet with thousands of representatives from families on the evening of Jan. 16, when three families will share testimony on their experiences of poverty, migrating for work and living with physical disability.
"I think every Filipino family knows a Filipino working abroad. ... Every Filipino family knows poverty," Villegas said. "Even people in rich subdivisions know another form of poverty, which is the poverty of loneliness, poverty of affluence."
On Jan. 17, Francis and Archbishop John Du of Palo will have lunch with 30 survivors of natural calamities at the archbishop's residence. Fifteen of the 30 survivors will come from Leyte, five each from Borongan and Calbayog in Samar province northeast of Leyte and five from Tagbilaran in Bohol province, where earthquake survivors are struggling to rebuild their homes.
[N.J. Viehland reports for NCR from Manila.]
A version of this story appeared in the Jan 2-15, 2015 print issue.