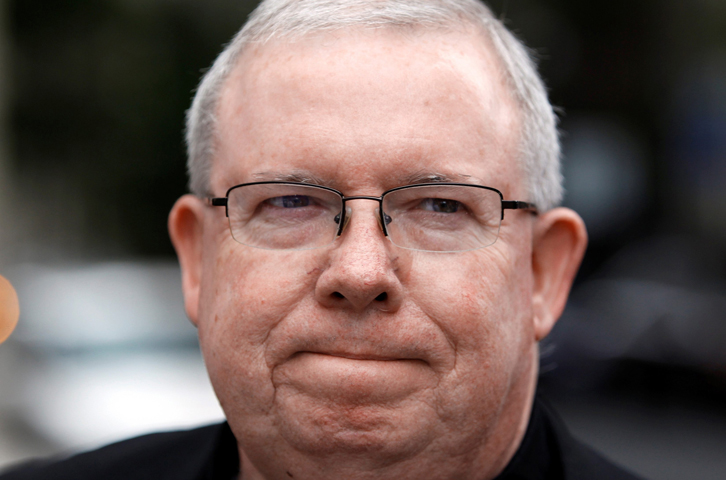 Msgr. William Lynn in a 2012 CNS file photo (CNS/Tim Shaffer, Reuters)
Philadelphia — December 29, 2015
He may have won a new trial, but Msgr. William Lynn -- the Philadelphia archdiocese's secretary for clergy from 1992 to 2004 -- isn't any closer to getting out of jail.
Lynn, convicted in 2012 on a single count of endangering the welfare of a child, has been serving a three- to six-year prison sentence. He was the first Catholic administrator in the country to be sent to jail for failing to adequately supervise a sexually abusive priest.
Lynn's lawyer, Thomas Bergstrom, said Dec. 28 that Lynn will remain working as the prison librarian at the State Correctional Institution in Waymart, Pa., at least for the next 30 days. Meanwhile, lawyers on both sides of the case continue to do battle in court.
Philadelphia District Attorney R. Seth Williams announced Dec. 28 at a press conference that he was appealing a Dec. 22 decision by a panel of three Pennsylvania state Superior Court judges that overturned Lynn's 2012 conviction. The panel of judges also voted 2-1 to grant a new trial for Lynn.
Williams, however, told reporters that he has filed an appeal seeking to re-argue the case before all nine judges of the state Supreme Court. If that review isn't granted, Williams said, he will appeal the case to Pennsylvania's highest court, the state Supreme Court, where the district attorney has a winning record.
In 2013, the same panel of Superior Court judges unanimously reversed Lynn's conviction, prompting an appeal by the district attorney to the state Supreme Court. The state Supreme Court subsequently reversed the reversal of Lynn's conviction. Lynn, who had been out of jail on house arrest, was ordered last April to return to prison by the trial judge, M. Teresa Sarmina.
"We will fight to keep Msgr. Lynn in state custody, where he belongs," Williams said. And if there's a new trial, "we're fully committed to empaneling a jury and going to trial again."
The panel of state Superior Court judges overturned Lynn's conviction because they found that Sarmina had abused her discretion by allowing as evidence 21 supplemental cases of sex abuse dating back to 1948, three years before Lynn was born.
---
Related: Appeals court vacates Philadelphia monsignor's conviction, orders new trial
---
Williams argued at his press conference that Sarmina made the right decision to admit the supplemental cases as evidence. Those cases showed a pattern of behavior by Lynn and the archdiocese, the district attorney argued, namely transfers of abusive priests from one parish to another without notifying police or parents.
Bergstrom filed an emergency motion in Philadelphia Common Pleas Court to get the case reassigned to another judge. Even though Lynn's conviction has been overturned, the monsignor cannot be released from prison without an order from Sarmina.
Sarmina sentenced Lynn to three to six years in prison. She has denied bail application after bail application in the past, and has expressed fears that if released, Lynn might flee to the Vatican.
That prompted the monsignor to tell his lawyers in court that he can't even get the local archdiocese to return his phone calls.
At his press conference, Williams said he would fight the motion by Bergstrom to get the case reassigned to another judge. At the moment, that motion doesn't seem to be going anywhere, meaning that, for the foreseeable future, Lynn and Bergstrom are stuck with Sarmina.
If Lynn does get another bail hearing before Sarmina -- and none is scheduled -- nobody would be surprised if she denied it again, or ordered the monsignor to be confined again on house arrest. The last time he was on house arrest, the monsignor had to stay on two floors of a church rectory and wear an electronic ankle bracelet at all times.
Lynn's lawyer says that his client does not want to get out of jail again, only to have to return in the near future. He'd rather just do the remaining time he has left to complete his minimum three-year sentence, so he can apply for parole. That would be sometime in October.
Meanwhile, Lynn continues to work six days a week in the prison library, checking out books for fellow inmates for a salary of 19 cents an hour. In jail, he will be waiting out the appeal process until he knows for sure what's going to happen next.
[Ralph Cipriano, former reporter for The Philadelphia Inquirer and the Los Angeles Times, is an author and currently writes a blog for bigtrial.net.]