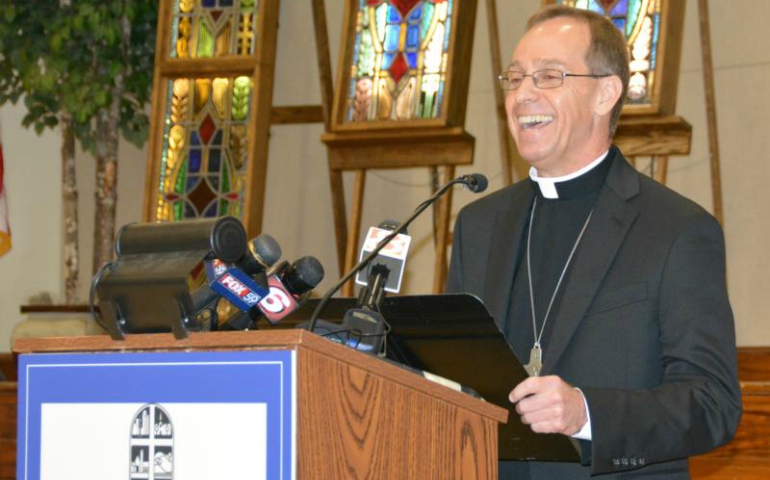 Bishop Charles Thompson of Evansville, Indiana, smiles during a June 13 news conference after Pope Francis named him the new archbishop of Indianapolis. (CNS/Natalie Hoefer, The Criterion)
Pope Francis has named Bishop Charles Thompson of Evansville, Indiana, to head the Archdiocese of Indianapolis.
Thompson, who has been Evansville's bishop since 2011, will succeed Cardinal Joseph Tobin, who was named to head the Archdiocese of Newark, New Jersey, last November.
The appointment was announced June 13 in Washington by Archbishop Christophe Pierre, apostolic nuncio to the United States.
Thompson, 56, a native of Louisville, Kentucky, was vicar general of the Louisville Archdiocese from 2008 until he was named bishop of Evansville.
On the national level, he is a member of the U.S. Conference of Catholic Bishops' Administrative Committee, the Committee on Priorities and Plans, and the Committee on Clergy, Consecrated Life and Vocations.
"I pledge to dedicate myself to you without hesitation or reservation," Thompson told the people of the Indianapolis Archdiocese at a news conference.
"Together, we will build on the incredible foundation that already exists," he continued, "striving to discern the signs of the times and make every effort to participate in framing the essential questions of faith and life, in order promote a shared vision rooted in Word, sacrament and service that enables us to respond rather than react to opportunities and challenges."
He said he had been "humbled and honored" by Pope Benedict XVI naming him to Evansville and feels that way yet again with Francis appointing him to Indianapolis.
"I cannot begin to fully express my deepest gratitude and affection for those with whom I have served in the Diocese of Evansville," the archbishop said. "These past six years, I have been very blessed to serve with such wonderful priests, deacons, religious, lay colleagues and, most especially, a great mentor and brother" in retired Bishop Gerald Gettelfinger, whom he succeeded in Evansville.
The bishop "helped to form and educate me as a successor of the apostles," he said."Thank you for your patience and understanding in breaking in a rookie bishop. The church in southwest Indiana will always have a special place in my heart."
He added that he is happy to be staying in Indiana to continue to be part of the Indiana Catholic Conference and to serve with "such wonderful brother bishops" in the state — Bishops Kevin Rhoades of Fort Wayne-South Bend, Tim Doherty of Lafayette and Don Hying of Gary, Bishop Gettelfinger and retired Bishops William Higi of Lafayette and Dale Melczek of Gary.
"Drawing on my episcopal motto, 'Christ the Cornerstone,' it is my first and foremost prayer that we be Christ-centered in all aspects of our identity, mission and witness in proclaiming the joy of the Gospel," Thompson said.
The archbishop holds a bachelor of arts degree in accounting from Bellarmine University in Louisville, Kentucky, a master of divinity degree from St. Meinrad School of Theology in Indiana and a licentiate in canon law from St. Paul University in Ottawa, Ontario. He was ordained a priest for the Louisville Archdiocese in 1987.
At the news conference he noted that during his seminary formation and education at St. Meinrad School of Theology, now-retired Indianapolis Archbishop Daniel Buechlein, a Benedictine, was his seminary rector.
He added that following Tobin in Indianapolis "is more than a daunting task. Moving from Evansville to Indianapolis, I cannot help but think of the best known song paying tribute to the Hoosier State, 'Back Home Again in Indiana.'"