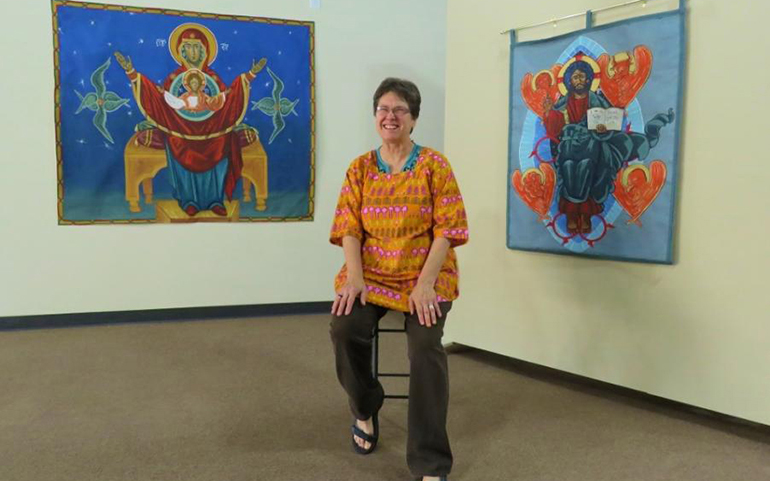 Sister of the Good Shepherd Glynis Mary McManamon in her gallery, Shepherding Images Studio/Good Shepherd. (Provided photo)
In November, Sister of the Good Shepherd Glynis Mary McManamon opened Shepherding Images Studio/Good Shepherd art gallery in Ferguson, Missouri. Her gallery opened just in time for the anniversary of a grand jury's decision not to indict Ferguson police officer Darren Wilson in the August 2014 shooting death of Michael Brown — the event that sparked the Black Lives Matter movement.
McManamon recently spoke to Global Sisters Report about God, race and the ability to find spiritual healing in art.
GSR: How did you become an artist?
McManamon: I was raised in a family where I was around art supplies. My dad was always trying to get himself syndicated as a cartoonist, and my mother wanted to be a fashion designer. But I didn't see myself as an artist. In high school, I didn't take art because I didn't think I was that good.
I entered religious life in 1976, bouncing from one ministry to another, trying to find my place. I worked as a secretary, I worked in pastoral care, I worked in public relations and in fundraising. Finally, I asked to get an MBA, which I got, and I did a concentration in personnel. I got a certificate to be a drug/alcohol counselor and then kind of had what used to be called a nervous breakdown.
I didn't know what it was and couldn't figure it out. But during that time, I couldn't work as a counselor because I had -- I'll be frank -- clinical depression. I needed to focus on myself, and I was spending a lot of time in chapel, journaling and reflecting, and I had a sense of God saying to me, 'You keep telling me who you are and what you're going to do. Now listen to me tell you who you are. You need to talk to your province leader and tell her that you are called to be an artist and ask for a sabbatical and take a year of study.'
So, in 1998, I took a year of studio courses at Bellarmine University. The thing I had always had a heart for was icons, so I started to experiment with that form by taking a course in iconography. In 2002, I went to my first icon retreat, which was eye-opening, and it took off from there.