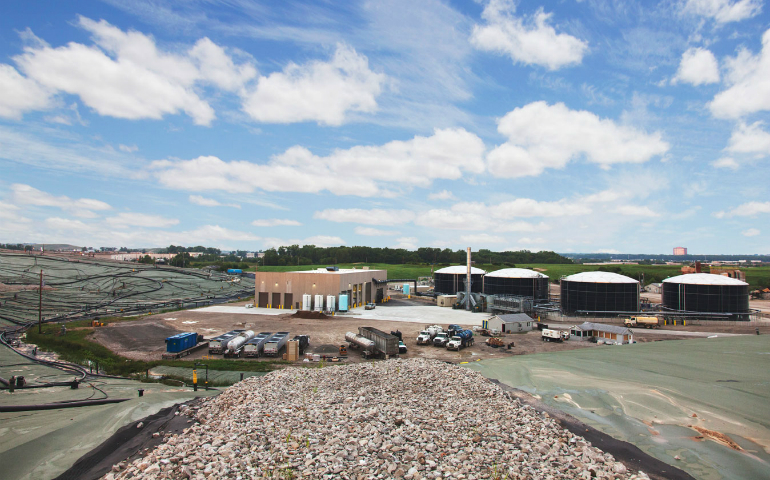 View from Bridgeton Landfill's North Quarry of the on-site pretreatment plant and four 1-million-gallon treatment tanks. This liquids-management system treats more than 1 million gallons of liquids each week before direct discharge to the Metropolitan St. Louis Sewer District for additional treatment. (courtesy of Bridgeton Landfill LLC)
Global Sisters Report is publishing a special series about how trash is managed in the world and how sisters are helping people affected by landfills. We started this project in June to mark the anniversary of Pope Francis' encyclical, Laudato Sí, about climate change, pollution and waste, which warns: "The Earth, our home, is beginning to look more and more like an immense pile of filth."
December 2011 was already difficult for the Franciscan Sisters of Mary. They sold their convent and moved to a retirement community in suburban St. Louis.
Then they discovered the smell and, even worse, what the smell was from.
Less than 2 miles from their new home, The Sarah Community, is the Bridgeton Landfill, which was creating hideous smells because the decades' worth of trash buried in it is burning — not through fire, but through high temperatures from decomposition fed by methane. The waste burns without flames but is so hot it sometimes melts the temperature probes used to monitor it.
"The smell would get in your hair and stay there. It would get in your car and make your car smell. If you opened the windows in your house, the smell would get into your house, into your furniture, and you couldn't get rid of it," said Gale Thackrey, a layperson who serves as the Justice Ecological Coordinator for the sisters. "It was continuous, day and night. I ride a motorcycle, and I would be gagging under my helmet."